Mark Your Calendars
Grand Boulevard Town Center fills your weekends with world-class cultural events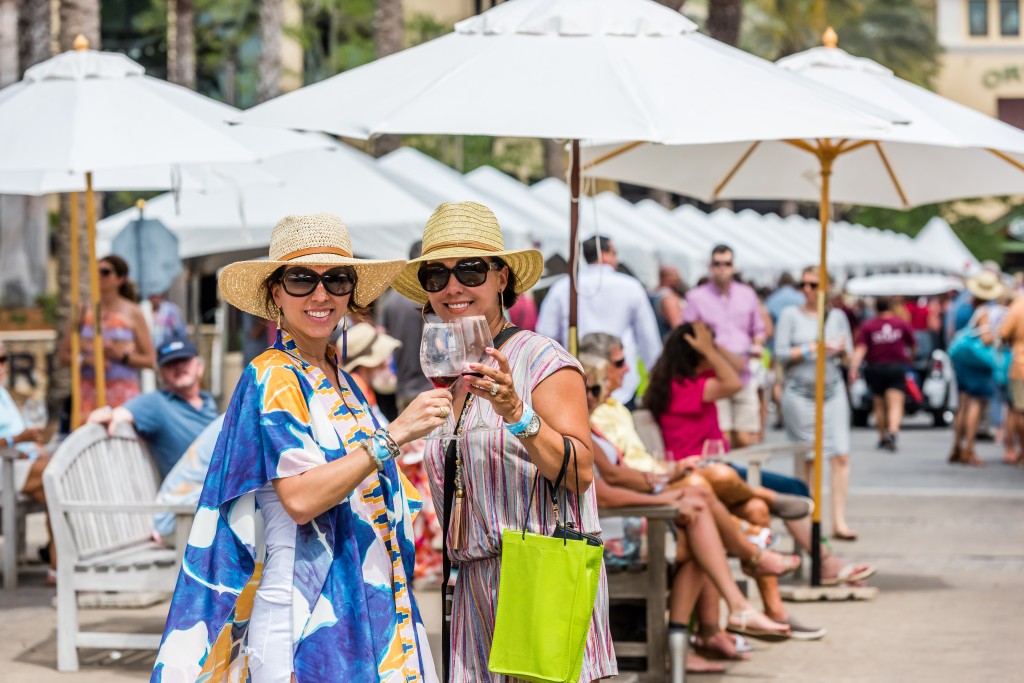 In January, soulful croons and string tunes float through the air at the 30A Songwriter's Festival. April warms up with wine and good times for patrons at the South Walton Beaches Wine & Food Festival. May is the month for ArtsQuest Fine Arts Festival, where attendees can peruse and purchase art from local and national artists. October congratulates and celebrates the best in business at the Best of the Emerald Coast event. The year ends with the Festival of Trees and the magical lights and events of Coastal White Christmas. Grand Boulevard Town Center has become a destination for these marque annual events and more.
For 15 years, Grand Boulevard has thrived as a retail destination offering national and nearby brands alongside eateries and entertainment. Stacey Brady, director of marketing and communications and executive director of South Walton Beaches Wine & Food Festival, wanted to stand out among other retailers even more so, deciding to carefully curate a series of events under the name of Coastal Culture with Grand Boulevard as the host location.
"For several years, we have been identifying events we thought would marry well with the Grand Boulevard brand and create another compelling reason for the customer to come to the Town Center and ultimately enhance the customer experience, because that's what it's all about," Brady says. "It's not enough to be a great shopping and dining destination. Folks expect more, and you've got to deliver more, and exciting events are a great way to do that."
The launch of Coastal Culture was highly strategic as Brady wanted to ensure that every event interwove the presence of cultural arts and included a charitable portion as these are core values of Grand Boulevard's corporate culture.
"I do think that our community outreach and being good community stewards is ultimately important to our community and to our citizens," says Brady. "We're helping to elevate our community through charitable donations with the events and entertainment we provide that have an emphasis on cultural arts."
Where the funds stay local, the attendees come from all over the country for these events that are presented at a world-class caliber. Each event has obtained multiple major awards; the most highly praised being the South Walton Beaches Wine & Food Festival. This event has won the Flagler Award in the special events category in 2014, Award of Distinction from the Florida Public Relations Association in 2016, and the Best Event from the Florida Restaurant & Lodging Association in 2018, among others.
This festival is a weekend of wine, fine food and stunning scenery benefitting the Destin Charity Wine Auction Foundation, which supports more than a dozen area charities. The event celebrates its 10th year in 2022.
30A Songwriter's Festival shines a spotlight on singer/songwriter's from throughout the country that gather at venues throughout 30A and South Walton, including Grand Boulevard, to share stories through song. This event supports the Cultural Arts Alliance of Walton County. ArtsQuest Fine Arts Festival benefits the Cultural Arts Alliance of Walton County as well with exhibits promoting over 200 artists from throughout the country.
Best of the Emerald Coast is presented in conjunction with Emerald Coast Magazine. Attendees celebrate their favorite businesses while knowing their ticket supports the Junior League of the Emerald Coast.
Coastal Culture consists of the four major, signature events alongside year-round seasonal celebrations, including Coastal White Christmas, Halloween on the BOO-levard, Festival of Trees, Theatre Thursdays, Shakespeare in the Park and more.
For locals, during these events, their beloved venue to shop, dine or catch a film transforms into a hub that generates spectacle-worthy events and distributes valuable dollars right back into their community. For visitors, these events provide memorable event experiences and the chance to visit one of the premier retail destinations in the country, surely with plans to come back in the future.
Grand Boulevard
495 Grand Boulevard, Miramar Beach
(850) 837-3099 | Grandboulevard.com