Making Preparations for Their Big Reveal
Destin Commons hosts a shopping party for models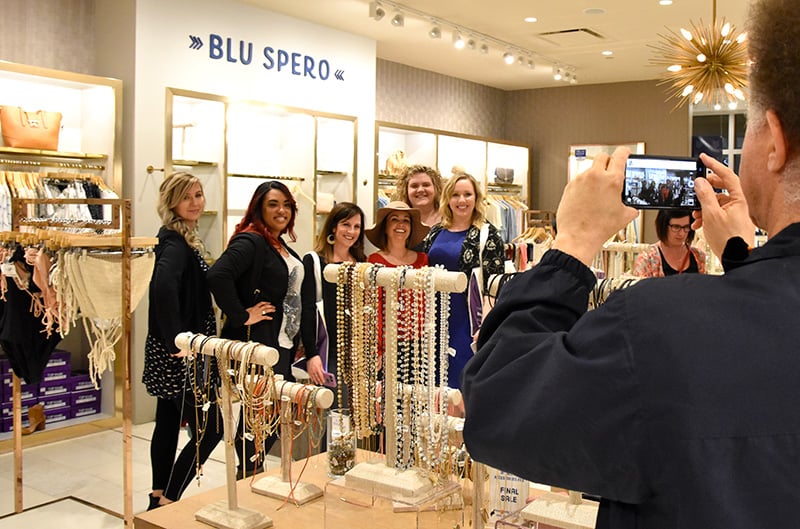 While the 14 models participating in the 2017 Emerald Coast Top Salon may not know what hairstyle their salon has in mind for them, they get to play dress up beforehand and make their own decisions about their outfits for the grand reveal on April 7.
The Top Salon Shopping Extravaganza began at the World of Beer in Destin Commons. Salons, models and friends gathered to sip on pints, mingle with one another, learn pertinent information about the event and snack on an array of appetizers including flatbreads, German pretzels and golden shrimp.
Each model was provided with a $100 gift card to use at any clothing store in Destin Commons to purchase an outfit that makes her feel confident, comfortable and dazzling enough to capture the attention of the judges and audience. New this year is a social media contest, which incorporates the salons, Destin Commons and Emerald Coast Magazine. The model will check in at each store she chooses to buy from and post photos documenting her dress-up journey.
The competition runs until Feb. 16 when the three salons with the most likes and comments will receive an additional $100 gift card and four general admission tickets to the event.
In addition to outfits from the shops at Destin Commons and jewelry from Shimmering Seas, models can partake in teeth whitening provided by 30A Smiles and fitness classes from Blueprint Health Studio.
With the anticipation of whiter smiles, stylish selections and a new appearance, the excitement grew as models and salons began the transformation process that will ensue over the next month.
Coinciding with the makeover process, salons and models are working vigorously to raise money for their chosen charities. This year, money will continue to be raised for a week after the Top Salon event, allowing plenty of time for donors to contribute to their favorite local charity.
For a night that will inspire generosity and ignite creativity, mark your calendars: The main event is Friday, April 7 from 7–10 p.m. at Hilton Sandestin Beach Golf Resort & Spa. Watch 14 stunning models showcase their new looks in hopes of being selected as Fan Favorite, Judge's Pick or the 2017 Emerald Coast Top Salon. Secure your tickets here as prices increase on March 13.
Click here for more information about the event and to donate to the 14 charities selected by each salon. Be a part of the transformation by following @ECTopSalon and using #ECTopSalon.