Luxury Estates Coming to Seacrest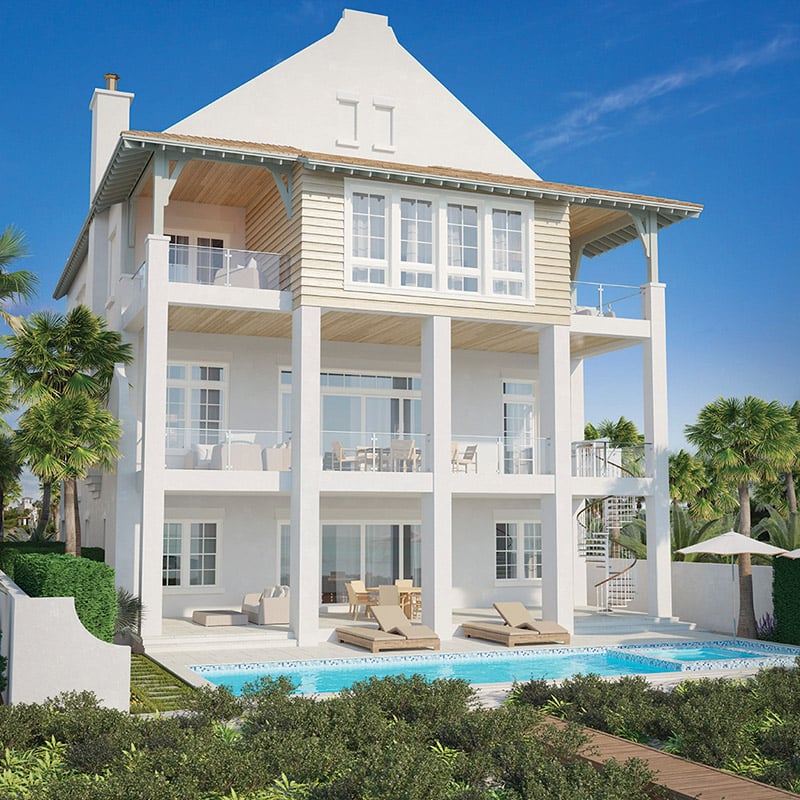 If Mattel could make a life-size Barbie dream house, decorate it in eggshell rather than bubblegum pink, and put it on a bluff overlooking the Gulf of Mexico, it would bear a striking resemblance to homes under construction at Sandy Shores. Projects in progress include this three-story residence featuring an elevator, a three-car garage, a bathroom outfitted in marble and an incredibly spacious kitchen. If you've always dreamed of living like the Jay Gatsby of the Gulf Coast, here's your chance.
---
Price: $9,250,000
Address: Lot 3, Bluffs at Sandy Shores, Seacrest
Square Footage: 7,726
Bedrooms: 7
Bathrooms: 7 full, 2 half
Year Built: Under construction
Features: Gated community, swimming pool, infinity hot tub, Gulf views, elevator, open floor plan, three-car garage with carriage house, private porches, kitchen island, double kitchen sinks, two dishwashers, marble bathrooms, hardwood floors, fireplace.
Realtor Says: "Presiding over the Gulf of Mexico from atop a 28-foot bluff, this will be one of the most exquisite residences along Scenic Highway 30A. Construction of this luxurious estate is estimated to be complete by September."
Contact: Debbie Webb Watson, Realtor, Scenic Sotheby's International Realty, (850) 633-4876, debbie@scenicsir.com