How to Be Smart When Investing in Art
Expert tips on the cultural capital we call art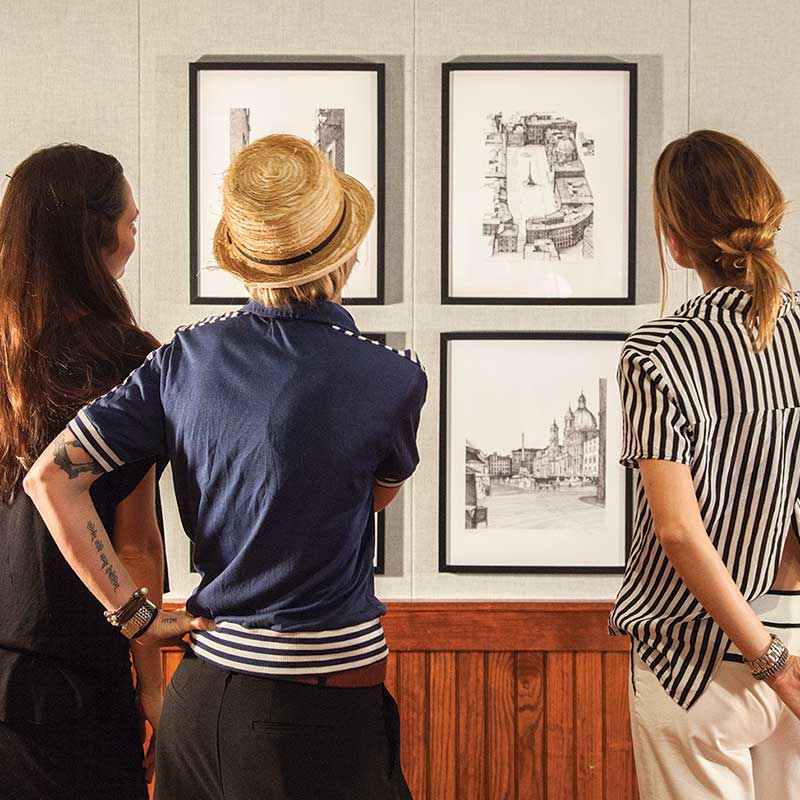 Each year, during the last full weekend in October, artists from across the country gather for two full days in Destin for Festival of the Arts, presented by Mattie Kelly Arts Foundation.
At the festival, customers browse booths of artwork in a range of fine arts and crafts media, from watercolor and oils to textiles, pottery and wood.
The art show is juried, meaning jurors evaluate prospective festival participants and put together a show of the best exhibitors.
Festival judges also award cash prizes for the best work at the event. Not everyone who attends Festival of the Arts ends up making a purchase, but many do.
"What we want, as the presenter of the show, is to see art going out," said Marcia Hull, chief executive officer of Mattie Kelly Foundation, recently. "We want to help that patron find multiple pieces or big pieces."
Patrons buy art for a multitude of reasons, Hull said. Some head to Festival of the Arts to decorate a new home, or to purchase holiday gifts. "Art is very personal, whether it's visual arts, or culinary arts or music. Beauty is in the eye of the beholder."
Increasingly, however, buyers seek to purchase works of art for an additional reason: investment value.
Deloitte has reported that more wealth managers advise including art and collectibles in an investment portfolio — 78% in 2016, up from 55% in 2014 ("Art and Finance Report").
According to the same report, nearly three out of four art collectors said they "bought art for passion with an investment view."
"I tell people that to buy for investment purposes, you really have to know your stuff … a collector needs to do the legwork or they'll overpay."
— Joseph James Patti, art restorer
Clients come to art restorer Joseph James Patti in Pace, Florida, when they have an existing work of art that's starting to yellow, or because a painting is damaged in a house move or a hurricane.
Though Patti is not an appraiser, sometimes his clients also ask him what a painting is worth or for recommendations on how to buy art.
"I tell people that to buy for investment purposes, you really have to know your stuff," he said. "A collector needs to do the legwork or they'll overpay."
Art that has been on the market before will be registered with the online databases askART or Artprice, which offer information about prior sales to the consumer for a membership fee, Patti said.
Patrons may also be able to glean information about a work of art by writing to Christie's or Sotheby's, though Patti acknowledged that these auction houses will probably only write back if they believe the work has value.
Generally speaking, older works of art are time-tested and are likely to keep their value. "In contemporary art, there are artists who peak at one time in their lives. There may be a new artist selling for $10,000, and the next decade comes along and the interest isn't there," Patti said.  "It's like buying a house and paying top dollar, and then the neighborhood goes downhill."
It also may be worth it — literally — to get to know an artists' work before making a purchase. "Some artists are known for landscapes or seascapes, and once in a while they'll do a still life. That still life won't be worth as much," Patti said.
The internet makes it easy to find and buy art, but Patti recommends seeing the work of art in person before buying it, whether it's older or contemporary work.  In many cases, online sellers will ship artwork and allow for the buyer to return it if unsatisfied.
Getting swindled by a forgery is a risk, especially with old, famous names — and the quality of the work has little to dto with it. Most forgers are very good artists, Patti noted. A "Certificate of Authenticity" may not necessarily be authentic. Only an expert art appraiser will be able to tell for sure.
Those interested in art collecting might begin by taking an art appreciation class at Northwest Florida State College or another local college, suggested Dr. K. C. Williams, gallery
director for Mattie Kelly Arts Center. By learning more, a potential patron will develop a sense of what they like — another great reason to "invest" in art.
"Of course, everyone will like what they like; we are all drawn to art for different reasons that are unique to ourselves.
The way we interact with art can be shaped by emotion, nostalgia, simple aesthetic pleasure or a myriad of other factors.
Learning more about artists, as people, can strengthen these connections. When we take it a step further and learn about the fundamental elements and principles of art, we can expand our tastes while developing the language to articulate why we like what we like."
The Emerald Coast certainly has plenty of art to offer. In addition to Mattie Kelly Foundation's annual Festival of the Arts, towns such as Destin, Seaside and Santa Rosa Beach are dotted with galleries.
If you like a work of art, making a purchase helps the artist embark on or sustain a career.
"There are well-known artists who have been in our show," Hull said of Festival of the Arts, mentioning Justin Gaffrey, Andy Saczynsky and Mary Hong. "These were 'starving artists' at one time. Now they're accomplished and building a resume."
SOME PLACES TO START
Allison Wickey Studio
Watersound Beach
allisonwickey.com
Andy Saczynski Studio-Gallery 
Santa Rosa Beach
artbyandyski.com
Anne Hunter Galleries 
Seaside
annehuntergalleries.com
Curate gallery 
Rosemary Beach
curate30a.com
Foster Gallery 
Miramar Beach
culturalartsalliance.com
Justin Gaffrey Gallery
Santa Rosa Beach
justingaffrey.com
Mary Hong Studio Gallery
Grayton Beach
maryhongstudio.com
Mattie Kelly Arts Center
Niceville
mattiekellyartscenter.org
Mattie Kelly Arts Foundation
Destin
mattiekellyartsfoundation.org
Not Too Shabby
Miramar Beach
nottooshabbyhome.com
Red Bird Gallery
Seaside
reredbirdgalleries.com
The Studio Gallery
Grayton Beach
studiogallery30a.com