How This Creative Woman is Making a Big Difference
Introducing Velia Lala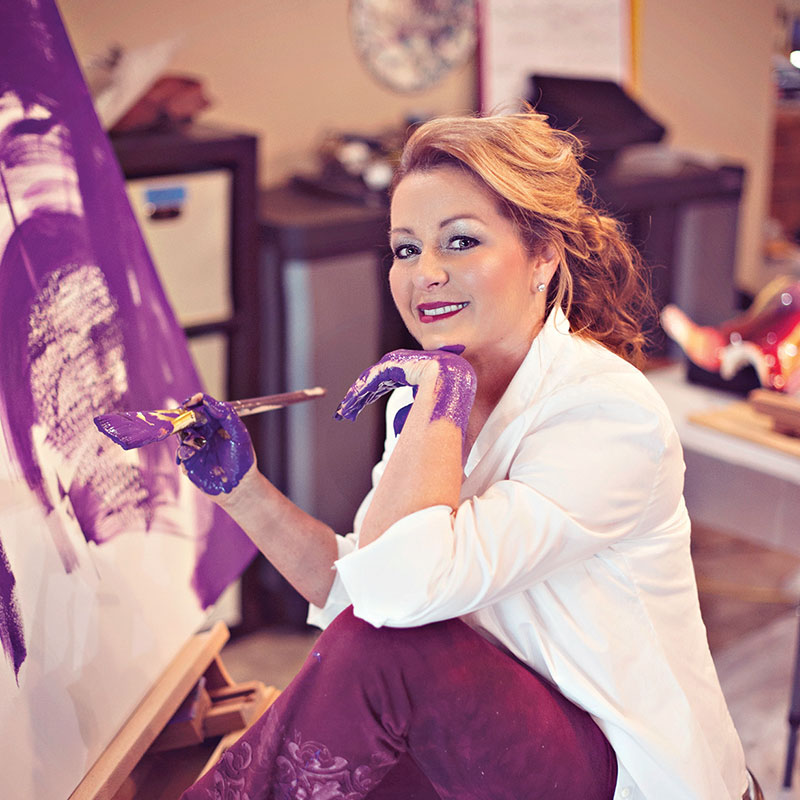 It is more than fabulous to visit Velia Lala at her art gallery — it's fantastical. A native of Louisiana and a visionary, Lala is a perpetual creator. From the abstract to the classical, from fashion designs for pets to body castings of people, all of her imaginings seem to manifest into reality, including her new gallery space.
"Five years ago, I wanted a studio to work in and to train people to become artists," Lala says of her bold and colorful space in 30Avenue at Inlet Beach. "It morphed into a place to show and create my art and that of other emerging artists."
Lala's creative streak surfaced when she began sewing her daughters' dance costumes and helping with their school projects.
"I loved scrapbooking and sewing clothes for my kids and my dog, Lexi," the inventive mother says. "I had a studio at my house and that's where I taught classes, but it became so busy that it was smarter to move into a larger space."
Velia Lala Fine Art opened in March 2015 to a room filled with friends from her native Louisiana. Since then, Lala has opened her arms and her gallery doors to her new friends along the Emerald Coast, hosting non-stop charity events and fundraisers inside her 3,000-square-foot studio-gallery space. In a short time, Lala's list of local events is long: Art of Giving, Food for Thought, Sinfonia, Wine Women & Shoes for Children's Music Education, Bowlegs Augustus Museum, Cattle Barons Ball for Cancer Research, Florida Public Relations Association's Toast to the Coast, Gulf Coast Heritage Museum, Emerald Coast Scuba Special Military Operations, Alaqua/Sinfonia and Children's Advocacy Center Gala have all congregated in Lala's space to promote awareness for their cause and raise money.
Wigging It Out for a Cause, benefiting the Children's Advocacy Center, is one of her favorite events.
"It was a night filled with wigs, hair stylists and makeup artists," Lala says.
Then there was the Mystery Dinner: "People came dressed as characters and played their roles so well that no one could figure out who done it!"
Today, Lala is hard at work preparing for her next cultural contribution, dubbed Hypnolarrryous.
"It's a comedy hypnotist show!" exclaims the one-of-a-kind event planner, while she awaits the arrival of the Bravo network's recent "Top Chef" winner Nyesha Arrington, who will be the celebrity chef for a charity dinner Lala is hosting for Sinfonia later in the evening.
In between event-planning duties, the gallerist and creative designer is making hats for the Kentucky Derby. Her designs have been commissioned for the Cattle Barons Ball. She takes a breath and muses about body casting.
"I got into it because it was something I wanted to try," she says. Lala's life casting series is called "Imperfection of Beauty," "because everyone feels so imperfect, but when you see yourself through a casting it changes things. It helps people see that they are beautiful."
Says Lala of her gallery and life as an artist, "Nothing is off limits when it comes to creating."