Home, Green Home
Eco-Friendly Construction Creates Sustainable and Easily Maintainable Residences Along the Emerald Coast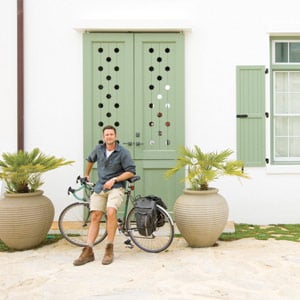 The sights and sounds of new home construction have long been familiar to the residents and frequent visitors of the Emerald Coast. But more recently – with developers hammering out residential neighborhoods featuring a focus on environmentally friendly building practices – there is a growing interest in the area's next generation of neighborhoods.
"A lot of people see these new developments and just want to take a look and see what they're all about. Once they find out, they are blown away," says Realtor Sherry Carter, the broker for the Town of Prominence, a new "green-sensitive" community along Scenic Highway 30-A.
Carter gives prospective clients an up-close look at what "building green" is all about. Built along a wharf at water's edge, the Town of Prominence complements the Old America theme with a New England-style village green, but also offers Southern coastal influences such as wide, welcoming porches. The water feature will play an important role in the community, allowing residents to take small boats out for entertainment, but more importantly, providing an eco-friendly system to cool the air in the nearby retail space.
The first phase of Prominence includes row homes that line the wharf. Carter is quick to point out that in place of traditional wooden framework, crews are using insulated concrete forms (ICF). These relatively inexpensive materials provide insulation, strength and durability. Unlike wood, ICF is resistant to termites, mold and water damage and is fire-resistant, which allows for longer use, saving trees and reducing reconstruction waste.
Homes and commercial space at Prominence use geothermal heating and cooling. Hydro-Temp earth-coupled heat pumps use the Earth's heat to warm homes during the winter and pull heat from the homes during the summer.
"This town is 10 years ahead of its time because the developer wanted to build the absolutely best product for the environment," Carter says.
The Town of Prominence was founded by Tommy Henry, a developer who has been building homes in the Florida Panhandle for more than 30 years. In 2003, Henry snatched up the last large plot of land for mixed use in the area and decided to follow many environmental practices that are more popular in other parts of the country – a trend that is catching on all along the Emerald Coast.
Keeping Cool at Alys Beach
Just east of Prominence along Highway 30-A is the striking architecture of Alys Beach. Its brilliant white structures rise up like sandcastles against the blue sky. The community is master-planned by Duany Plater-Zyberk & Company (DPZ), which more than 20 years ago designed the Emerald Coast's traditional-neighborhood sensation, Seaside.
DPZ was hired by developer EBSCO Gulf Coast Development Inc. to design a community that would be both attractive and respectful to the environment. DPZ hired award-winning architect Doug Farr to consult on the design. Farr, president of Farr Associates and an expert in eco-friendly urbanism and architecture, recently published "Sustainable Urbanism: Urban Design with Nature," a book that lays out long-term solutions for built environments.
Farr used his extensive knowledge of planned communities to build a better development at Alys Beach. He utilized geothermal heating and cooling, reducing not only the noise level created by traditional air conditioners and heaters but also energy consumption – a measure that produces cost savings for the homeowners.
The construction at Alys Beach includes energy-efficient Eco-Block, a brand of ICF such as the product used in Prominence. It was deemed a far more durable product in a climate susceptible to forest fires, hurricanes and salty sea breezes.
For the exterior design, Farr and the DPZ architects found inspiration from the homes of Bermuda and the family courtyards of Antigua and Guatemala. Thus, Alys Beach is designed with whitewashed masonry and stucco walls with concrete-tile roofs that stand as a stark contrast to most other homes in neighboring beachside communities.
The white palette of Alys Beach not only looks stunning, it also keeps the interior of the homes cooler in hot temperatures. This energy-efficient design element also makes the entire neighborhood considerably cooler – a tremendous plus for a traditional neighborhood development that promotes walking and biking.
Parks, courtyards and conservation areas are plentiful along the Alys Beach community, and particular care is taken when selecting plants for the landscape. Low-maintenance native plants abound, especially those that are drought-tolerant, saving water, and pest-resistant, reducing the need for chemicals.
To ensure that all aspects of environmental conditions are monitored and built to the Green Home Designation Standard laid out by the Florida Green Building Coalition, Alys Beach hired a full-time environmental program manager.
"My job is to make Alys Beach the environmentally best it can be," says Christian Wagley.
The investment has paid off for Alys Beach. It is the first officially "fortified community" in the world certified by the Institute for Business & Home Safety, an organization that advocates improved construction, maintenance and preparation practices in an effort to reduce the social and economic effects of natural disasters and other property loss.
Eco-Friendly Economics
"The Panhandle has been very slow to embrace green building, but it is beginning to catch on," says Stephanie Cook, executive director of the Florida Green Building Coalition, headquartered in Tallahassee. The coalition is a nonprofit corporation dedicated to improving the built environment by providing a statewide building program with environmental and economic benefits. The organization offers guidelines for certifications on green home standards, green development standards, green high-rise standards, green local government standards for cities and counties, and green commercial building standards.
One aspect of building green that caused some early resistance from builders and homeowners is the added expense, which is reflected in the selling price, Cook says. However, eco-friendly construction can save hundreds, even thousands, of dollars in insurance and utility costs. For example, monthly electric expenses for a conventional 3,200-square-foot home are approximately $280, compared to $73 per month for a home constructed with energy-efficient materials.
Another big payoff with building a green home comes years down the line, when maintenance costs ring in far less than with traditionally built homes, says Wagley of Alys Beach.
"Durability is a very green thing," he says.
Seeing Green
In late 2004, shortly after Dean Trevelino and his wife, Amanda, moved into a ranch-style house in Atlanta, Hurricane Ivan plowed through the state, dumping heavy rains and flooding their home. Eleven days later, as the Trevelinos began to clean out the mud and debris left behind by the receding waters, Hurricane Jeanne rolled up the Gulf Coast and flooded the home again.
The experience was devastating to the couple.
"The idea of building and owning a home anywhere near 'real' water seemed a bit absurd to me," Dean Trevelino says. But shortly after the hurricanes hit, he had a change of heart while vacationing along the Emerald Coast.
"I saw Alys Beach rising out of the ground, and it was (like) nothing I had seen before," he says. The clean, striking architecture attracted him at first. But what convinced him to build his own vacation home there was the careful attention the community paid to sustainability – building homes not only to withstand violent storms such as the ones that had destroyed his home in Atlanta, but also to last for decades with very little maintenance.
"That's one thing about losing a house," says Trevelino, whose environmentally sound house at Alys Beach was completed in the spring. "When you're faced with something like that, you make sure you do it right the next time."