Hospitals are Branding Together
HCA Healthcare Strengthens Ties with Two Okaloosa County Providers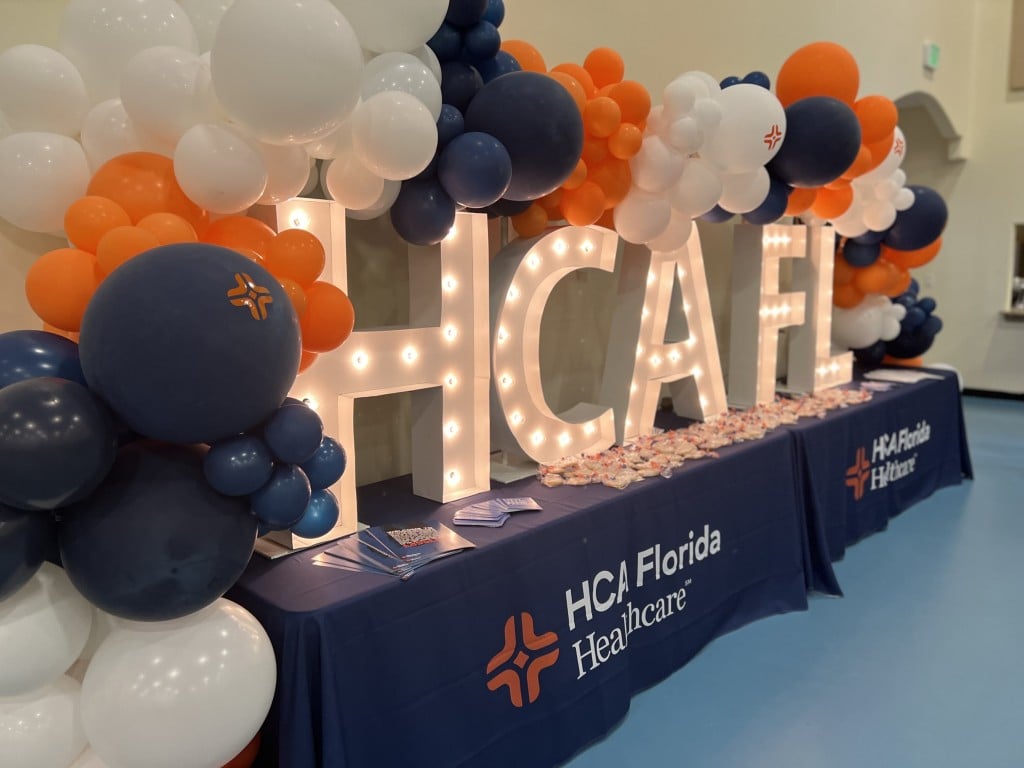 Okaloosa County healthcare providers Fort Walton Beach Medical Center and Twin Cities Hospital have joined in the unification of hundreds of HCA affiliate hospitals beneath HCA Healthcare's new statewide brand. The two hospitals will now be known as HCA Florida Fort Walton-Destin Hospital and HCA Florida Twin Cities Hospital.
"While our name just changed, we've been part of the HCA Healthcare family for a number of years, and our trusted physicians, nurses and other providers will continue to treat each patient like family – providing the collaborative, local care that our communities expect and deserve," said HCA Florida Twin Cities Hospital CEO Todd Jackson.
More than 250 healthcare professionals, community members and media representatives packed the ​First Baptist Church's basketball court as HCA Florida Fort Walton-Destin Hospital CEO Zach McCuluskey announced the rebranding initiative and name change. He made his remarks as part of a chamber of commerce First Friday event.
"This is an exciting and historic transition for us," McCluskey said. "Our local facilities are now united with more than 450 affiliated sites of care throughout Florida. HCA Florida Healthcare is the largest network of hospitals and physician practices across the state, making it easy for patients to access advanced, personalized care when and where they need it most."
McCluskey provided an update regarding HCA Florida Fort Walton-Destin Hospital's $100 million expansion project. Its four-story patient tower will have a phased opening. The first two floors, which will include 18 intensive care unit beds and 24 medical/surgical beds, are set to open in August, while the third and fourth floors will be completed in early 2023.
In recent years, HCA Florida Fort Walton-Destin Hospital has added freestanding emergency rooms in both Destin and Navarre, expanded its main emergency room with a rooftop helipad and added 10 beds to Northwest Florida's only acute inpatient care rehabilitation facility. Altogether, the physicians and caregivers at HCA Florida Fort Walton-Destin Hospital have served more than 740,000 patients in the last five years.