Harvest Wine & Food Festival
Cheers to Three Years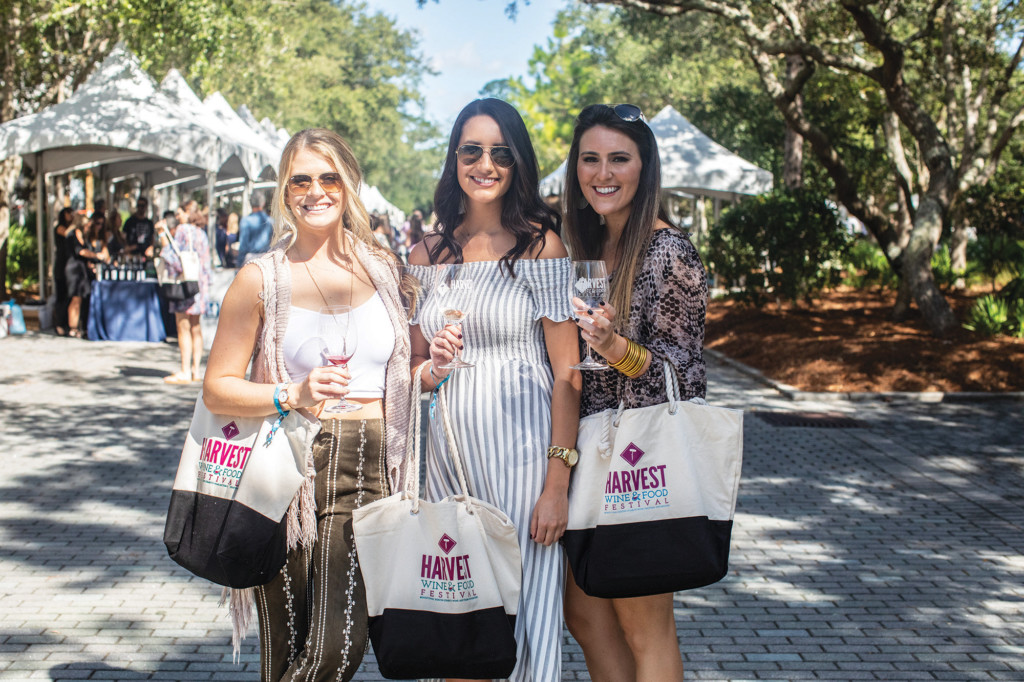 The Harvest Wine and Food Festival is one of those idyllic afternoons when you have to pinch yourself as a reminder that this is reality.
Dappled sunlight filters through the trees, beautifully alighting the crimsons, golds and blushes being sipped by smiling lips. Live music resonates as a soundtrack to the evening, and you peruse a variety of coastal cuisine options.
"The festival is such a sensory and beautiful experience that it feels like the set of a movie," said John Russell, president of the Destin Charity Wine Auction Foundation.
The third annual event will occur Oct. 24–26 in the beautiful South Walton beach town of WaterColor and is presented by the Destin Charity Wine Auction Foundation, which supports 16 local children's charities.
Last year's festival occurred 17 days after Hurricane Michael's landfall, and the event raised over $100,000, with $21,447 raised for The Sonder Project, which assisted those affected by the hurricane.
The festival begins on Thursday, Oct. 24, with three Celebrity Winemaker Dinners hosted in homes and restaurants throughout South Walton.
On Friday, Oct. 25, the Al Fresco Reserve Tasting will present an elevated experience featuring rare vintage wines paired with high-end cuisine on par with the James Beard level.
The elegant evening will take place during the golden hour, complete with a live band to set the tone for the night.
The main event, The Grand Tasting, will be on Saturday, Oct. 26 from 1–4 p.m.
This event highlights harvest season at the beach with a bounty of over 250 wines, beers and spirits to please your palette.
Coastal seafood, barbecue and market-style stations will be served by celebrity chefs and distinguished Gulf Coast restaurants. The acclaimed Fox Brothers of Atlanta will be back again to showcase their world-famous barbecue.
A new addition to this year's festivities is a private seminar occurring an hour before the Grand Tasting begins.
Sommelier Marika Vida-Arnold, a wine educator for the famed Argentine winery Catena Zapata, will be leading the exclusive tasting seminar and showcasing Catena Zapata's luxury wines.
"We work hard to partner with the highest quality possible for those who appreciate quality wine and food," said Russell. "It's a laid back, relaxed yet luxury event in the picture perfect place."
Harvest Wine & Food Festival | HarvestWineandFood.com
Oct. 24–26 Watercolor, Florida
Tickets to the Oct. 24 Celebrity Winemaker Dinners are $150
Tickets to the Oct. 25 Al Fresco Reserve Tasting are $200
Tickets to the Oct. 26 Mad About Malbec Seminar are $50
Tickets to the Grand Tasting main event on Oct. 26 are $150 for general admission and $300 for VIP