Harvest Wine & Food Festival Ushers in Fall Season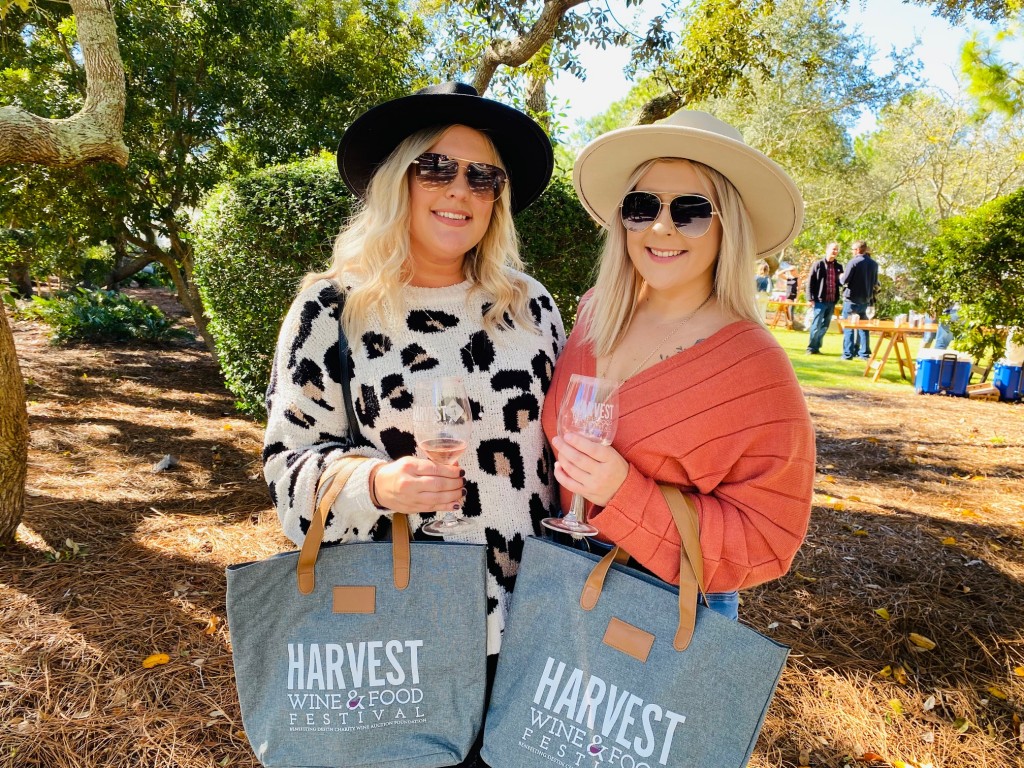 On a crisp, sunny fall Saturday, friends, couples, and colleagues were all smiles as they gathered under majestic live oaks shading Cerulean Park in Watercolor to usher in the 5th annual Harvest Wine & Food Festival — one part of a four-day celebration to raise funds and awareness for the Destin Charity Wine Auction Foundation (DCWAF).
As live music played, festival-goers chatted and strolled while sipping their choice of nearly 200 wines, spirits, and craft beers personally poured by representatives from more than 50 domestic and international wineries, distilleries and breweries.
For those looking to "amp up" their energy for the ample "wine tour," Coastal Coffee Bar was ready to fuel them with a menu of fresh-brewed espresso-based beverages like their season-inspired Spiced Pumpkin Latte.
There is a reason food is in the name of this seasonal fete. Curated bites beautifully displayed by the likes of Atlanta-based Chef Maricela Vega and local chefs and restauranteurs represented well by Perfect Pig, Destin Ice 30A, Old Florida Fish House and Jackacuda's satisfied.
Foodies delighted in the creative culinary partnership between Atlanta's Fox Bros. Bar-B-Q (Jonathan and Justin Fox) and Lyla Lila (Chef Craig Richards) who collaborated on three different smoked meat dishes: pork belly arancini, smoked beef cheeks with handmade pasta, and porchetta with pickled vegetables.
"We love coming to the beach, sharing some of our dishes, and supporting the Destin Charity Wine Auction and all the charities. It's been lovely," said Brenda Richards as she served up a flavorful serving of porchetta.
Emerald Coast Magazine sponsored the VIP tent experience featuring premium Napa Valley wine tastings by Roy Estate and Purlieu wines, signature cocktails by Cathead Vodka and Old Soul Bourbon, and crafty suds by Idyll Hounds Brewing Company paired with delicious food stylings by The Citizen at Alys Beach, SunQuest Catering and The Henderson.
Thanks to Innovative Sight and Sound guests could follow the game on high-def TVs and also hear live acoustic music by Tallahassee's Allie & Salty. A highlight of the afternoon was surely the special guest appearance by current Emerald Coast Magazine cover girl, Skylar Capri. Channeling boho chic in a pink crushed velvet blazer paired with blue striped bellbottoms, the svelte singer/songwriter charmed the crowd by performing her debut hit Sway and a few of her other original "alternative dream pop" songs — leaving no doubt as to why she is a TikTok sensation and rising star. Meanwhile, Epic Photo Co. ensured VIPs captured moments with playful keepsake pics.
The purpose of Harvest was palpable. Everyone seemed to understand the greater reason for gathering together was to support DCWAF which has raised more than $25 million for local children's charities. Chelsea Patricia, a social media influencer visiting from Atlanta quipped, "I love that lifting my glass is helping children's charities — win-win."
This sell-out event is just one delicious reason why DCWAF is ranked the No. 5 wine auction in the nation. Harvest Wine & Food Festival successfully ushered in the 2021 fall season in the most festive way possible and the Northwest Florida coast community is all the better for it.