Harvest Wine & Food Festival Infuses Fine Wine and Charity into Community
The second annual event is presented by Destin Charity Wine Auction Foundation, which supports 15 local children's charities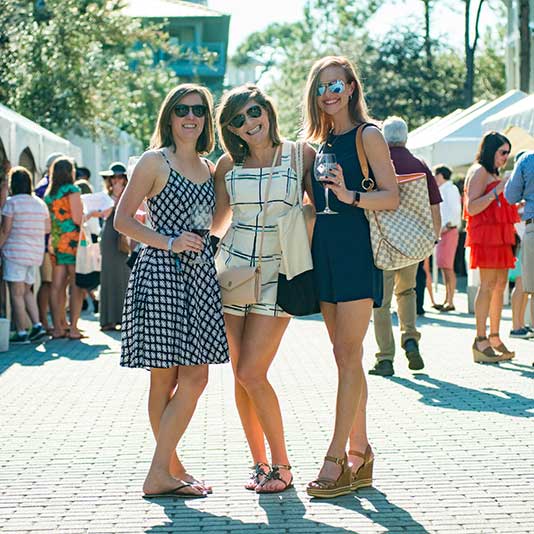 The sun will cast golden hues upon beautiful WaterColor, Florida, as the scents of delicious food wafts through the air and mingles with the clinks of wine glasses flowing with the unique wines being sampled at the 2018 Harvest Wine & Food Festival, Oct. 25–27.
"It's an abundance of sensory experiences revolving around wine, food and a picture-perfect environment — all benefitting our community," said John Russell, president of the Destin Charity Wine Auction Foundation.
The second annual event is presented by Destin Charity Wine Auction Foundation, which supports 15 local children's charities.
The festival begins on Thursday, Oct. 25, with three Celebrity Winemaker Dinners.
On Friday, Oct. 26, the Al Fresco Reserve Tasting will serve a selection of rare vintages paired with delicious hors d'oeuvres.
The Oct. 27 main event, Saturday's Grand Tasting, will bring the abundance of harvest season to the beach.
Attendees will have the opportunity to sip and savor over 400 wines and pair them with the best in Gulf Coast fare — all while enjoying the beautiful beach town of WaterColor.
There also will be a silent auction of rare wines, vacations and experience packages, with all pro ts benefiting Destin Charity Wine Auction Foundation.
One of the three headliners is vintner and celebrity winemaker Jean-Noel Fourmeaux, owner of VGS Chateau Potelle, who will be headlining a winemaker dinner at Seagar's Prime Steaks & Seafood, pouring at the Al Fresco Reserve Tasting and at the VIP tent during the Grand Tasting.
Originally from Bordeaux, France, Fourmeaux is a third-generation winemaker who opened his boutique winery in St. Helena, California, in 2007.
He prides himself on creating wines that honor the prestige and beauty of French wines, paired with the freedom and creativity of American wines.
This combination has proven popular among consumers. At the 2018 Napa Valley Auction, the Fourmeaux 2016 Red Blend set a record for the highest barrel price at $114,300. Rich and complex yet balanced, it's easy to taste the difference from a mainstream wine.
"If people were all the same, we wouldn't be very interesting," said Fourmeaux. "I think the same of wine. If the experience of wine ends in your mouth when you drink it, it's not that interesting. Instead, it shoulder linger. When you finish a glass of our wine, we want you to remember it."
For its second year, the festival promises even more rare wines, delectable food options, increased space and more funds raised for charities.
"The first year was incredible and truly showed the support this community has," said Russell.
"We connect wine enthusiasts from all over in order to raise money for children in need. We want people to have a great time and come back every year, all while falling in love with this organization and the work we are doing."
Harvest Wine & Food Festival
October. 25–27, 2018
Water Color, Florida
Tickets to the Oct. 25 Celebrity Winemaker Dinners are $150
Tickets to the Oct. 26 Al Fresco Reserve Tasting are $200.
Tickets to the Grand Tasting main event on Oct. 27 are $150 for general admission and $300 for VIP.
To purchase tickets and learn more about the festival, visit HarvestWineandFood.com.  Enter to Win TWO TICKETS to the festival here.