Habitat for Humanity of Walton County Receives $40K
Rosemary Beach Uncorked raised much needed money for the organization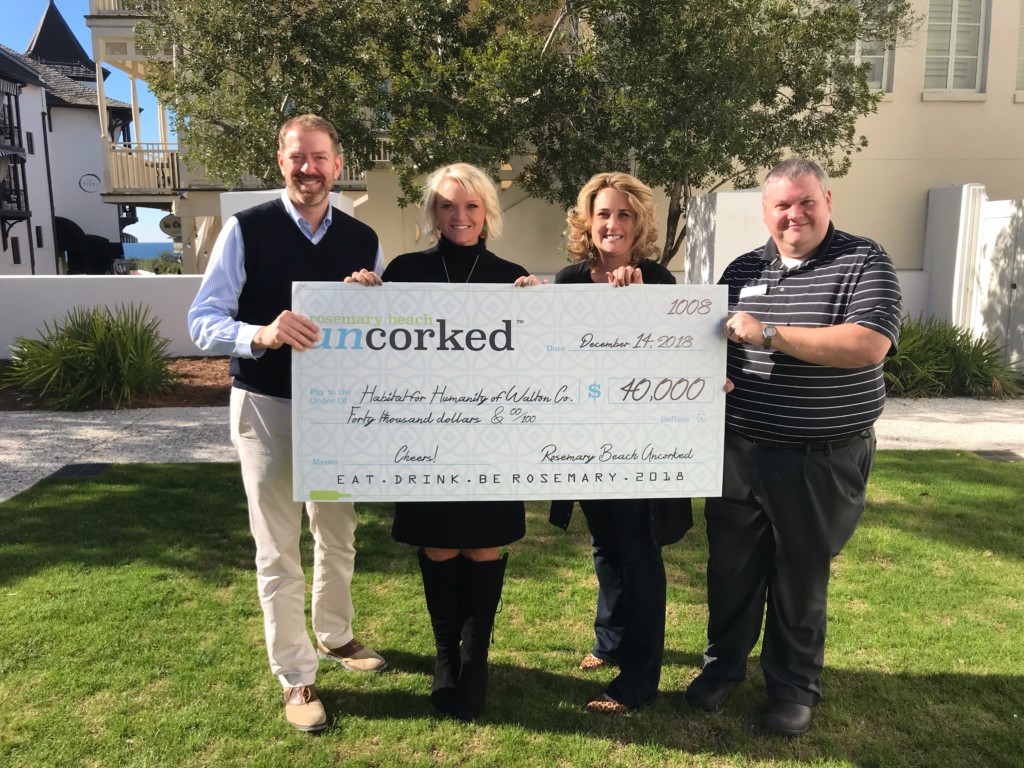 Rosemary Beach hosted the 8th annual Rosemary Beach Uncorked, a culinary and wine-pairing event, on Saturday, December 1, 2018, benefiting Habitat for Humanity of Walton County, Florida. Habitat for Humanity of Walton County, FL builds strength, stability, and self-reliance through shelter. This event was originally scheduled for an earlier date but was postponed due to Hurricane Michael. Even with the rescheduling of the event, Uncorked raised more than the previous year, presenting a check of $40,000 for the local non-profit, which will help Habitat service families here in Walton County.  
Held in the chic coastal town of Rosemary Beach–located along Scenic Hwy. 30-A, as a giveback to the local community, Rosemary Beach Uncorked is a collaboration of The Merchants of Rosemary Beach restaurants and participating retailers, including; Amavida Coffee,Cowgirl Kitchen, Edward's Fine Food & Wine, Havana Beach Bar & Grill, La Crema Tapas & Chocolate, Pescado, Restaurant Paradis,  Southside Slice & Summer Kitchen Café as well as retailers: The Hidden Lantern, Curate, Rosemary Beach Realty, Pish Posh Patchouli's, OKO, Luminary Lifestyle, Disco & Tracery.
The sold out event welcomed attendees to "eat, drink, and be Rosemary" enjoying live music while exploring the diverse culinary styles of Rosemary Beach's nine restaurants coupled with boutique wine pairings. Most of the attendees are Rosemary Beach homeowners; those traveling to the area for the annual event book accommodations within walking distance through the Rosemary Beach Uncorked premier lodging partner & water sponsor; Rosemary Beach Cottage Rental Company or with additional lodging providers The Pearl and The Rosemary Beach Inn.
The funds from this year's Rosemary Beach Uncorked will directly help Habitat combat the overwhelming need for affordable housing in our area. A lot of resources and money flooded to our neighbors to the east and is impacting many of the non-profits in the area who are still struggling to serve the 86% of families that cannot afford the basic necessities to live in Walton County.  
Habitat Walton County Executive Director Teresa Imdieke added, "Our Bay County Habitat was completely devastated by Hurricane Michael.  Four months later and we are still providing assistance to them as affordable housing is a major key to rebuilding that area."
Driven by the vision that everyone deserves a decent place to live, Habitat for Humanity of Walton County offers a hand up not a hand out, enabling the American dream to become a reality for families that often times would not be able to succeed without assistance.
For additional information about Rosemary Beach Uncorked, visit rosemarybeachuncorked.com. Those who are interested in supporting Habitat are encouraged to visit waltoncountyhabitat.org and get involved by volunteering on a home build, giving financial or in-kind building contributions, and shop at/donate items to the ReStore – Habitat's discount home improvement store located at 110 S. Co HWY 393 in Santa Rosa Beach 850-660-6004