Going for the Goal
Fitness results from a series of good choices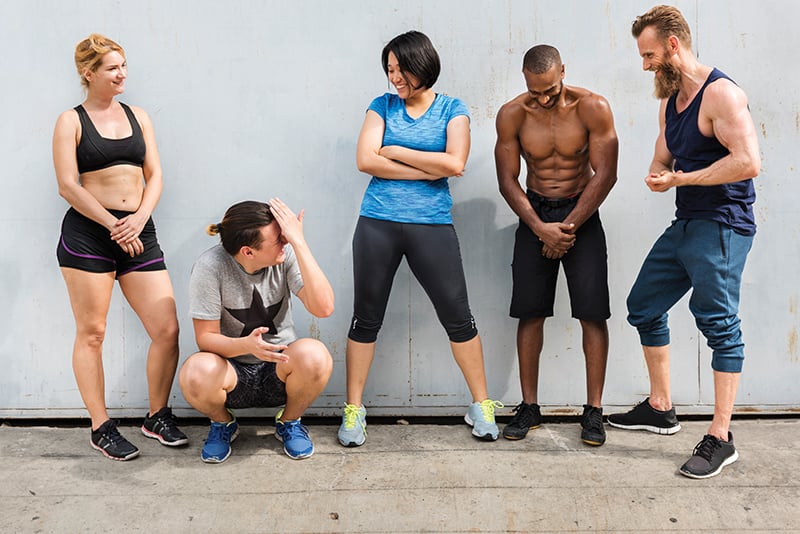 Although setting and achieving a health-related goal has much to do with the body, it actually may have more to do with the mind.
That's why Elizabeth Taylor and Bradford Price, siblings and co-owners of Pensacola Fitness, aim to get to know you as soon as you walk in.
"We value a personal relationship with our members," Taylor said. "First, we want to determine what your objective is. Are you looking to lose weight? Are you here to increase your strength, balance or stability? These kinds of questions help us guide people to the best source for meeting their needs."
But it's important to keep in mind that Rome wasn't built in a day. According to Price, most clients come in expecting to achieve their dream body overnight.
That's why he and Pensacola Fit's trainers encourage clients to set short-term, achievable goals leading to the desired results.
"You have to realize that any goal that's worth meeting is going to take time and effort," advised Dr. Larry Kubiak, director of psychological services at Tallahassee Memorial Behavioral Health Center. He suggests forming a specific plan of action and meeting with your doctor, especially if you have a medical condition such as diabetes, pre-diabetes or food allergies. "You'll want to see if your doctor agrees with your goal, whether he feels it's realistic, or if he has suggestions to offer," he said.   
Upon meeting a new client, registered dietician Heather Fisher does an eating behavior assessment.
"I won't tell someone what they can and can't have," she said. "Instead, I look at the timing of what someone eats, the components of what they eat, and we make modifications from there." Part of Fisher's job is to translate the science of nutrition into its practical application — one's eating habits.
The dietitian joined Kubiak, Price and Taylor in stressing the importance of not making changes too quickly.  "It's about wellness, not weight."
Keep It Small, at First
We're told to aim big in life.  But keeping it small is Rule No. 1 in behavior change. Kicking off a new eating plan may be as simple, Fisher said, as adding a piece of fruit a day to your diet  (or even every other day) if you never eat fruit, or cooking a healthy meal at home once a week if you've grown too used to convenience foods for dinner.
Fisher recommended looking at what you eat as a series of choices. "'Diet' is just another way of talking about what you choose to eat. When you're looking at meeting that immediate desire for food, you choose to eat one thing over another. Ask yourself, what will make me feel better, give me more energy?"
Just one simple change in your daily routine, such as hitting the gym, can boost your ambition. Whether you're engaging in a full P90x group workout or simply walking the treadmill for half an hour, you're one step closer to landing where you want to be. Finding an ideal exercise environment not only expedites progress, but works wonders with your mood.
"Our gym is a great place to get started because we have a unique combination of energy, equipment and expertise," Price said. "Whether you're a beginner looking to get started, or a senior looking to get back, we've got the atmosphere and equipment to get you there."
Half the battle, said Kubiak, is forming an effective image of what your life will be like with the goal accomplished.
"The 17th hole at The Players Club in Jacksonville is known as the Island Green because there's nothing but water between you and the green," Kubiak illustrated his point. "The professionals form an image of the ball landing on the green, close to the hole."
Build a Support System
It's also important to know what kind of person you are — what motivates you and keeps you motivated. "Some people have no trouble getting up at 5 o'clock in the morning to go jogging and do fine. There are other people who have trainers and go to classes," said Kubiak. "I pass a group of women jogging when I'm on the way to the gym and I never see one by themselves. Clearly there's a support system there."
Price insists upon crafting a personalized experience for each client at Pensacola Fitness. "We highly recommend using a personal trainer to help establish the workout plan that's right for you. Every person is different, their bodies are different, so talking to a professional who can get you on the right track is a great way to maximize results."
"Share your goals with the people who care about you," Kubiak said. "Write them out, put them on the refrigerator or medicine cabinet. Tell your spouse, your workout buddy. You'll feel more obligated to follow through." Dr. Kubiak even recommends developing a formal contract with yourself about your goal that you sign, witnessed by a significant other. Joint goals, he said, can also help ensure compliance.
At the same time, Fisher cautions people not to compare themselves to others. The internet is a great tool, but much of the advice on fitness and nutrition blogs can end up making her clients feel worse about themselves, she said. Fisher offered this advice: "Take care of yourself as you can. Don't beat yourself up for not doing what some chick on Pinterest says."
Shift Your Goals, or Set New Ones
As anyone who has dieted before well knows, you'll only be able to stick with a new healthy behavior if you enjoy what you're eating and doing. Enjoyment is as important to Fisher's nutrition strategy as balance, she said, noting that frozen diet meals may be balanced, but if you don't enjoy them, you won't eat them for long. "Enjoy what you're eating. That's key. Have an appropriate portion that satisfies your desires."
Don't give up — but do look at your goals periodically and modify them if need be, said Kubiak. "Maybe your goal was to lose 20 pounds, but you like the way you feel after losing 15, and maybe that's enough. Maybe your goal is to run a marathon, but you don't have to run a marathon to be in shape. You might decide that jogging is putting too much pressure on your joints, and you can stay active longer if you try bicycling or swimming."
"We want to encourage people to dream big, but we often have to adjust the time frame for people's goals, or modify them entirely," Price said. "Reaching those new ones provides feelings of accomplishment. Success is suddenly more attainable, and you'll receive some much-needed workout motivation."  
Go Online
While nothing beats a dedicated doctor, trainer, or nutritionist, these recommended resources can help you get started.
ChooseMyPlate.gov
Information on USDA dietary recommendations, stacked with plenty of online tools.
EatingMindfully.com
Tips and resources from clinical psychologist Dr. Susan Albers.
IDEA Health & Fitness Association IdeaFit.com
Directory of fitness professionals, articles on exercise, and a workout builder.
IntuitiveEating.org
From the authors of Intuitive Eating, a program that advises listening to your body. Includes a community forum.
MyFitnessPal.com
Free online calorie counter and diet plan.