Giving is Glamorous at Best of the EC 2019
The Junior League of the Emerald Coast raises funds to clothe local children in need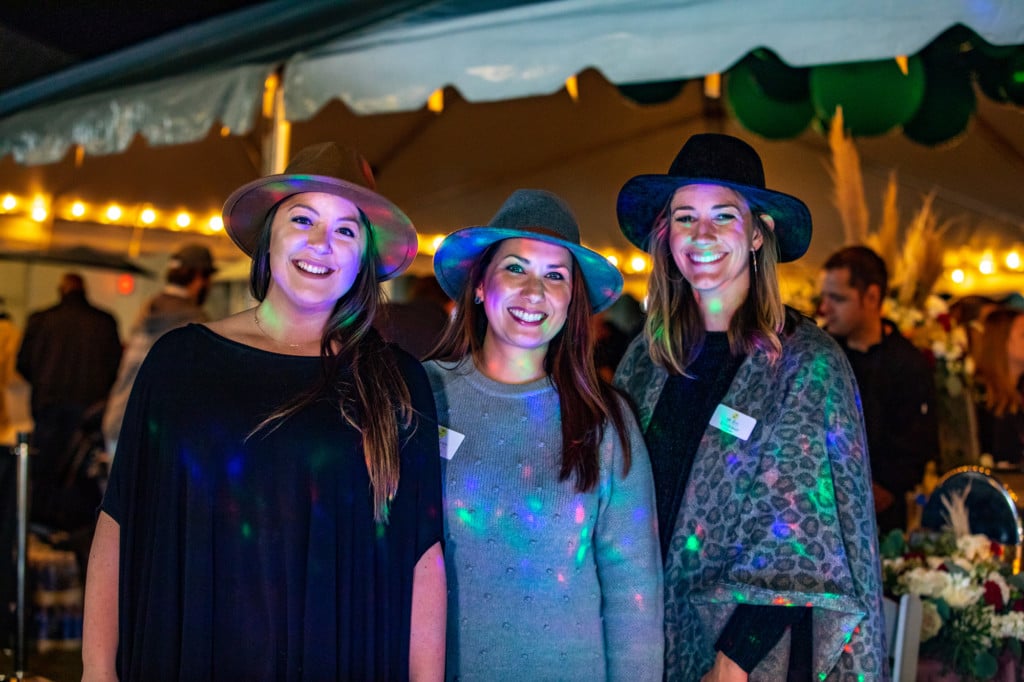 In a grandiose sea of gourmet fare, prosecco toasts and silent art auctions, Edward Lannon intricately poured shots of Fireball Cinnamon Whisky into red plastic mini-solo cups.
"I'm staying in my lane," Lannon explained, looking up from his frat house-style party table. "I can't compete with all the big guys here, so I'm sticking with what I know."
Lannon, who for the first time was experiencing the annual Best of the Emerald Coast event, presented by Emerald Coast magazine, co-owns National Property Inspections Emerald Coast with his wife and was deemed Best Property Inspector by the annual EC reader poll.
And, as guests meandered through Grand Boulevard at Sandestin on a crisp November night, Lannon found his red-hot shots to be a flaming success. Mrs. Lannon had to run out to get more cups.
"Fireball wouldn't have been as welcome if we'd stuck with the original date," he surmised, "but it's cold out, so it's going fast."
Indeed, a mid-October tropical storm warning forced the 2019 Best of the Emerald Coast bash to take a rain check. But Saturday, Nov. 16 proved that the party, albeit rescheduled, was no less great, as hundreds bundled up to celebrate the most elite in local business.
It was a bit of a piggyback celebration for Emerald Coast magazine, too, as 2020 marks the 20th anniversary for the area's first consumer lifestyle magazine. Parallel from Lannon's booth, guests were welcomed at the Emerald Coast magazine hospitality tent with a delectable sampling of Farmer's Daughter Vineyards wine and selections from Idyll Hounds Brewing Company. Adjacent, a molecularly-structured sculpture of pearlescent emerald-green and gold balloons by Mingle 30A, as well as a massive, balloon-emblazoned "20," served as the backdrop for 30A Life Photo Booth's souvenir snaps.
It was just a taste of the glitz and glamor awaiting in the VIP tent, where guests were greeted by the Hive Creative Consulting's sparkling stilt-walker, LED, glow-in-the-dark glasses of champagne cocktails and Silver Sands Premium Outlets swag bags.
Inside, more balloons chandeliered over stations of balsamic-drizzled lamb lollipops served by Fleming's Prime Steakhouse & Wine Bar, crispy shallot-topped steaks doled out by Seagar's Prime Steaks & Seafood's and coconut cake confections courtesy of Tommy Bahama's Restaurant.
Rowland Publishing account executive Darla Harrison had earlier advised me to try Solaris/Sunquest's seafood gumbo and, as she hails from New Orleans, I just knew I'd want to lick the bowl.
By recommendation of Steve Bornhoft, editor of our sister publication, 850 Business Magazine, I washed it down with an Idyll Hounds Boosh, a dry-hopped IPA with crisp, fruity undertones.
I was further tempted to imbibe as I made my way out of the tent, overhearing Distillery 98 inform a pea coat-clad woman of their "grain-to-glass" distilling process. Made from locally-grown corn, a shot of their Dune Lake Vodka required no chaser.
I paused in the central plaza on my journey back to main street, where the soulful, funky bassline to a Shank & Johnny jam had mesmerized a girl no more than four years old. Her erratic dance moves, no doubt fueled by the Fun 4 Emerald Coast Kids' cotton candy stick she clenched in her fist, were priceless.
Just beyond, Trulieve, an Emerald Coast magazine sponsor, was giving away everything from embroidered beanies and trucker hats, to cotton totes and shades. William Longmore, who works at Trulieve's Destin site, believes they are one of Florida's strongest medical marijuana dispensaries going.
"We're providing people with any information they want to know about the dispensary, products or getting their medical marijuana cards," said Longmore, motioning to an informational pamphlet. It details the application process, as well as a list of local, cannabis-friendly clinicians with whom you can book an evaluation."
From there, I spot a billowing smoke signal curling up from McGuire's makeshift burger bar at the end of the boulevard. Their hot-off-the-grill patties, piled high with sweet onion, lettuce and tomato, could only be described as juicy, and I at once admired the ingenuity of a couple of fellas eating theirs directly over a bin.
My napkin aided me then and immediately after, as a sampling of Shunk Gulley Oyster Bar's smoked Yellowfin tuna dip, infused and innervated by JC's Gourmet peppers, worked to clear my sinuses. (A cool-down was called for, and a scoop of salted caramel blondie ice cream from Miramar Beach's Ben and Jerry's did just the trick.)
Pangs of overindulgence came a knockin', and I took a breather with Bethany Worley, president of the Junior League of the Emerald Coast (JLEC), to whom the event's proceeds will go.
The Best of the Emerald Coast is one of the volunteer organization's biggest fundraising events of the year, as every dollar benefits their Child Clothing Project. In partnering with Target, JLEC is able to clothe more than 400 children in Okaloosa and Walton counties each year.
"We're sort of only scratching the surface because there are over 6,000 children that qualify for our program based off those enrolled on a free and reduced lunch program," Worley said. "So, the more funds we receive each year, the more children we're able to impact, and the more lives we're able to better in our community. This my favorite event that we put on by far, as it's one of the hugest parties of the year and really makes a difference."
"The 20th annual celebration of Best of the Emerald Coast was spectacular." Declared Rowland Publishing sales and events manager Mac Little. "Businesses, both new to Best and seasoned pros, showcased why they were voted the best in their category. We are honored to plan such a large community event that showcases why the Emerald Coast is the best place to live, while also contributing to the Junior League of the Emerald Coast's mission."
As always, Emerald Coast magazine would like to thank the community and our sponsors for their endless support: Grand Boulevard, Carr Riggs & Ingram CPAs and Advisors, Silver Sands Premium Outlets, Counts Real Estate, ResortQuest by Wyndham, Brotula's Seafood House & Steamer, Trulieve, Distillery 98, The Hive Creative Consulting, Farmer's Daughter Vineyards, Land Air Sea Productions, Eloquent Signs, Gulf Power Company, Idyll Hounds, Proffitt PR, Estuary Oysters and Emerald Coast Audio Visual.
Follow us on Instagram and check out our hashtag #BestofEC for event highlights.
See your photos from the photo booth here!
See more photos from the event below – Photos courtesy of Land Air Sea Productions