Get Boozy at Brunch
Breakfast brews are opening eyes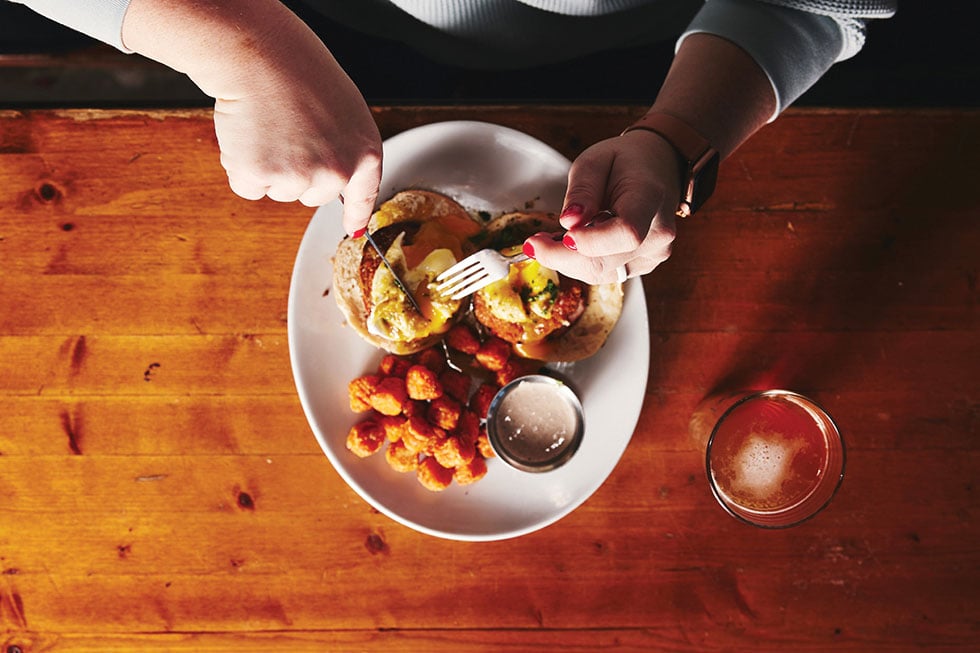 Sheryl Crow, in her 1994 hit, "All I Wanna Do" — recall I like a good beer buzz early in the morning / And Billy likes to peel the labels from his bottles of Bud — may have unwittingly anticipated a trend.
Not so long ago, chugging suds for breakfast usually resulted from staying up all night drinking with friends. Today, not necessarily.
Throughout North Florida, from Tallahassee to Pensacola, imbibers are quaffing cold ones with the sun in the east. Area breweries are adding breakfast beers to their menus of craft creations, sometimes on a seasonal basis.
Here's a sampler.
At The Craft Bar in Panama City Beach, Cody Ward touted "Toppling Goliath Nitro Mornin' Latte," an imperial coffee milk stout brewed with lactose and a careful blend of cacao nibs and aromatic coffee.
"With this style stout, there is a smooth and full body texture leaving just a very small head on the beer almost looking like a fresh-brewed espresso or cold brew coffee."
For the record, the ABV is 8.9%.
"My favorite breakfast beer depends on the hour of the day," said Joseph Frasier Hansen at Idyll Hounds Brewery in Santa Rosa Beach. "Right away, I would say Joe, our coffee vanilla porter. Joe is brewed with fresh coffee and conditioned on copious amounts of vanilla beans. It hits the spot with coffee aromas and sweetness from the vanilla. It's an easy-drinking porter at 7.5% ABV."
Third Planet Brewing in Niceville offers Boggy Bayou Stout. Brewed with lactose, vanilla and cacao nibs, the brew intermingles notes of roast, dark fruit and caramel with bittersweet chocolate and vanilla. This stout's modest strength and body also provide the opportunity to enjoy more than one pint. ABV is 5.5%.
Chelsea Taylor at Destin Brewery said its Breakfast Beer is proving popular. "It's a light crisp ale, almost lager-like with pink grapefruit," she explained. "Because of its low ABV of 5% and tangy citrus blast, it pairs with every meal, including of course, breakfast."
At World of Beer in Destin, general manager Cody Knowles noted that "most breakfast beers are going to be stout, imperial stouts, porters or some other type of dark, possibly barrel-aged beer.
"What makes a good breakfast beer? The maltiness of an imperial stout that pairs with a pancake syrup? Bitter coffee flavor paired with a nice lactose stout? There isn't a wrong answer here."
Knowles said his favorite is DuClaw's Sweet Baby Jesus Porter, ABV 6.2%. According to the World of Beer website, the brew features a "smooth, dry finish and just enough hops to balance aromas and flavors of roasted malt, chocolate and rich peanut butter."
At Kelley's Beach Liquors in Fort Walton Beach, Chuck Kelley singled out something new from Oyster City Brewing Company out of Apalachicola — the Port St. Joe Porter draft beer with an ABV of 5.7%.
"It's a peanut butter porter," Kelley said, "and for breakfast you can let it warm up to room temperature and just enjoy all the flavors."
Reed Odeneal at Perfect Plain Brewing Co. in Pensacola didn't hesitate when asked about his favorite breakfast beer. "Ommegang's American Farmhouse Ale, Hennepin, is one of the perfect beers to enjoy as a beermosa at breakfast," he said. "Its spicy, phenolic aromas and champagne-like effervescence pair well with fresh-squeezed Florida orange juice." The ABV is 7.7%.
The breakfast beer trend, of course, is not confined to the Emerald Coast.
Bryan Smith of Proof Brewing Co., which became Tallahassee's first craft production brewery in 2012, described their version of what has become the popular "beermosa."
Its main ingredient is the Strawberry Lemonade Evil Kiss, a fruited Berliner Weisse (alcohol by volume, 4.5%) "that has the tartness of lemonade with a touch of fresh strawberry sweetness."
The rest of the recipe: "Use two-thirds beer and one-third orange juice or your favorite juice. You can add a splash of champagne to kick it up a notch or add a dash of bitters for balance."
Elsewhere in Tallahassee, Mike Raynor Jr. of Mike's Liquor & Beer favors Founders Breakfast Stout (8.3% ABV).
"It has notes of oats, chocolate and two different types of coffee," Raynor said. "It's the perfect flavor portfolio for any time of a day. It is also infused with nitrogen to give it a smooth creamy finish. It has the distinct ability to pair well with desserts, especially ice cream. I will offer a warning, though, that it tastes so smooth and full that the drinker may forget it even has alcohol in it."