Freezing Away Fat
Dermatology Specialists & Aqua Medical Spa offer CoolSculpting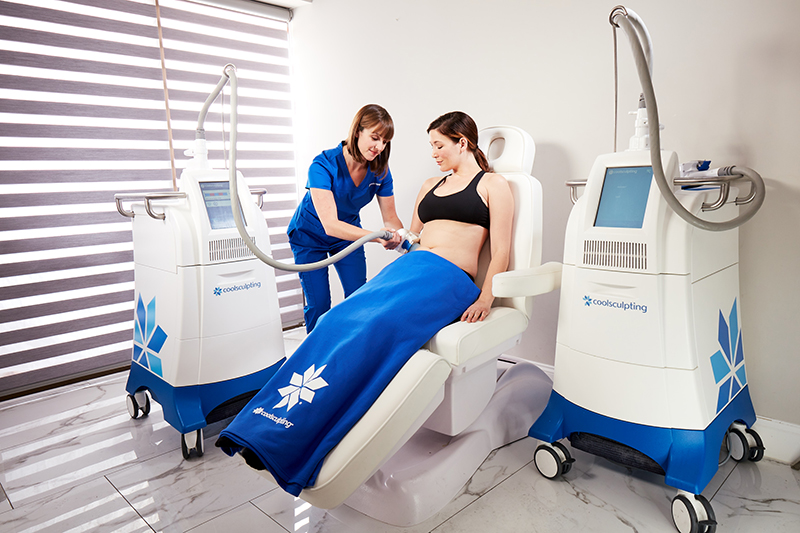 Dermatology Specialists & Aqua Medical Spa take pride in offering cutting-edge medical technologies often deemed "cool."
CoolSculpting is not only popular; it actually uses cooling techniques to freeze away fat cells.
CoolSculpting, technically referred to as crylipolysis, safely cools a targeted area using paddles that work to reduce and eventually eliminate fat cells. This treatment contours the body while eliminating unwanted fat deposits, resulting in volume reduction in the treatment area.
This process works to destroy fat cells naturally and without damage to the skin. Over the course of a few weeks, the fat cells are eliminated by the body. CoolSculpting is proven to reduce fat cells in the treated area by 20 to 25 percent.
Julie Mahieu, an aesthetician at Aqua Medical Spa in Tallahassee, said that candidates for CoolSculpting are typically people who have genetic fat that is not lost through diet or exercise. To be considered for treatment, prospective patients must have at least an inch of pinchable fat. This treatment is optimal for people who want to pursue non-surgical treatments or do not qualify for surgery.
Aqua Medical Spa aestheticians meet with patients in a free consultation to determine a treatment plan. CoolSculpting can be administered to the chin, chest, arms, upper and lower back, upper and lower abdomen, flanks, inner and outer thighs and gluteal folds.
There's no preparation required beforehand and no downtime afterward. The procedure takes anywhere from 35 to 60 minutes depending on the area targeted. In the first few minutes of treatment, patients experience intense cold, but the area numbs quickly and the cold sensation goes away. During this time, the applicator paddles apply a mild suction that freezes fat.
The in-office treatment freezes the cells, and over approximately three weeks, the fat cells die and disintegrate. The most noticeable results of the contouring process are typically noticed within two to three months following treatment.
At follow-up appointments, results are examined to determine if another treatment may be needed.
"This is a safe and effective treatment that helps those who wish to combat stubborn fat," Mahieu said. "I've never had a patient express any complaints, only genuine happiness with their results."
CoolSculpting is FDA cleared to treat visible fat bulges in 9 areas of the body. Common side effects include temporary numbness, swelling and discomfort. To learn more, visit AquaMedicalSpa.com or call 877-563-3772.
---