Food Truck Frenzy
A Variety of Vehicular Dining Venues Give New Meaning to Savoring a 'Moveable Feast' on the Emerald Coast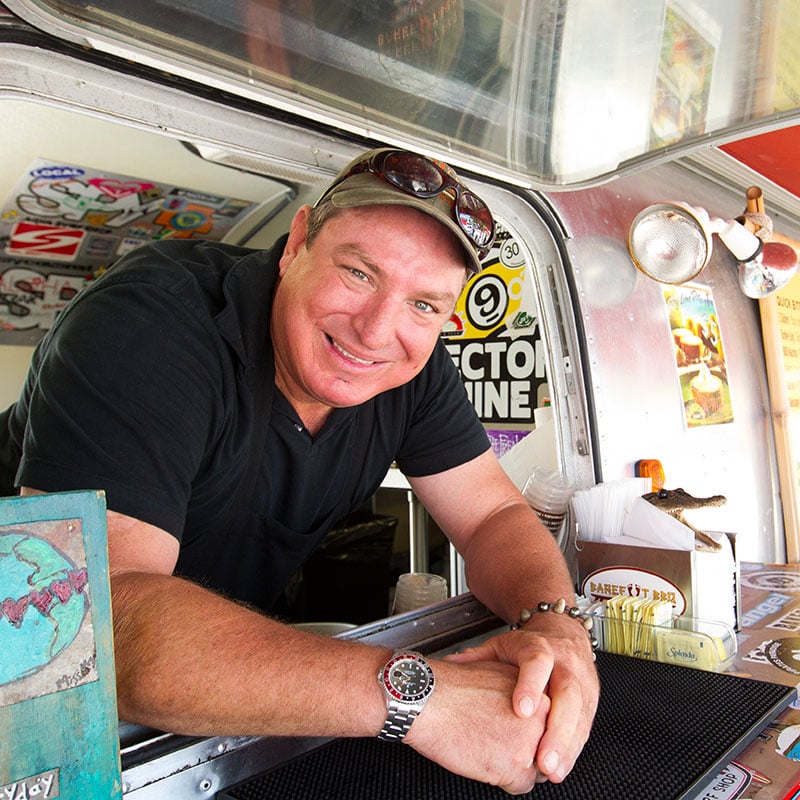 Food trucks have been around for quite awhile on the east and west coasts and are beginning to rev up the culinary scene all along the Emerald Coast. When most people think of food trucks, they think of a quick bite on the go or a hot dog at the ballpark. While food trucks are still a quick and convenient dining option, many trucks along the Emerald Coast have gone gourmet and are serving up a side of atmosphere along with their tasty eats.
You will find food trucks from Crestview to the gates of Eglin Air Force Base, in Pensacola and on 30A. "My family loves grabbing a bite at the food trucks and enjoying an afternoon in Seaside," said Destin resident Melissa Zurick. "We can all get something different, and then enjoy lunch on the lawn together. Barefoot BBQ in Seaside is the best barbecued pork we've ever had."
Many restaurant owners have jumped on the food truck bandwagon to help expand their brand and provide another location for customers. Sweet Henrietta's Treats in Santa Rosa Beach is opening Henri the Cupcake truck this spring to expand the current catering service.
 Tina and Rick Stanfield treat everyone in Santa Rosa Beach to sweet confections from their polka-dotted truck named Henri.
"My husband and I have been wanting to do a food truck for a long time," said Sweet Henrietta's co-owner, Tina Stanfield. "Our goal is to go across the country to events and festivals, do birthday parties and find as many local places to set up as possible."
The Stanfields have some other ideas in mind for Henri the Cupcake truck as well.
"We would also like to visit children's homes and senior citizen homes with birthday cakes as a way to give back," said Stanfield.
If you are looking for variety at your next "truck stop," Al Fresco in Pensacola offers fun urban dining and serves as a destination location on Palafox and Main Street. Four silver Airstream trailers make up the Al Fresco development and include Z Tacos, Gouda Stuff, Gun Shot BBQ and Greenhouse. The Airstream trailers are anchored by a restaurant, Shux Oyster Bar, and share a fully developed paved patio, including a misting system for warm days, umbrellas, tables and chairs.
"I travel to Austin regularly and really enjoy the food truck scene there," said Michael Carro, Al Fresco's developer. "While Austin has amazing food, they don't really have any great food truck parks. There are mostly gravel parking lots, and the dining experience is not as fantastic as the food."
Carro worked directly with the city to develop the Al Fresco corner, involving landscapers and architects to create an atmosphere that would be a memorable part of Pensacola.
"We were trying to come up with a concept that offered a great experience and great food," said Carro. "We wanted Al Fresco to be a great addition to the city, not just an afterthought. By working with the city we came up with something unique that everybody could be proud of."
While the Al Fresco development has seen tremendous success in its first year of operation, start-up is not as easy as one may assume. As with any business, many food truck vendors have found their fair share of bumps along the road.
The El Saboricua food truck in Fort Walton Beach operated for approximately eight months before closing due to permitting issues. Truck owner Angel Burgos partnered with another vehicle "foodie" vendor to create a lunchtime hot spot outside Hurlburt Field.
"We did not have a lot of competition because we were a one-of-a-kind thing," said Burgos. "People were really excited about having food trucks in the area, especially something with a Latin flavor."
Burgos loves cooking for people and first started selling his coveted empañadas out of his car before opening El Saboricua. He hopes to reopen his original truck concept this summer.
Another challenge for food truck vendors is finding locations to park and sell, according to Alligator Pear co-owner Emily Dallas. Alligator Pear offers tortas, which are Mexican-style sandwiches, and burrito bowls and can usually be found in the Lowe's parking lot in Destin.
"My husband has been cooking in restaurants for years, and it has been a life-long dream to have his own kitchen," said Dallas. "This has been a great way for us to start small and build up, and we saw how popular the food truck concept is in cities like New York and Miami."
Alligator Pear uses social media such as Facebook and Twitter to let customers know the truck's location and hours.
"We see a lot of repeat customers," said Dallas. "That is one of the nice things about [owning] a small local business. You really get to know your customers."
Of course the Emerald Coast has its own twist on the food truck concept, which includes floating eateries on Crab Island. In the early 1990s, well before Wayne Anderson planned for his Cabana Café restaurants, he opened Wayne's Dog House on Crab Island.
"Wayne's Dog House was the first floating restaurant on Crab Island, and it was a blast," said Anderson. "People loved the fact that it was on the water, there was live music and, of course, the food was always fresh. The uniqueness of the boat made the experience pretty cool."
While Wayne's Dog House is no longer on Crab Island, others like it are. The Sinkin Weenie is a floating restaurant offering a full menu. "A boat selling food like a truck is a huge novelty and something that most people have not seen," said Brian Fleming, owner of the Sinkin Weenie. "We have locals that are regulars as well as tourists that come back every year for the food."
If you are looking to have a unique experience with your next meal, food truck dining may be for you. From sweet to savory, the EC has its share of food trucks and boats to satisfy any craving.