Fishing Explorations in Walton County
Countless Ways to Soak in the Experience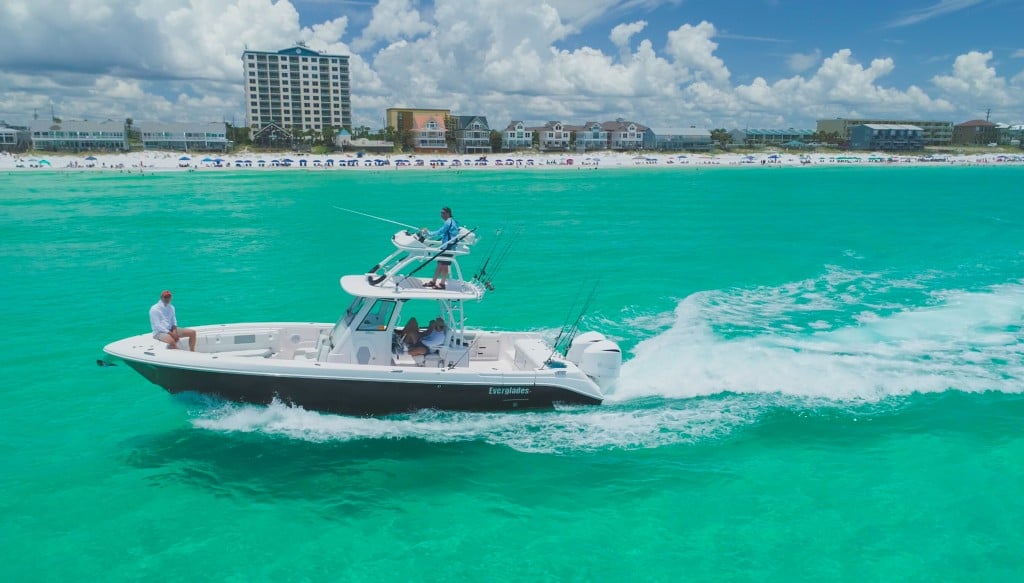 People are drawn to water. Maybe it's the fact that about 60% of the human body is water. Or maybe they are just looking for a break from dry land. Regardless, when it comes to getting out for some fishing, Walton County's incredible array of waterways and 26 miles of shoreline along the Gulf of Mexico offer countless ways to soak in that experience.
Even if you're just a novice, there are all sorts of opportunities to do a little sportfishing around Walton County. It's always a good idea to book a charter in advance. Having a knowledgeable guide helps ensure the best possible experience. They will know exactly where to find the fish you're after, and you won't need a fishing license if the boat is appropriately licensed. Consider using travel sites like TripAdvisor to find the right charter for you. The reviews from actual visitors will give you specific details about each option to help determine the right match for your group.
Departing from Grayton Beach aboard a Cape Horn vessel, fishing charters aboard the Trigger Happy will take you 3-10 miles offshore for a guided excursion. Capt. Mike with Trigger Happy Fishing Charters has been fishing the Grayton Beach area since 1983 and knows the offshore reefs well. For inshore charter flats fishing and fly-fishing excursions, check out Florida Boy Adventures. And Reel 30A has exciting surf charters where they meet you right at the beach and guide you through everything you need to know. If you prefer to fish on your own, they also have premium fishing gear and tackle for rent and will deliver it right to you.
Looking for something a little different from the turquoise Gulf waters? Consider a charter on the Choctawhatchee Bay instead. The calmer waters and a more laid-back vibe offer an experience that's ideal for all ages and levels of experience. Santa Rosa Charters specializes in unique back bay outings. Headed up by Capt. Sidney Little and departing from Baytowne Marina at Sandestin Golf and Beach Resort, Lil' Lucky Fishing Charters will put you in the right spot to catch a wide variety of fish, including redfish, speckled trout, black drum, sheepshead and jack crevalle.
A whole other world awaits in the local rivers, cypress swamps and rare coastal dune lakes. Kayaking is a quick and nimble method of exploration, allowing you to maneuver easily in and out of tight spaces where the fish often like to lurk. To get going, check out Butterfly Bike & Kayak in Seagrove for a nice selection of rentals.
And if you are interested in joining the fish rather than catching them, maybe a scuba outing is more your speed. Morrison Springs, just east of DeFuniak Springs, offers one of Florida's most unique diving experiences. The main spring-fed pool is 250 feet in diameter with crystal-clear water for optimal visibility. There are three cavities for underwater exploration, the deepest of which is 300 feet and leads to an underground chamber that has yet to be fully measured.
With so many options for services (and scenic backdrops), fishing in Walton County truly creates a unique experience for all anglers. Getting out on the water also just lets you appreciate the surrounding beauty. It provides a perfect vantage point for witnessing an otherworldly sunrise or sunset — a perspective that helps fill those moments when the bites aren't coming quite as quickly.
Know Before You Go:
DO I NEED A FISHING LICENSE?
If you're over the age of 16 and plan to saltwater fish here, you need a license, except if:

You fish from a for-hire vessel that has a valid charter license.

You fish during Free Fishing Days.

You fish from a pier with a valid saltwater pier license.

You have a valid Saltwater Products License or FWC Charter Captain License.