Fifth Annual Love All Tennis Event to be Held at Tops'l Resort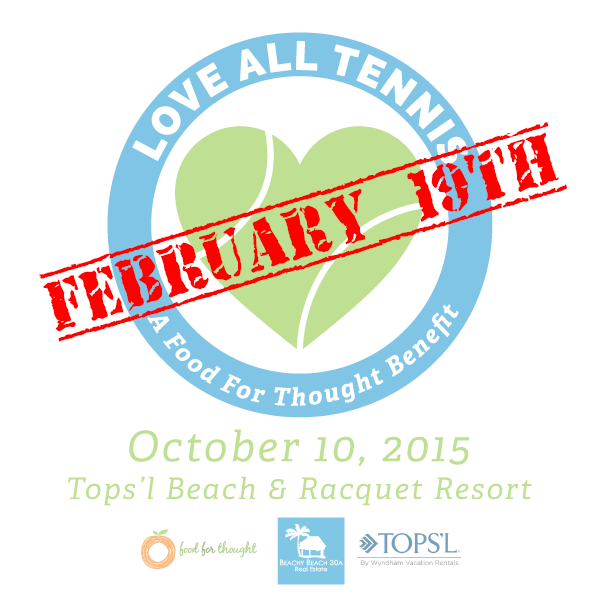 Five years ago, a handful of women passionate about supporting Food for Thought Outreach initiated a modest grassroots fundraising event to benefit the organization. Now, Love All Tennis has grown into something special.
What started out in its first year as a small round-robin tournament has become a signature event for the Emerald Coast community and tennis lovers from far and wide.
ResortQuest by Wyndham is hosting this year's event to be held at Tops'l Beach and Racquet Resort on February 19, 2016. Other sponsors include Beachy Beach 30A, Silver Sands Premium Outlets, Print Source, Chi-Mar Construction, Miramar Beach Dental and Orthodontics and Porath & Associates P.A.
Love All Tennis will feature a round robin style event with a doubles challenge and an after-party with food, cocktails, a raffle and silent auction.
Food for Thought Outreach provides food to people in need. Donations of items including peanut butter, jelly, pop top soup, tuna, chicken snacks, canned vegetables, fruit cups and oatmeal packets are welcome. Visit fftfl.org for more information on how to help the cause.
This year's event welcomes Food for Thought supporters, tennis aficionados and the general public. At just $30 per ticket, the after-party is a great way to get involved and have some fun. Clinics are held during the day and the party kicks off at night with the food, drinks and silent auction. Register early to secure your free event t-shirt and get ready for a day filled with fun, tennis and fundraising!