Emerald Coast's Best of 2013
A Toast to the Cream of the Coast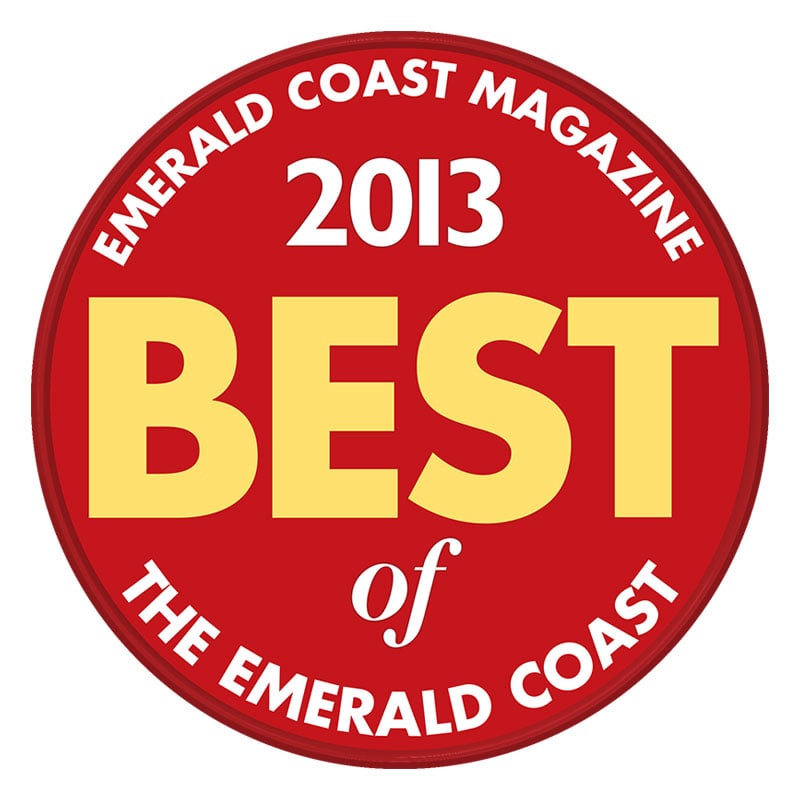 We choose to live, work and play in the Emerald Coast because it has a distinct sense of place that gives us a true sense of belonging.
Locals will tell you that the quality of life here is unlike any other, not because of the sugar-sand beaches, though they are spectacular. Not because of the climate, though the Southern tropical climate is desirable all year. It is surely because of the people who give this little patch of Florida personality plus. They are our earnest, hardworking friends, family and neighbors who pour their heart and souls into all they do — including delicious restaurants, quaint retail shops and service-centric businesses they own and operate, and the exceptional professional services they dutifully provide to each of us day in and day out.
We left the honor to you, our loyal readers, to judge the Best for yourselves. Your votes were cast, the ballots have been counted, the results are in and now it's time to celebrate!
It's lucky year 13 for what has become one of the most anticipated social events of the season. You will have a chance to mix, mingle and party with the Best of the Emerald Coast winners on Saturday, Oct. 19, from 6 to 9 p.m. at Grand Boulevard at Sandestin. For ticket information visit here.
The real star of the show is the evening's charity, the Junior League of the Emerald Coast, whose team of volunteers and members toil tirelessly for the betterment of our community.
So, without further ado, we present the Best of the Emerald Coast for 2013 …
FOOD AND BEVERAGE | ENTERTAINMENT | SERVICE PROVIDERS | SHOPPING
FOOD AND BEVERAGE
Best Appetizer
Bonefish Grill
Whether you are looking for surf or turf, Bonefish has the Best appetizer to get your meal started right. Try the famous Bang Bang Shrimp tossed in a creamy spicy sauce or the Wagyu Beef and Ginger Dumplings, handmade with American-style Kobe and pan-seared with crispy shallots, Thai peppers and soy sauce. Destin, Pensacola, Panama City and Panama City Beach
Best Bagel Shop
Not Just Bagels
The aroma of freshly baked bagels, breads and pastries fills the air of this gourmet bagel shop. With as many as two dozen flavors to choose from and a variety of cream-cheese flavored toppings made fresh daily, Not Just Bagels will have you in comfort-food heaven. Looking for a light meal? As the name implies, Not Just Bagels serves breakfast, sandwiches and salads, too. Destin
Best Bakery
KaraBoo Bakery
If you're in need of a sweet treat, this locally owned bakery takes the cake. With delicious desserts for any occasion, KaraBoo Bakery's homemade cakes (wedding and otherwise), pies, cupcakes and pastries will satisfy even the largest sweet tooth. If you are in the mood for something savory, try a fresh sandwich from its beachside café. Miramar Beach
Best BBQ
Jim 'n Nick's Bar-B-Q
Slow-smoked baby back and spareribs, hand-pulled pork and sliced Angus beef brisket are a few favorites on Jim 'N Nicks mouthwatering menu. Refusing to cut corners, the restaurant smokes meats for 14 hours in hickory. The attention to detail and Southern-style barbeque will have you licking your fingers after every bite. Destin
Best Beer Selection
Miller's Ale House
Three cheers for the Ale House Restaurant! With more than 75 varieties of beer to choose and a full service bar that also includes wine and liquor, you will be toasting all night long. Pair the cold ale with a delicious steak, seafood, salad or pasta dish, and enjoy the relaxing atmosphere of this neighborhood family restaurant. Destin
Best Bloody Mary
The Red Bar
Winning the hearts of locals, visitors and celebrities, The Red Bar is a favorite in Grayton Beach. Offering simple yet delicious lunch and dinner menus and an award-winning Bloody Mary, the eclectic bar is a popular indoor entertainment spot. Sit back on the funky furniture, and enjoy the sounds of live music with family and friends. Grayton Beach
Best Breakfast
Another Broken Egg Café
Another Broken Egg scrambles up some of the best breakfast food in town. Serving more than 130 delicious, home-cooked breakfast, brunch and lunch foods, this warm and cozy café has earned Best Breakfast for more than a decade, proving it has cracked the code and found the secret ingredient to win diners' hearts. Destin, Miramar Beach and Grayton Beach
Best Brunch
Mama Clemenza's European Breakfast
Fresh ingredients and homemade attention to detail are staples of this weekend brunch spot. Try the Lemon Curd Ricotta Pancakes, Flourless Espresso Biscuits and Italian Breakfast Panini; with prosciutto, eggs and Gruyere, all made from old Sicilian family recipes. Fort Walton Beach
Best Buffalo Wings
Buffalo's Reef Famous Wings
Offered in a variety of different flavors, the made-to-order wings are worth the wait. If you are in the mood for something spicy, the Hot or Super Hot flavors won't disappoint. Can't take the heat? No worries! The Honey BBQ, Teriyaki, Honey Mustard or Garlic Parmesan flavors might be for you. Fort Walton Beach
Best Cajun
790 On The Gulf
Enjoy some fresh Florida seafood with Louisiana flavor. Serving fresh shrimp, salads, seafood and homemade comfort food favorites, this authentic Cajun and seafood restaurant brings a taste of the bayou to the beach. Complete with an outdoor patio allowing diners to enjoy the evening sunset, 790 on the Gulf offers the best Cajun classics in town. Destin

photo by Kansas Pitts
Best Chef
Dan Pettis
Chef Dan Pettis, owner of One 20 A Modern Bistro, showcases a mixture of his Southern upbringing and worldly travels in every dish. With a love for fresh and local ingredients Chef Pettis, an Emerald Coast native, utilizes his farmer's market located adjacent to the restaurant. Niceville
Best Onsite Catering
Bijoux Catering
Put something "special" into your next private party, wedding or corporate event with the experienced staff at RSVP/Bistro Bijoux. Now a joint venture, it offers onsite catering for large events that will make use of the entire restaurant. For smaller onsite celebrations, check out the private dining guide. Miramar Beach
Best Chinese
P.F. Chang's China Bistro
Using only the freshest ingredients, P.F. Chang's extensive made-to-order menu is served family style, allowing guests to try numerous dishes. From its hand-rolled pork egg rolls and crispy honey chicken to the vegetarian Ma Po Tofu and Gluten free Moo Goo Gai Pan, there is something for everyone to enjoy. Miramar Beach
Best Coffee
Starbucks Coffee
It happens millions of times each week — a customer receives a drink from a Starbucks Coffee barista, but each interaction is unique. And it's a connection that Starbucks strives to make sure is a memorable experience. From its commitment to the highest quality coffee in the world to the way its staff engages with their customers, Starbucks is committed to being the Best. Destin, Grayton Beach, Miramar Beach and Fort Walton Beach
Best Dessert
Tommy Bahama's Restaurant & Bar
Delight in a dining experience with a tropical twist. Tommy Bahama's island-themed desserts utilize various Caribbean flavors. The signature Piña Colada Cake is the perfect ending to a day at the beach, while the Butterscotch Pudding, Key Lime Pie and mouthwatering Pineapple Crème Brulee taste like an island getaway. Miramar Beach
Best Fine Dining
Seagar's Prime Steaks and Seafood
Best known for its USDA prime steaks and seafood, this five-star restaurant located inside Hilton Sandestin Golf Beach Resort & Spa has made additions to its top-rated menu, including Seared Scamp and Lobster Risotto. The entire restaurant has been recently renovated, and iPads are also available for guests who would like to explore the restaurant's 600-label wine list, as well as discover suggested food pairings. Miramar Beach
Best French
Bistro Bijoux
This romantic French bistro combines a resort-casual and fine-dining atmosphere with fresh cuisine and authentic flavors. Enjoy an extensive award-winning wine list and the intimate Bijoux Lounge. Try the crisp pan fried Duck Confit with sautéed spinach with figs, mango chutney and Spanish almonds. Bon Appetit! Miramar Beach
Best Gourmet/Food Shop
Sarah K's Gourmet
The daily changing menu that incorporates seasonal vegetables and fresh catches always offers something new! Display cases packed with ready-to-heat gourmet options fill the shop. Using the finest ingredients, Sarah K's Gourmet prepares a variety of delicious take-home meals complete with cooking instructions. Destin
Best Grouper Sandwich
Dewey Destin's Seafood
The great view, fresh catches and relaxed atmosphere make this casual seafood eatery a local favorite. Whether it's blackened, grilled or fried, the fish is always a delicious choice. Relax at a table on the dock overlooking the water, and enjoy an award-winning grouper sandwich and cold drink at this quaint seafood shack. Destin
Best Gumbo
The Boathouse Oyster Bar
The open air dining view of the bay offered by the Boathouse attracts locals and tourists alike. Though named for its oysters, Boathouse's seafood gumbo has become a popular choice among guests. The award-winning Crab and Shrimp Gumbo is served as a starter or meal and can be taken to go with a serving size as much as a gallon. Destin
Best Hamburger
McGuire's Irish Pub
As an award-winning steakhouse, McGuire's knows beef. This traditional Irish pub serves custom-ground steak burgers with the choice of 25 different trimmings. Try the St. Patty Melt Steak Burger served with fried onions and Swiss on rye, the Sautéed Vidalia Onions Steak Burger or go for broke and attempt the Garbage Burger piled high with every topping in the house! Destin, Pensacola
Best Happy Hour
Fleming's Prime Steakhouse & Wine Bar
Fleming's offers 100 wines by the glass, a unique Wine Flight tasting program and a world-class list of reserve wines to complement your dining experience. You may also choose from five delicious "dining room" appetizers, five premium cocktails and five specially selected wines by the glass, each for just $6 before 7 p.m. We raise our glass to Fleming's during Happy Hour or any hour. Miramar Beach
Best Frozen Treat
Twirl Frozen Yogurt
Beat the heat of the Florida sun with a big cup of Twirl's soft-serve frozen yogurt. The frozen yogurt buffet offers a variety of changing flavors and scrumptious fruit, nut and candy toppings. Want the convenience of a cup with the taste of a cone? Build your own confection creation and enjoy the goodness. Destin
Photo by Scott Holstein
Best Hibachi
Osaka Japanese Steakhouse & Sushi Bar
If you are looking for dinner and a show, Osaka is the place for you. Complete with the freshest available ingredients and expert chefs preparing dishes at your table, the Japanese steakhouse offers guests an entertaining and satisfying dining experience unmatched by competitors. Destin, Miramar Beach
Best Italian Restaurant
Clemenza's at Uptown Station
Born from a love of cooking, deep Italian roots and a desire to delight its patrons, Clemenza's encompasses all that is Italian cuisine. From wood-fired pizzas and traditional red sauces to pasta and clams, paired with one of our premier wines, Clemenza's offers a classic taste of Italy. Clemenza's also boasts a full bar of premium liquors plus a wide array of specialty cappuccinos and espressos for an authentic and delicious Italian experience. Fort Walton Beach
Best Locally Owned Restaurant
Callahan's Restaurant and Deli
This locally owned and operated restaurant in the heart of Destin wins again with its great selections for brunch, lunch and dinner. Callahan's generous portions of comfort food served in a casual atmosphere are sure to satisfy. Salads, sandwiches, soups, specials and your choice of a custom-cut prime rib and steak are offered on their diverse menu. There's certainly something for everyone. Destin
Best Margarita
Cantina Laredo
Cantina Laredo's Casa Rita Margarita is made from fresh lime juice and the finest tequila. Pair it with an authentic Mexican meal, then sit back and enjoy the sophisticated charm of this upscale cantina. Stop into this Mexican City-style restaurant where Cinco de Mayo is any day you choose it to be. Miramar Beach
Best Martini
Bonefish Grill
Bonefish is the place to gather with family, friends and colleagues for specialty martinis, including refreshing tropical flavors like fresh watermelon, pomegranate, raspberry and summer Georgia peach. Order the Ocean Trust mango martini, and $1 will be donated to Ocean Trust to work toward ocean conservation. Destin, Pensacola, Panama City and Panama City Beach
Best Mediterranean
Aegean Restaurant
Transport yourself to the shores of sunny Greece with each bite at this family owned and operated Mediterranean restaurant. From the Greek waffles served with yogurt, honey and walnuts for breakfast, to the homemade hummus and traditional gyro sandwich for lunch and then the petite rack of lamb for dinner — every dish on the menu is a flavorful favorite. Miramar Beach and Shalimar
Best Mexican/Latin American Restaurant
Pepito's Mexican Restaurant
Come on in for some traditional Mexican dishes featuring freshly made salsas, guacamole made with only Hass avocados and handmade tamales. The extensive menu features á al carte options, combination meals or full entrees with beans, chicken, steak, shrimp or fish served with refried rice and beans. Destin, Miramar Beach and Niceville
Best Outdoor Bar
AJ's Seafood & Oyster Bar
With balmy breezes coming off the Destin Harbor, great live entertainment on a large outdoor deck and an extensive menu of fresh local seafood that includes some of the tastiest oysters in town, you have a recipe for success at AJ's Seafood & Oyster Bar. No wonder locals and visitors alike flock here for fun year after year. Destin
Best Outdoor Dining
Boshamps Seafood & Oyster House
Enjoy fresh oysters and watch the sunset from one of Boshamps' four decks that tier down to the water. All decks have seating for guests to watch the boats that dot the harbor. Stop by even if it's raining; Boshamps provides a covered deck with a bar and seats for dining. Destin
Best Oysters
Boshamps Seafood & Oyster House
Experience true Southern hospitality while you sit on the deck overlooking the harbor and savor the Best oysters on the coast. Whether you savor a dozen raw, within a cocktail or the house specialty of baked oysters served with caramelized Vidalia onion, Alabama fest and house-made bacon marmalade, you're sure to find the Best oysters in town at Boshamps. Destin
Best Pizza
Fat Clemenza's
This is Fat Clemenza's sixth year as a "Best of" winner, and it is rightfully so. With pizzas like Fat Clemenza's White Pizza (hot salami, artichokes, ricotta and mozzarella cheese) and the Capricciosa (domestic ham, spinach, hot salami, fire roasted peppers, caramelized onions, mushrooms, tomato sauce and mozzarella cheese) you can be sure you'll find a slice you like here. Miramar Beach
Best Sandwich Shop
Lenny's Sub Shop
Choose between delicious hot or cold sub with half a pound of meat and cheese stacked on. Lenny's serves up classics like the Philly Cheesesteak, Hot Italian and Ultimate BBQ Melt. Order a combo meal with a cookie or chips and a drink, so you'll be sure to leave satisfied. Destin, Mary Esther, Fort Walton Beach, Niceville, Crestview
Best Seafood Market
Destin Ice Seafood Market and Deli
Pick up everything you need for a delicious seafood meal at Destin Ice Seafood Market and Deli. The knowledgeable staff will answer any questions you have. Fish (including grouper, snapper, mahi, tuna, salmon and much more), crab (including live or already prepared), scallops, shrimp, oysters and crawfish are for sale. Destin
Best Seafood Restaurant
Dewey Destin's Seafood
Come dine on the Destin Harbor, and taste a bite of history. Dewey Destin's carries the legacy of one of the town's oldest fishing families and now serves up the Best seafood in town. The smoked tuna dip, blackened grouper with shrimp served over cheese grits and stuffed shrimp (wrapped in bacon and fried) are long-time favorites at this family owned and operated seafood gem. Destin
Best Service — Food and Beverage
Marlin Grill
Excellent food and an impressive 600-label wine list are paired with the Best service in town at the Marlin Grill in the Village of Baytowne Wharf at Sandestin. Marlin Grill has been a longtime local favorite. Whether serving its mouth watering hickory-grilled filet mignon, shrimp and grits or roasted duck for dinner or a catered affair, the attentive staff will make your dining experience a memorable one. Destin
Best Sports Bar
O'Quigley's Seafood Steamer and Oyster Sports Bar
Winner of Best Sports Bar the past eight years, O'Quigley's has 24 taps and four 16-foot high definition televisions to tune in to your favorite sporting event. And they have turned up the steam on their menu, literally.
In addition to old favorites, sandwiches and Irish Fare, O'Quigley's is now offering several variations of seafood steamers, fresh catch of the
day and for those who love both land and sea, Turf & Surf. Destin
Best Steakhouse
Ruth's Chris Steakhouse
All of Ruth's Chris' signature steaks are served on a 500-degree plate, and it's guaranteed that every bite will be as delicious as the first. All steaks are USDA prime cuts. Choose from the filet, ribeye, T-bone, New York strip or porterhouse for two. The restaurant's East Bar is a great place to gather with friends for a good glass of wine, a savory bite and some catching up. Destin
Best Sushi
Harbor Docks
Harbor Docks has been a favorite of locals since 1979. Family owned and operated, this casual restaurant and bar has won back its customers (and awards) again and again simply by serving up expertly prepared fresh local seafood with a friendly smile. And watching the sunset over the Destin Harbor is pretty delicious, too. Come here for Yoshie's artfully crafted hand-rolled sushi and sashimi that tastes as good as it looks. Destin
Best Thai
Jasmine Thai
Jasmine Thai puts a modern twist on traditional Thai cuisine. Don't be worried if you can't handle the heat, because Jasmine Thai provides a variety of dishes with different levels of spiciness that are made to order. Traditional or modern, the fresh ingredients make every dish delicious. Take your time and savor the flavors in your lunch or dinner entrée on the outdoor patio. A children's menu allows everyone in the family to enjoy their favorites. Destin
Best Wine List
Chan's Wine World
Get help choosing the perfect bottle of wine from a staff that calls itself "only as good as the last bottle of wine we sell." Don't have a favorite bottle yet? Go in for wine tastings every Friday from 5–7 p.m. for help choosing. Chan's Wine World will also help you with the perfect gift — a wine-themed gift basket. Destin, Fort Walton Beach, Miramar Beach, Panama City, Pensacola, WaterColor
Best Restaurant in the County
Best Restaurant, Escambia County
Jackson's Steakhouse
Jackson's Steakhouse has more to brag about than just their steak. With a full seafood dinner menu it'll be hard to choose between a delicious steak or the grouper, scallops, Yellowfin tuna, salmon and crab cakes. Steaks can be topped with lump crab, grilled shrimp or lobster tail. Pensacola
Best Restaurant, Okaloosa County
Clemenza's Uptown
A meal at Clemenza's is an experience to be savored. Begin with an antipasta starter or perhaps the homemade soup of the day. It will be hard to decide between the many pasta dishes such as Seafood Linguini or Clemenza's Classic Neapolitan, the hand-tossed wood-fired pizzas and authentic Italian entrees such as Chicken Parmesan and Veal Marsala — all are delicious favorites. Just be sure to save room for the Cannoli with chocolate chips and pistachios, a slice of Tiramisu or the classic homemade Italian cheesecake! Delicioso! Fort Walton Beach
Best Restaurant, Walton County
Fat Clemenza's
Fat Clemenza's serves up authentic Italian cuisine like mama used to make. In addition to its family recipes of traditional Italian pastas, wood-fired pizzas, soups, chicken and veal dishes, Fat Clemenza's has a blackboard with daily specials like "Fresh Fish Fridays," when fresh fish caught locally is served on Friday night. And don't forget to save room for one of the homemade deserts such as Panna Cotta! Miramar Beach
Entertaiment
Photo by Scott Holstein
Best Art Gallery
Justin Gaffrey
Justin Gaffrey performs "sculpting with paint" in his lush, vibrant, nature-inspired acrylic paintings. A long time resident of Santa Rosa Beach, he enjoyed a variety of successful careers prior to turning to art in 2001. Named Artist of the Year in 2005, Gaffrey's work is showcased and collected all across the U.S., but his original works are still created in his studios right here on the Emerald Coast. Santa Rosa Beach, Seaside
Best DJ
ROCK THE HOUSE
You have enough to worry about for your big event; the right music shouldn't be your concern. Shane Keller from Rock the House offers professional DJ services for all types of events. He'll provide just the right type of music for your wedding, Bat Mitzvah or party. Destin
Best Golf Course
Regatta Bay Golf and Country Club
Ranked one of the "Top 15" courses in Florida by Golf Digest, Regatta Bay's golf course is any golfer's dream. The par-72 course offers on-course circulating beverage carts, chilled apples on the 1st and 10th tees and a full service restaurant nearby. Go to the website to watch a "Hole-by-Hole" online tour. Destin
Best Place for Kids Birthday Party
Abrakadoodle
Not only does Abrakadoodle host a variety of exciting art education programs and camps, it's the perfect place to host a creative party for kids. They provide talented teachers, fun activities and a masterpiece for each child to take home. Destin
Best Local Artist
Andy Saczynski
Turning "junk" into "funk" is all in a day's work for this award-winning artist born and raised on the Emerald Coast. Working with acrylic, wood, metal, copper and recycled musical instruments, Andy Saczynski finds his artistic inspiration through music and in Florida's architecture, landscape and wildlife. You can visit and purchase his vibrant, dynamic pieces at the Andy Saczynski Studio-Gallery. Grayton Beach
Best Local Attraction
Gulfarium Marine Adventure Park
Florida's oldest marine park is still keeping afloat with its fun programs and exciting shows. Whether you're splashing with the dolphins or snorkeling with stingrays, there's an aquatic adventure for all ages at the Gulfarium. Fort Walton Beach
Best Local Event
Little Black Dress Party
Ladies all along the Emerald Coast are eager to put on that "little black number" in the name of preventive health care. The festive charity event that has quickly become the party of the season is hosted by White-Wilson Medical Center and features a new theme each year along with live and silent auctions, casino gambling, a fashion show, music and dancing. Fort Walton Beach
Best Musician/Vocalist/Band
Heritage
Starting with just three guys with a ukulele and bongos in the backyards of Okaloosa County, Heritage has transcended from the local scene onto the national one. You can catch them in a city near you on their Warped Tour 2013. Destin
Best Place to be Seen
HarborWalk Village
The heart of Destin is found in one place — HarborWalk Village. This vibrant waterfront village is filled with dozens of quaint boutique shops, lively restaurants and family-friendly entertaintainment. No matter if it's day or night, HarborWalk Village is the place to be and be seen! Destin
Best Place to go Dancing
John Wehner's Village Door Restaurant and Nightclub
When the sun goes down, locals and visitors alike come out to play and dance the night away at the Village Door. This two-story high-energy disco features multi-level bars, a tasty menu, an expansive deck with a view of the bay and … the dance floor everyone wants to own. Miramar Beach
Best Place to Take the Kids
Big Kahuna's Water Park
With more than 40 water attractions and an adventure park, your family is sure to make a big splash at Big Kahuna's. Featuring the world's biggest manmade waterfall and dozens of slides, you'll be sure to quench your thirst for summer fun. Destin
Best Place to Watch a Sunset
Harry T's
What better way to enjoy a spectacular sunset on the Emerald Coast than over delicious drinks and fresh Gulf seafood? Celebrate the good life with friends and family as you take in the stunning, panoramic water views at this Destin hot spot. Destin
Best Radio Personality
Woofy
Since the early '90s, Woofy has been a familiar voice on the Emerald Coast airwaves. Over the years his down-to-earth personality and radio show has gained a loyal following. And his community outreach efforts have made the Emerald Coast an even better place to live, work and play. Fort Walton Beach
Best Resort
Sandestin Golf and Beach Resort
Celebrating 40 years as the premier resort in the Southeast, Sandestin Golf and Beach Resort has become a family tradition for locals and visitors who venture to this 2,400-acre haven for its enviable beach and bayfront location filled with a seeming endless array of world-class amenities. Miramar Beach
Best Tennis Facility
Tops'l Beach & Racquet Resort
A tranquil beach and racquet resort just east of Destin, Tops'L offers peace of location with the convenience of city attractions just minutes away. The tennis center has certified tennis instructors and programs, an exercise facility, a racquetball court, dedicated children's program and much more. Miramar Beach
Service Providers
Best Accounting Firm
Coastal Accounting
Keeping true to its core principals of professionalism, responsiveness and quality, Coastal Accounting provides outstanding service to its clients. With services ranging from personal financial planning, to account and tax preparation, these trusted advisors are more than capable of assisting you with your financial decisions. Destin and Niceville
Best Acupuncture Clinic
The Tortoise Clinic
With 20 years of experience, clients return to The Tortoise Clinic for results. Offering a variety of therapies and treatments, including acupuncture, customized herbal medicine prescriptions, medically oriented massage therapy and much more, no case is too tough for this healing practice. Santa Rosa Beach
Best Aesthetician
Melissa St. John
A licensed aesthetician since 2005, Melissa St. John with Destin Plastic Surgery has a true passion for the skincare industry, helping her clients achieve optimal results through clinical grade procedures and products. She is also a certified Xtreme Lash Extension stylist offering lash extensions and fills. Destin
Airport
Northwest Florida Regional Airport
As Florida's Gulf Coast preferred aviation gateway, Northwest Florida Regional Airport is an excellent option when making travel plans. Serving communities from Pensacola to Panama City to Alabama, flying is a breeze for over 2 million residents. Fort Walton Beach
Best Architect
W Architects, P.A.
In 1978, William Pope Sr. established W Architects, P.A., a premier, architectural design and planning firm based out of Destin. Today, the Pope's family business has expanded into two other entities — W Development and W Capital. Together, the three comprise W Companies, an incredible investment and architectural resource for the EC. With projects ranging from residential to retail and commercial that span the country, W Architects' experience and expertise has earned it a spot on the Best list. Destin
Best Audio/Visual Provider
Audio Video by Stan
After launching his business in 2009, Stan Zawisza remains on the cutting edge of home media entertainment technology. Passionate about his craft, this Best winner makes himself available to clients 24 hours a day, seven days a week. Destin
Best Automobile Dealership
Sam Taylor Buick-GMC-Cadillac
For the sixth year in a row, Sam Taylor Buick-Cadillac has made the Best list. The staff's attention to customer service keeps volume high and customers coming back. Fort Walton Beach
Best Bank
Regions
With $127 billion in assets, Regions Financial Corporation is a prominent member in the S&P 500 index. It is one of the nation's largest full-service providers of consumer and commercial banking, wealth management, mortgage and insurance products and services. Regions is a community-minded bank committed to helping customers. Locations throughout the Emerald Coast
Best Boat Sales & Service
Legendary Marine/Yacht Club
When it comes to all things boating, Legendary Marine is 100 percent committed to earning your valued business and becoming your full-service provider. With four dealership locations, the service team works with you to maximize your boating experience. Destin and Fort Walton Beach
Best Builder/Contractor
Dixon Kazek Morrison Custom Homes
This Best of winner has garnered a host of impressive accolades over the years, including first place in the Parade of Homes seven times; the Emerald Coast Association of Realtors (ECAR) Realtors Choice Award and the Building Industry Association Builder of the Year award. Miramar Beach
Best Auto Repair
Sam Taylor Buick-Cadillac
Sam Taylor's service department is staffed with qualified, professional technicians ready to answer your questions and address your service needs. Fort Walton Beach
Photo by Scott Holstein
Best Car/Limo Shuttle Service
D'luxe Limousines
D'luxe Limousines is dedicated to delivering the highest quality of limousines and chauffeurs to meet all your personal and professional transportation needs. Put them in the driver's seat for all of your transportation needs, and enjoy your event in safety and comfort. Destin
Best Charity/Non-Profit
Alaqua Animal Refuge
Founded in 2007, Alaqua Animal Refuge is a private, nonprofit animal sanctuary that is committed to serving the Emerald Coast. Alaqua is a no-kill facility. It initially provided shelter to only a handful of dogs, cats and other animals but over the years has provided a place of respite for over 250 animals at a given time. Freeport
Best Charter Boat/Watersports
Destin Vacation Boat Rentals
If you're looking for a fun day in the sun, Destin Vacation Boat Rentals has got the gear to make it happen. Gather your family and friends and set sail on the Destin Harbor in search of dolphins, ride the waves on a Jet Ski adventure, hang out at Crab Island and soak in the sun, or simply relax and spend the day fishing. If you love the water, this outfit has all the watersport toys you need to put a splash of fun in your day. Destin
Best Chiropractic Practice
Payne Chiropractic Wellness Center
With a passion to see their patients regain optimal health, Dr. Alan Payne and his team will help get your body back into proper alignment through natural chiropractic care. The facility's state-of-the-art services include clinical nutrition with the BioMeridian assessment tool, Aqua Chi hydrotherapy device and four different types of massage. Destin
Best Customer Service
Avantgarde Salon & Spa
Avantgarde is a full-service salon and spa offering hair, body and skin services and treatments at two locations in Destin. This experienced team of specialists has been voted Best Salon, Best Customer Service and Best Massage Therapist by EC magazine readers. It is a three-time Emerald Coast Top Salon finalist and has been named a Top 200 Salon in the United States by Salon Today for 11 consecutive years. Destin
Best Dance/Ballet Gymnastics Class
U.S. Gold Gymnastics and Cheerleading
Specializing in the fundamental physical development of preschool and elementary students, the dedicated coaching staff will present your child with a fun environment and a solid foundation for a healthy body and mind. Miramar Beach and Crestview
Best Dermatology Practice
Coastal Skin Surgery and Dermatology
Providing a variety of surgical, cosmetic and medical dermatology services, Coastal Skin Surgery and Dermatology is devoted to providing patients the finest dermatologic care on the Emerald Coast. Miramar Beach, Fort Walton Beach, Niceville
Best Dental Practice
The Center for Cosmetic and Family Dentistry
Dr. Lichorwic and his team at The Center for Cosmetic and Family Dentistry have perfected thousands of confident smiles and continue to be one of the top-rated dental clinics in the area. Earning its 10th Best of the Emerald Coast award, they offer family and cosmetic dentistry, as well as teeth whitening and alignment services. Destin and Panama City Beach
photo by Scott Holstein
Best Dry Cleaner
The French Laundry
Voted Best of Emerald Coast for three years in a row, The French Laundry prides itself on being the only eco-friendly cleaner in South Walton. Its Go-Green attitude and experienced staff gives customers a healthy environment as well as the peace of mind knowing their items are receiving the best care possible. Miramar Beach and Santa Rosa Beach
Best Event Planning Company
Monark Events
Monark Events is a full-service event management company that specializes in planning and staging corporate, non-profit and private functions nationwide. Founded on the principals of trust, service, creativity and exceeding expectations, Monark is dedicated to your event's success. Destin
Best Eye Doctor Practice
Dr. Kevin Wells
Dr. Kevin Wells has been in practice for more than 15 years and is committed to getting exceptional results for his patients. A leader in the optical industry, Wells Vision and Laser Eye Center offers comprehensive exams, designer eyewear and the most advanced laser correction. Destin and Seacrest
Best Flooring (Carpet/Tile)
Infinity Flooring
Once again, Infinity Flooring proves it values its work and its customers. The flooring company offers quality hardwood flooring, tiles, vinyl and carpet products at reasonable prices while schedules are kept and customer concerns are promptly taken care of. Miramar Beach
Best Florist
GG Bloom
Like a Victorian-era garden filled with aged pottery, beautiful flowers and home and garden accents, GG Bloom has a unique flair for creating amazing flower arrangements and gift baskets. And if you prefer silk flowers that could fool anyone, GG Bloom also designs arrangements that will stand the test of time. Destin
Best Gym/Health Club/Fitness Center
Destin Health and Fitness Club
The Emerald Coast's first-ever upscale health and fitness center offers the ultimate workout experience in its state-of-the-art facilities. With a wide range of classes, equipment, personal instructors and child-care services, no wonder it ranked No. 1 with our readers. Destin and Miramar Beach
Best Hair Salon
Avantgarde Salon & Spa
Avantgarde Salon & Spa is a full-service AVEDA salon and spa with an experienced team of professional stylists trained to provide the latest in precision hair cuts, rich color and beautiful styling. Whether you are maintaining a look you love, ready to try something new or excited to be made over for a wedding or special occasion, Avantgarde's friendly and knowledgeable team is simply sheer genius. Destin
Best Heating and Air Service
GulfShore Air Conditioning & Heating
Serving the Emerald Coast since 1995, Gulfshore strives to exceed the highest standards for service and training. The company specializes in custom system design, ensuring you'll be cool in the summer and warm in the winter. Niceville
Best Insurance Agency
Harris Insurance
Harris Insurance Services is a licensed insurance brokerage firm authorized to serve throughout Florida and provide comprehensive solutions for your insurance needs. A full-service insurance provider since 1965, Harris represents more than 150 insurance companies in order to bring the most reputable, A-rated insurance companies under one roof. Fort Walton Beach
Best Interior Design Firm
Design Avenue
Whether you are looking for the perfect piece of furniture or looking to remodel your entire home, Design Avenue is a full-service interior design center ready to assist you through every stage of the process. Destin
Best Landscaping/Lawn Service
Barefoot Lawn Care & Landscape
Serving the 30A and Destin area for more than 15 years, Barefoot provides professional irrigation services, sodding, seeding, mulching, fountains and water features. Trying to sell or spruce up your home? After a quick call, Barefoot can improve both your home's value and its curb appeal. Santa Rosa Beach
Best Law Firm
Ward & Ketchersid
Ward & Ketchersid has a diverse group of talented and experienced attorneys who are always accessible to meet your needs. Whether you are facing foreclosure, going through a divorce, investing in real estate or need other legal services, they will provide the attentive and thoughtful representation you require. Destin
Best Lighting Store
Beautiful Lights
Fitting every need, every whim and every budget, Beautiful Lights has provided impeccable service and won Best of the Emerald Coast award for five consecutive years. From selection to installation, the shop works with residential and commercial clients to customize perfectly beautiful lighting for everyone. Destin
Best Locksmith
Destin Locksmithing
If you've lost your keys or are locked out of the house, these are the guys to call. Fully licensed, bonded and insured, Destin Locksmithing is a mobile locksmith company that operates 24 hours a day, seven days a week. Services include key making, lock installation, safe services, vehicle remotes, vehicle jumpstarts and much more. Destin and Panama City Beach
Best Massage Therapist
Neal Senn, Avantgarde Salon & Spa
It's safe to say Neal Senn has the magic touch. This six-time Best of the Emerald Coast winner offers a variety of massages, including Swedish, stone, deep tissue, elemental nature, pregnancy and couple massage. He's also the only massage therapist in the area to offer scar tissue removal for patients recovering from surgery. Destin
Photo by Scott Holstein
Best Martial Arts/Karate
Resolute Martial Arts
Resolute Martial Arts provides excellent character-building martial arts classes and fitness instruction in a professional and fun environment. Each program is designed to promote mental and physical growth for the whole family. All the instructors are CPR, first-aid and AED certified. Destin
Best Medical Center/Hospital
Sacred Heart Hospital on the Emerald Coast
This medical center continues to accomplish its mission to improve the health of the community with a wide range of medical and surgical services, including general and orthopedic surgery, comprehensive radiology and laboratory services, maternal care, cardiology, cancer care, rehabilitation and 24-hour emergency services. Miramar Beach
Best Medical Practice
White-Wilson Medical Center
White-Wilson Medical Center is one of the largest multi-specialty physician groups in Florida. With more than 70 providers, 20 different specialties and multiple locations throughout the Emerald Coast, White-Wilson provides its patients with state-of-the-art technology, friendly and caring staff and the convenience of "one-stop" shopping. Fort Walton Beach, Niceville and Destin
Best Nail Salon
4 Seasons Nail & Spa
Nail down a date for some quality "me time" at Destin's favorite place to be pampered: 4 Seasons Nail & Spa. A staff of four certified technicians will serve you with your choice of pedicures, manicures, artificial nails, eyebrow waxing, eyelash tinting and more. Located next to Marshalls, 4 Seasons is ready to spoil you year round. Destin
Best Personal Trainer
Mark Rountree, Resolute Martial Arts & Family Fitness
Stop dreaming about your perfect body, and start building it instead with the best personal trainer on the Emerald Coast. Mark Rountree will help you find your momentum and keep you moving and motivated. Destin
Best Pet Care/Shop
3 Dogs and a Chick
Serving up freshly baked treats, birthday cakes, eco-friendly products and more for dogs, cats and pet lovers alike, this is the best place in the EC to shop for the purrfect products your pet will love. Dogs are always welcome to shop with their owners. Fort Walton Beach
Photo courtesy Kansas Pitts
Best Photographer
Kansas Pitts
It takes a true artist to capture the emotion of a moment within a still image. Whether she is preserving the serene sleep of a newborn or the sheer bliss of a couple in love, Kansas Pitts employs her skill with passion to preserve the special moments you'll treasure for generations to come. Santa Rosa Beach
Best Plumbing Fixtures/Service
Emerald Bay Plumbing & Gas
Whether it's repair or new construction, in a residential or commercial property, Emerald Bay Plumbing & Gas is prepared to exceed your expectations. Every technician brings a wealth of experience and is trained to handle all aspects of plumbing and natural gas piping. Destin
Best Pool Building/Service Company
Cox Pools
Coupling a wealth of experience and knowledge with great customer service, it is no surprise that Cox Pools has once again been named Emerald Coast's best company for all things pool-related. Family owned and operated since 1958, the company earns top honors in customer satisfaction surveys year after year. Panama City Beach and Destin
Best Printing Services
Image Printing & Digital Services
Founded in 1986, Image Printing can fill a variety of printing needs — from banners to posters to promotional products. The final products are bound to come out seamlessly and beautifully. Mary Esther
Best Real Estate Group
John Paul Somers & Company
For extensive market insight, professional versatility and a passion for helping clients, John Paul Somers & Company is Emerald Coast's best. Whether you're looking for a commercial property or putting your house on the market, the company's knowledge and dedication has made it the go-to real estate expert on the coast. Destin
Best Rug Retailer
Rug Décor
Finding the perfect floor covering to accent the style of a room can be quite a task. But at Rug Décor, that task is made easy by a superior selection and excellent service to steer you to the perfect choice for your taste. Choose from thousands of rugs that you can touch and feel before you purchase. Destin
Best Spa Service
Serenity by the sea
Serenity by the sea Spa in the Hilton Sandestin Beach resort hotel has been offering the ultimate relaxation experience on the Emerald Coast for more than 10 years. With a full-service salon and state-of-the-art fitness center, the spa provides guests with amenities and treatments to suit every need — including separate private lounge areas for men and women. Miramar Beach
Best Specialty Fitness
Pilates Lifestyle
Pilates Lifestyle — formerly Pilates by the Sea — is a comprehensive wellness and Pilates studio serving the Emerald Coast. All levels of fitness are welcome to come for a total body workout. The studio offers group classes and private sessions by appointment. Offerings include Gyrotonic, Mat & Barre, Cardio Jump classes, Reiki and organic spray tanning. Santa Rosa Beach
Best Surgical Practice
Destin Plastic Surgery
Ranked as one of the Best Hospitals by US News and World Report, the Surgery Center at Destin Plastic Surgery has performed over 16,000 procedures. The Center provides first-class surgical services to area residents, offering a safe, comfortable and welcoming environment. Destin
Best Title Company
McNeese Title
With a staff that has more than 150 years of combined expertise, McNeese Title has worked in virtually every possible type of closing transaction, making it the best choice in the Emerald Coast for assistance in real estate closing, real estate law, commercial real estate transactions and more. Destin and Seagrove Beach
Best Vacation Rental Company/Service Firm
ResortQuest by Wyndham Vacation Rentals
ResortQuest's superior accommodations and unparalleled customer service have earned it Emerald Coast's vote once again as the Best Vacation Rental Service Firm in the area. With the largest selection of condos and vacation homes, the company promises to find you a great deal and the best vacation home to fit your needs. Destin, Fort Walton Beach and Santa Rosa Beach
Best Veterinarian
Airport Veterinary Clinic
Make sure your beloved furry companions are in the most capable, loving hands. Trust is the most important thing when it comes to choosing a veterinarian, and at Airport Veterinary Clinic you can be sure your pets are going to receive star treatment. Destin
Best Wedding Planner Company
RSVP Events
Locally owned and operated, RSVP has specialized in events on the Emerald Coast since 2004. With new management since 2012, the company has enhanced its inventory and services, staying ahead of the curve on all of the event industry's latest trends — making your wedding the absolute best it can be. Destin
Best Wedding/Reception Venue
Solaris, Sunquest Cruises
Make the most of the Emerald Coast's gorgeous beach setting with a ceremony or reception on an elegant yacht. With a full-service bridal consulting team specializing in weddings on the water, your special day is bound to be romantic, breezy and delightfully unique. Miramar Beach
Best Weight Loss Facility
Dr. Bawa & Associates
Take control of your body and your life with confidence. Dr. Nitin Bawa will help get you there with the most cutting-edge scientific advances, including medications, hormone adjustments and lasers. Destin, Fort Walton Beach and Santa Rosa Beach
Shopping
Best Antique Shop
Smith's Antiques Mall & Interiors Market
Find the perfect uniquely vintage item in this 25,000-square-foot showroom filled with antiques and interior wares. Ninety different dealers from across the country supply the mall, making it a favorite among antique lovers year after year. Miramar Beach
Best Beachwear Retailer
Sporty Lady of Destin
If you are looking for the perfect swimsuit, go to the retailer with an inventory of about 10,000 pieces. With such a great selection and expert sizing advice, customers are sure to find a suit for any shape and size, which is what has kept Destin coming back for more than 30 years. Destin
Best Children's Clothing Retailer
Hugs and Hissyfits
The ever-changing, handpicked selection of children's ensembles at Hugs and Hissyfits keeps the Emerald Coast's most fashionable kids coming back for more. The wide variety of brands and styles is sure to please any budding fashionista. Destin
Best Consignment/Resale Shop
Ava's Attic
Browse 10,000 square feet of shopping space with furniture, clothing, shoes, purses and a new line of repurposed custom built and painted furniture at Ava's Attic. From one-of a-kind treasures to upscale women's apparel and accessories, from brands like BCBG to Michael Kors, there is bound to be something for everyone. Miramar Beach
Best Eyewear Store
The Eye Gallery
For any eye accessory — from fashion sunglasses to hip prescription eyewear — The Eye Gallery in Destin Commons is your destination. Shop brands that include Chanel, Loree Rodkin and Chrome Hearts to find the perfect frame for your features. The Eye Gallery is also home to the largest selection of sunglasses in the area. Destin
Best Furniture Retailer
Sugar Beach Interiors
For the perfect décor to suit your home, work with a team of professional licensed designers. Sugar Beach Interiors combines a reputation for business integrity with a commitment to excellence and outstanding customer service, making it your best choice when furniture shopping for any room in your home. Destin
Best Gift Shop
Design Avenue
In addition to its interior design services, Destin Avenue also offers a gift shop with odds and ends for any occasion. Browse a wide variety of unique gifts and accessories, jewelry, baby shower gifts and more. With new merchandise arriving weekly, the perfect gift is just a trip away. Destin
Best Jewelry Store
McCaskill and Company
With some of the world's most exclusive jewelry designers and watches, McCaskill and Company is the place to go for all things glittery and glam on the Emerald Coast. Serious collectors to more casual shoppers are graciously welcomed and are sure to find something to love among all the glittery treasures. Destin
Best Locally Owned Retailer
Sporty Lady of Destin
This family-owned retailer allows women to sport the most stylish swimwear and sportswear around. Located at the Shoppes at Paradise Key, Sporty Lady of Destin is a 4,800-square-foot treasure chest for women. Always striving to please customers, the shop offers a vast selection of styles in an array of sizes to meet the needs of a variety of women. Destin
Best Men's Apparel
Destin Threads
This resort-casual clothing boutique, located in the Shops of Destiny, has some of the finest menswear around. Owner Marsha Chouinard is a veteran of the retail industry and has scoured the country to bring the Emerald Coast quality brands such as New Island, Southern Marsh and Southern Tide, Robert Graham and more. Ladies looking for the same casual, comfortable style can shop in Destin Threads, too! Destin
Best Outdoor Furniture Retailer
Bay Breeze Patio
As the authorized dealer for Lane Venture, Lloyd Flanders, Tropitone and other premium brands, Bay Breeze Patio offers the largest selection of in-stock outdoor furniture in town. From gas fire pits and grills to patio chairs and pottery, this outdoor furniture store will keep your deck and lawn looking fabulous. Miramar Beach
Best Sporting Goods Retailer
Bass Pro Shops
Lovers of fishing, hunting, camping and boating can find everything they need and more at Bass Pro Shops. Featuring a large selection of apparel, outdoor recreation gear and sporting equipment, this 50,000-square-foot sports center is an outdoorsman's dream. Destin
Best Wedding Shop
Simply Elegant Bridal
Offering exceptional service and a large selection of bridal and bridesmaid gowns, Simply Elegant strives to make every bride feel beautiful on her special day. With the best selection of tuxedos for the groom and his groomsmen, this upscale wedding boutique is a one-stop shop for wedding apparel. Fort Walton Beach
Best Women's Accessories
Private Gallery
With a vast selection of jewelry, shoes, handbags and clothing, this eclectic boutique features well-known brands and rising designers in the fashion industry. Staying true to name, the helpful staff provides excellent customer service and gives guests the experience of a private gallery. Destin
Best Women's Apparel
Today's Boutique
For the 13th consecutive year, the excellent customer service and large selection of the latest fashion trends has captured the hearts of locals as the Best shop for women's apparel. Check out the store's website and Facebook page for the latest trend report, or better yet, stop in the shop at the Shoppes of Paradise Key in Destin to get expert advice first-hand from the friendly staff. Destin
Best Women's Shoes
Sunset Shoes
As its name suggests, this award-winning shoe shop is inspired by its location on the beautiful Emerald Coast. Comfort and easy-going style are the hallmark of the shoe collections, designer lines and Euro brands carried at the four locations of Sunset Shoes. Destin, Miramar Beach and Panama City