EMERALD COAST THEATRE COMPANY LAUNCHES STORYTELLER SERIES WITH 'SHIRLEY VALENTINE'
Local actress Shirley Simpson stars in her one-woman play, 'Shirley Valentine,' Oct. 5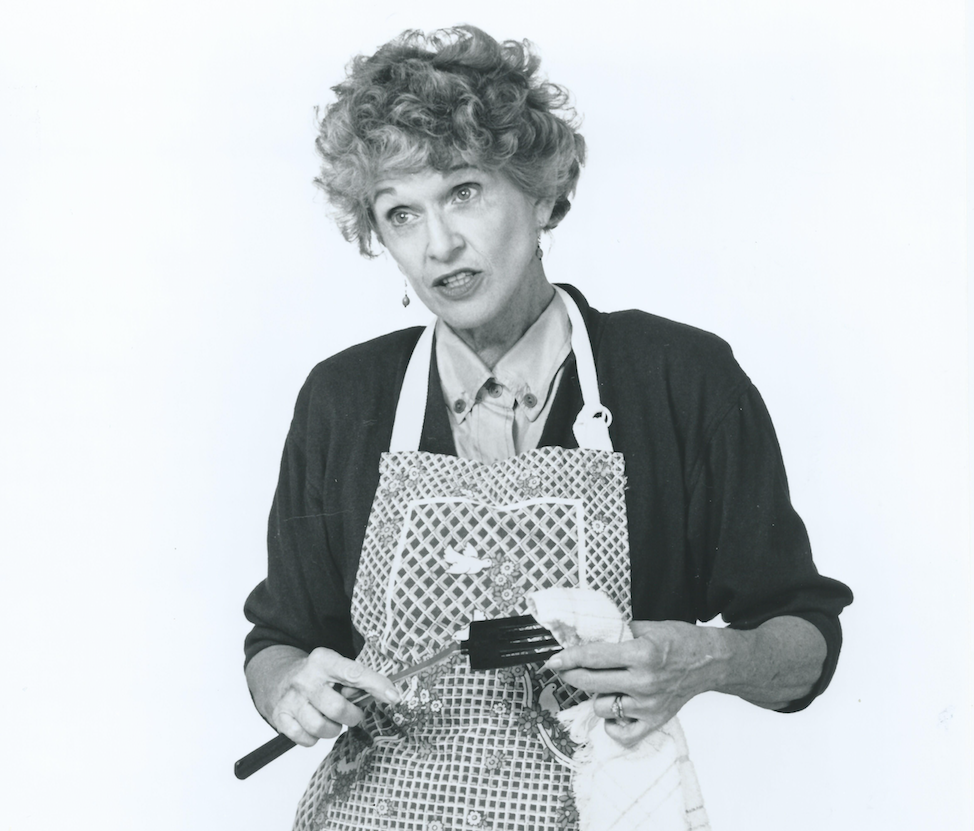 Emerald Coast Theatre Company (ECTC) launches its 2021-2022 StoryTeller series with four original plays by local actor/playwrights.
Local actress/playwright/director Shirley Simpson returns to ECTC's stage Tuesday, Oct. 5 at 7:30 p.m. to kick off the series with her one-woman play, Shirley Valentine — one of her original "leading lady" plays. She also has written Gracie Allen, Erma Bombeck, Minnie Pearl and Katharine Hepburn, which she presented last year as part of the StoryTeller series.
"As you get older there are fewer roles available to you, and since I wanted to keep performing I thought, maybe I should work on a one-woman show. But I knew the research and time it would take, so I wanted to do women whose lives were worth knowing about, women of influence," Simpson told Emerald Coast magazine.
In Simpson's play, Shirley Valentine is wondering what has happened to her youth and feeling stagnant and in a rut, she finds herself regularly alone and talking to the wall while preparing an evening meal of 'chips and egg' for her emotionally distant husband. When her best friend offers to pay for a trip-for-two to Greece, she packs her bags, leaves a note on the cupboard door in the kitchen, and heads for a fortnight of rest and relaxation. In Greece, with just a little effort on her part, she rediscovers everything she had been missing about her existence in England. But will she return?
Simpson has had appeared as Hannah in the musical The Spitfire Grill at New Stage Theatre in Jackson, Miss. Also at New Stage, she played Grace in Grace & Glorie, the title role of Shirley Valentine, Kendall Kingsley in Impossible Marriage, and Vada Love in The Exact Center of the Universe. At The LSU Colonnade Theatre in Baton Rouge, she played Shirley Valentine, and directed and played the role of Elaine in Neil Simon's Last of the Red Hot Lovers. Other stage roles in Baton Rouge include Maggie in Tribute, Fonsia Dorsey in The Gin Game, Queen Eleanor in The Lion in Winter, and Kate in both Brighton Beach Memoirs and Broadway Bound. She starred as Laurette Taylor in an off-Broadway production based on the opening night of Tennessee Williams' The Glass Menagerie. Other favorite regional theater roles were in Finishing Touches, Forty Carats, Someone Waiting, Only in America, Close Ties, and Suddenly at Home. Film credits include Everybody's All American and Blues in the Night.
The owner of Magna Carta Productions, Simpson conducts workshops and provides keynote speeches on communication, leadership, and creativity, as well as presenting programs of comedy and drama, for civic, professional, and church organizations.A former producer, writer, and performer in the New York Madison Avenue television market, her TV series The Vital Link was nominated for and won the ACE Award.
Tickets range from $20 to $30 per person. Purchase tickets online at www.emeraldcoasttheatre.org.
The series continues January 11 with Bruce Collier's The Fall of April; February 8 features Alan Tuttle's Give 'em Hell Harry!; and March 1 Shirley Simpson returns with her play, Katharine Hepburn.
ECTC is implementing a Safety Protocol Plan to ensure patrons can enjoy all offerings in a safe environment. For the latest updates, visit emeraldcoasttheatre.org.
ECTC's 2021-2022 season is made possible with support from Grand Boulevard Town Center, St. Joe Community Foundation, Howard Group, and the South Walton Tourist Development Council.To make a tax-deductible donation, volunteer or learn more about Emerald Coast Theatre Company, find them on Facebook, follow the ECTC YouTube channel, call (850) 684-0323 and visit www.emeraldcoasttheatre.org.