Dropping Beats
Local DJ spins his way to success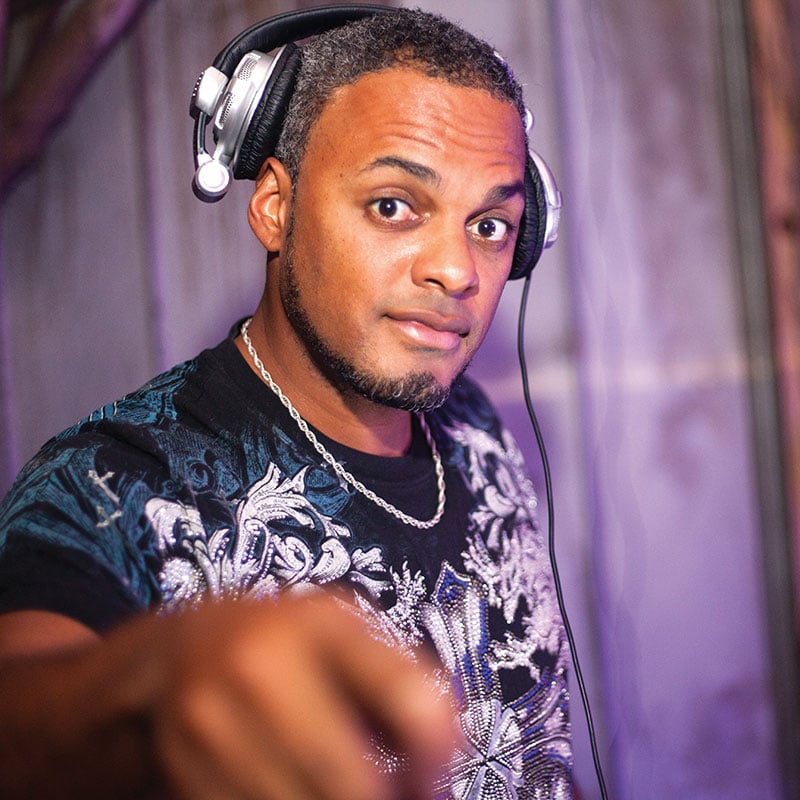 When the beat drops, bodies begin to move. It doesn't matter if you're young or old, the dance floor does not discriminate, and neither does a good DJ.
Whether you are a fan of hip-hop, rock or country, a DJ's job is to make you get up and dance.
As the founder of Gulf Coast Entertainment and Productions, DJ Vladi's turntables have provided the soundtrack for weddings, special events and charity functions up and down the Gulf Coast, throughout the state of Florida and across the Southeast.
Born Vladimir Jimenez in the Dominican Republic, Vladi and his family spent time in Puerto Rico, New York and Orlando before he discovered the Emerald Coast in 2001, where he worked at The Red Bar, owned by Oli Petit, as a waiter.
"I really learned a lot working for the Petit family," Vladi says. "They were really good to me, and they let me do some DJ work for them, as well."
The DJ bug bit Vladi while he was in high school in Central Florida.
"There was a DJ at a house party, and the movement he was doing and the attention that he was getting was really cool," Vladi says. "People were dancing and having a good time. I looked at him and said, 'That's what I want to do.'"
Over the years Vladi has defined his personal style, which, unlike other DJs, isn't based on a specific type of music or genre. Vladi is in the business of pleasing people, so he made a conscious effort to learn as many different styles and types of music as possible.
"Music has no language," Vladi says. "That's the beauty of it. I may be at a Russian wedding or an Indian wedding and not understand a lot of what they are saying, but I can tell when they are having a great time."
The key, he says, is being able to read the crowd and recognize what songs and styles get them moving. Vladi plays everything from the Top 40 to rock, country, electronic dance music, funk, merengue, salsa and the blues.
As a DJ, Vladi's hard work and commitment to his craft has paid off. He is regularly booked at shows up and down the Panhandle as well as in other locations, including Nashville. Vladi has also performed at celebrity weddings and for the likes of musician Zac Brown.
Now in his mid-30s, with a wife and two children, Vladi doesn't perform in clubs as often. He still spins at The Red Bar and other special shows, but most of his attention is now on weddings, special events and giving back to the community that has given him so much.
Vladi is known to lend his talents to local organizations. Each year he helps collect toys for children through the "Stuff The Bus" program in Panama City. During the Thanksgiving season, he and his family and friends will cook dozens of turkeys with all the trimmings for anyone in need.
"My mom always said, 'If you can help, help,'" Vladi says. "Why not wake up a few hours early and help (people) out a little bit?"
---
Top 20 Most Requested Songs of 2016 
From djeventplanner.com
Uptown Funk | Mark Ronson featuring Bruno Mars
Don't Stop Believin' | Journey
I Wanna Dance With Somebody (Who Loves Me) | Whitney Houston
Shut Up And Dance | Walk The Moon
Shake It Off | Taylor Swift
Happy | Pharrell Williams
Sweet Caroline | Neil Diamond
Cupid Shuffle | Cupid
Thinking Out Loud | Ed Sheeran
I Gotta Feeling | Black Eyed Peas
Livin' On A Prayer | Bon Jovi
Marry You | Bruno Mars
Wobble | V.I.C.
Yeah! | Usher
Brown Eyed Girl | Van Morrison
We Found Love | Rihanna featuring Calvin Harris
Cha Cha Slide | DJ Casper
Sugar | Maroon 5
Love Shack | B-52s
Party Rock Anthem | LMFAO