Dixielectricar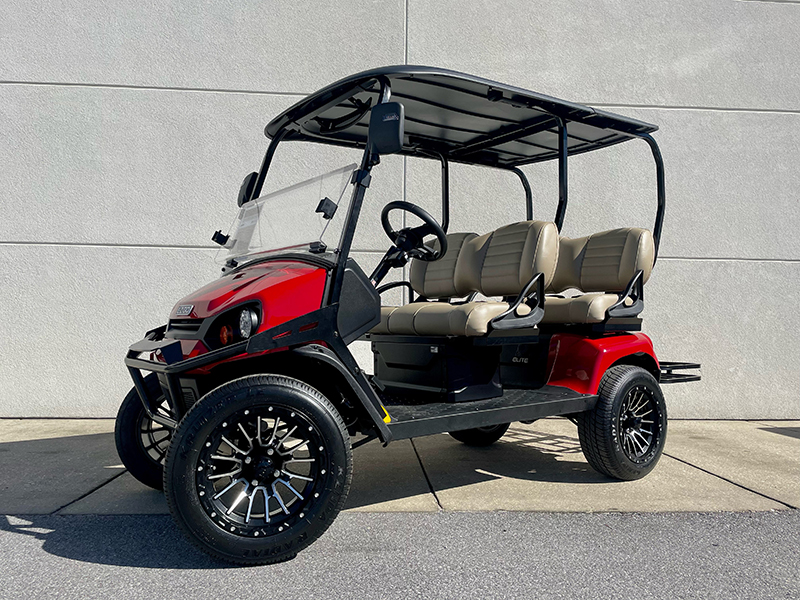 Golf carts are a way of life here along the Emerald Coast. They guarantee that sunshine and fresh air are all part of the ride. Escape the ordinary, and start a journey down a path where freedom and adventure await. Dixielectricar is ready to answer all your questions and help you choose the best golf cart for your lifestyle. Stop by one of their three locations so they can create a carting experience customized to you.
---
2023 E-Z-GO® LIBERTY ELITE 4.2
The E-Z-GO® Liberty is a first-of-its-kind vehicle pushing everything in a new direction with its four forward-facing seats. Ride in style and luxury with the additions of sculpted foam seats and LED cupholders. Your ride is propelled by a maintenance-free Samsung SDI lithium battery system. (Pictured above)
---
TURTLE BOX
Zoom with your tunes. The Turtle Box is the loudest and most rugged portable speaker on the market that is specifically built for the outdoors, with water- and weather-resistant materials. It seamlessly connects using wireless Bluetooth capabilities to ensure the music follows wherever you go.
---
2023 E‑Z‑GO® RXV®
Drive with ease in the ELiTE! Performance, efficiency, reliability and innovation are all part of the package.Travel worry-free with an ELiTE lithium battery that gets you to the beach, to the grocery store and wherever else the road takes you.
---
Dixielectricar
Santa Rosa Beach, Panama City Beach, Fort Walton Beach | (850) 269-0011 | Dixielectricar.com
---