Digital Graffiti at Alys Beach October 2–3, 2020
The projection art festival will feature original digital artworks from artists around the world on October 2–3, 2020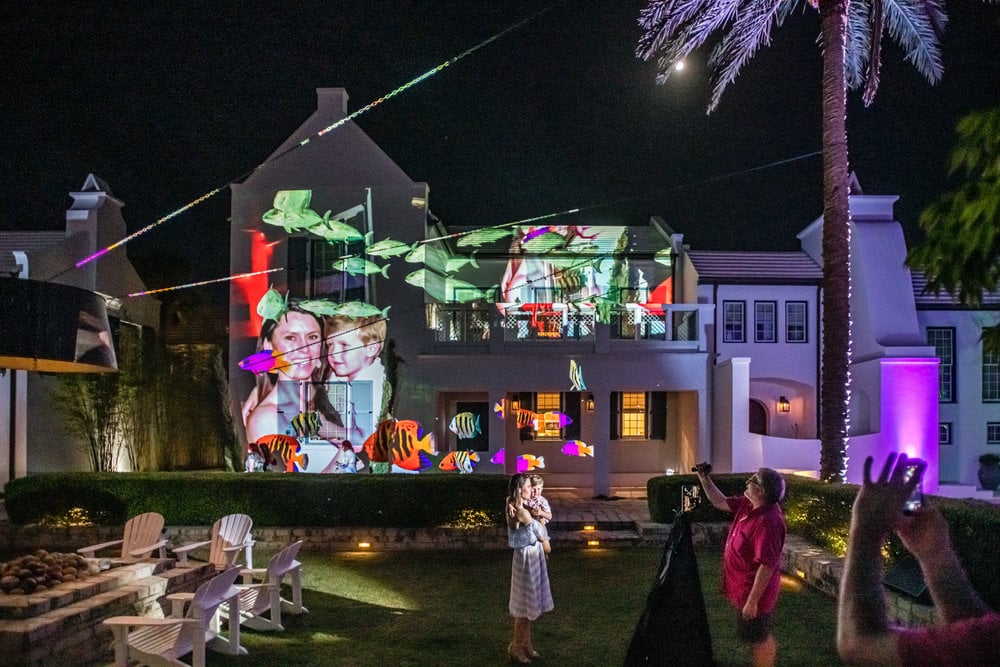 Presented by the Alys Foundation, Digital Graffiti at Alys Beach returns October 2-3, 2020 for its 13th year at this New Urbanist town on scenic 30A. Digital Graffiti is a one-of-a-kind projection art festival where artists from across the globe use the latest in digital technologies to project their original works onto the iconic white walls of Alys Beach — an innovative and dynamic event celebrating the intersection of projection art, technology and architecture.
Sometimes referred to as "photon bombing," "guerilla projection" or "urban projection," underground artists around the world have been using design, animation and projection technologies to cast dynamic images onto skyscrapers and other urban structures as a means of artistic expression. Digital Graffiti at Alys Beach is a festival geared towards bringing these artists together in one place to celebrate and showcase their unique talents. The process of projection mapping tailors the artwork to the buildings, engaging the audience and environment in the display and creating an experience unique to the Alys Beach festival.
Each year, Digital Graffiti attracts digital artists, filmmakers, musicians, interactive designers, photographers, VJs, producers, and fans of art, technology and architecture. Digital submissions are received from around the world for the festival, curated by Brett Phares, with the 2020 awards including Best of Show ($5,000 prize), Curator's Choice ($2,000 prize), and three Special Recognition honors (at $1,000 prize each). This year's festival will be juried by individuals with backgrounds as vibrant as those of the artists themselves, including Ariel Adkins, Art & Culture Liaison for Twitter; Fallon Young, Executive Director of the New Orleans Film Society; and Evan Narcisse, a journalist specializing in technology arts, pop culture and video gaming.
Opening night of Digital Graffiti will be Friday, October 2, and features the 2020 projection art installations. Local food trucks and vendors will be located throughout the festival footprint with the street party winding through Alys Beach from 30A and back to Caliza Restaurant. This event is family-friendly and open to all ages.
Saturday evening, October 3, is an all-inclusive food and drink experience with stops along the festival's path featuring samples by local and regional chefs, winemakers, distillers and breweries. The evening culminates with desserts, spirits and casual discussions of art around the pool at Caliza Restaurant, which will be surrounded by additional artwork. This event is ages 21-and-up.
Be sure to like Digital Graffiti on Facebook for up-to-date information. For more information on Digital Graffiti, including the full schedule and ticket purchasing, please visit DigitalGraffiti.com.