Destin Desserts Winners Announced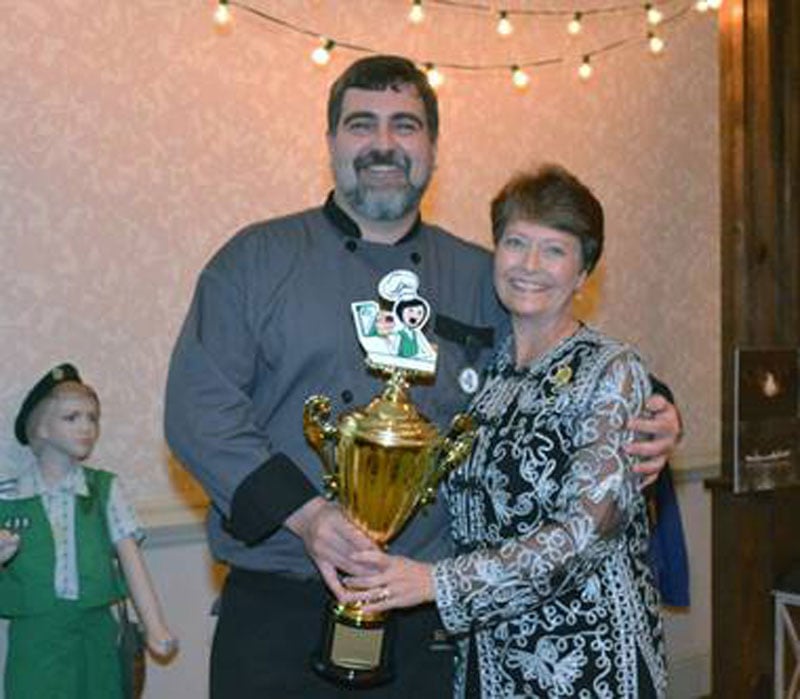 Courtesy of Destin Desserts
Chef Kevin Wynn's dessert, which took home top honors, combined the Thin Mint cookie and cheesecake.
Girl Scout cookies took center stage during the sixth annual Destin Desserts competition at The Palms of Destin where leading local chefs put a unique spin on the classic cookies in creating tantalizing desserts.
While all of the sweet treats were crowd pleasers, Chef Kevin Wynn of The Black Pearl on Okaloosa Island took home top honors as 2017 Grand Champion. Wynn's dessert employed the ever-popular Thin Mint cookie, which was transformed into a cheesecake, featuring a cookie crust and topped with a vanilla crème, whipped crème and a homemade macadamia Thin Mint brittle.
Chef Daniel Soto, owner of Café Rico in Niceville, took home second place honors for his brownie beanie dessert, which showcased the Toffee Tastic cookie. Soto put a spin on traditional tres leches, as he used layers of sweet soaked cake, a Toffee Tastic crumble and vanilla mousse and topped it off with a handcrafted toffee beanie.
Third place honors went to Chef Mat Von Eberstein, pastry chef at Lulu's. He made the Trefoil cookie central to his Orange Trefoil Tiramisu.
Courtesy of Destin Desserts
Chef Kevin Wynn of The Black Pearl was named 2017 Grand Champion at the sixth annual Destin Desserts competition held at The Palms of Destin. He is pictured with Gretchen Erickson.
Other participating chefs were Christopher Rakas of Aegean; Dominic Damiano of Clemenza's; Allen Tueton of Jackacudas; and Christopher Holbrook of Signature Catering of 30A.
Proceeds from Destin Desserts solely benefit the Girl Scouts' Camp Kolomoki, a 1,600-acre site located just west of DeFuniak Springs in Walton County. The camp was badly eroded due to a storm a few years ago and its main road was washed out. Destin Desserts proceeds will go toward completion of the repairs and the camp's re-opening.