Delectable Desserts from the Girl Scouts of the Florida Panhandle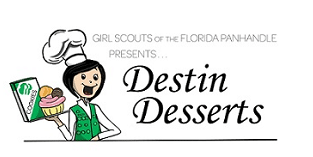 Do you love Girl Scout Cookies? Which is your favorite … the Samoas or Thin Mints? There's no need to wait for the cookies to be delivered because The Girl Scouts of the Florida Panhandle are dishing up to preview one of their most delicious events, Destin Desserts. This year's event will be Jan. 30 and includes delectable desserts from seven local chefs. The twist is these tasty treats have a Girl Scout cookie as the main ingredient. The local chefs representing six area businesses will create these desserts to compete for the title of Destin Desserts Champion. All guests have the opportunity to vote for their favorite new dessert and can bid on products and services from the area through a silent auction.
This is the fourth year of Destin Desserts and all funds raised will benefit the Girl Scout Council of the Florida Panhandle Camp Kolomoki. More than 200 girls visit the Girl Scout camps each year, but many are being turned away because needed repairs have closed Kolomoki. Proceeds from Destin Desserts will go toward the efforts of repairing the camp so girls who visit are given the chance to be a part of the 102-year-old tradition in Girl Scouting. Learn more about Destin Desserts and the efforts to repair Camp Kolomoki here.