Community Groups Take On Human Trafficking Along the Emerald Coast
Modern Slavery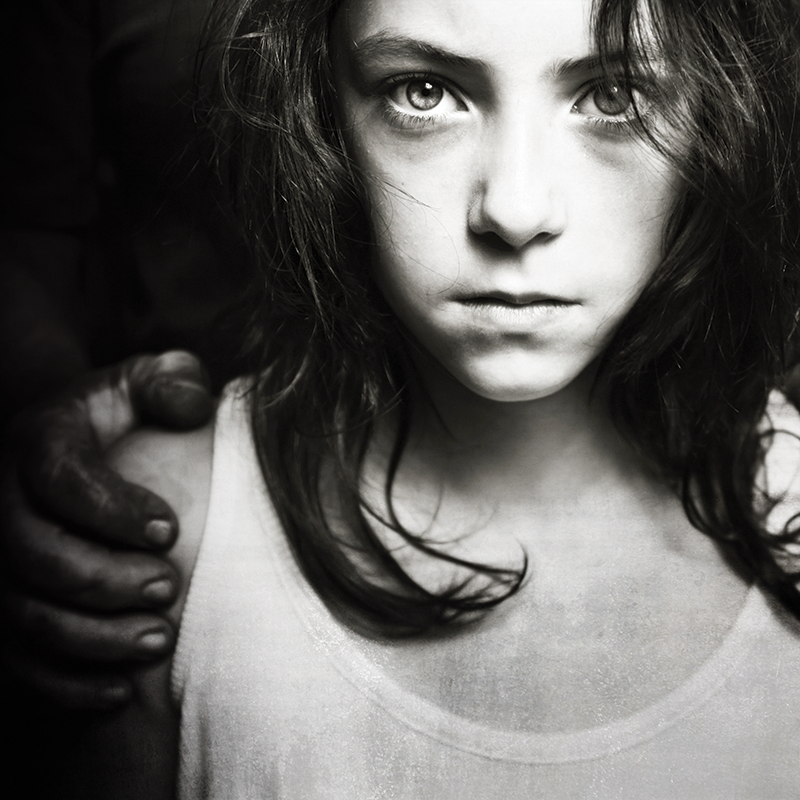 The 12-year old girl came from a troubled home where she suffered abuse at the hands of a sexual predator. Without counseling and help, she became an easy target and victim.
"An older boy in middle school befriended her. He introduced her to his elder brother, who was a pimp. He ran several girls," said Brad Dennis, Pensacola's Eden Fellowship Church pastor and National Search Director for Klaas Kids Foundation, an organization founded by Polly Klaas' father following her abduction and killing in 1993.
"The first time we were able to get her away from him [the pimp], she was hospitalized for multiple internal traumas," said Dennis who learned details of more inhumane trauma the girl suffered while held in captivity. "Sick and twisted little things … " said Dennis. "He played Russian roulette. He broke a bottle and held the edge on her neck until it bled."
This was the first time Dennis, who retired from the U.S. Navy in 2003, had come across sexual trafficking, a growing problem nationwide and along Florida's Emerald Coast.
"Sexual trafficking is in every state. It happens everywhere. Since we started this in 2005, I've traveled around the country and was able to rescue a lot of kids. It seems to be in every small town, every big town."
Dennis is one of the leaders in Florida's fight to stop human trafficking. He founded a faith-based not-for-profit, Called2Rescue, which launched on March 22 this year at Liberty Church, Blue Angel Campus in Pensacola. Presenters included Anna I. Rodriguez, founder of the Florida Coalition Against Human Trafficking, Dennis and a survivor.
Taking the lessons he's learned on the street to other growing volunteer networks eager to combat human trafficking he helped Santiago Rodriguez, an outreach pastor for Destiny Worship Center in Destin, engage volunteers. The result: Emerald Coast Humanity Outreach (ECHO) a non-profit formed in 2012 to serve Okaloosa and Walton counties.
ECHO and Called2Rescue have partnered with local law enforcement and state agencies to eradicate slavery, focusing on the region between Pensacola and Panama City. Called2Rescue's 30 members and ECHO's 190 members strive to promote awareness, provide training on the issue and give people the tools to recognize the signs of human trafficking and how to report what they witness or suspect to local law enforcement.
"We've flooded every hotel in the area on how to look for signs of human trafficking," said Peggy Morgan, president of ECHO. "The reaction from managers and the Rotary Club is shock. They say, 'That stuff doesn't happen here. Slavery? Are you kidding me?' "
Florida was ranked third behind Texas and California in 2011 for the number of calls received by the National Human Trafficking Resource Center (NHTRC) hotline, a confidential tip line that receives reports from every state. The International Labor Organization (ILO) estimates as of June 1, 2012, that "55 percent of forced labor victims are women and girls as are 98 percent of sex trafficking victims." According to NHTRC, 27 million people are enslaved and 2.5 million are in the United States.
"It ought to concern every person, every community, every business and every nation," said President Obama during the Clinton Global Initiative meeting last September in New York. "I'm talking about the injustice, the outrage of human trafficking, which must be called by its true name — modern slavery."
"It ought to concern every person, every community, every business and every nation. I'm talking about the injustice, the outrage of human trafficking, which must be called by its true name —
modern slavery
."
— President Obama during the Clinton Global Initiative meeting last September in New York
Challenges exist. Cases are hard to track and tally and are very difficult to prosecute. In fact, its existence is often denied. "What you can prove in court is a far cry from what's happening on the street," said George Collins, a member of a domestic security task force for the Okaloosa County Sherriff's Office. His territory encompasses coastal cities like Destin as well as inland towns near Interstate 10.
"Wherever there is a transient population of geographic bachelors, you have a market for sex trafficking. And wherever you have a high demand for unskilled labor you also have an environment where labor trafficking can flourish. It's not always obvious," he said.
Collins investigated a case in 2008 where the evidence pointed to sexual trafficking. Collins said crews of girls who looked to be 14 or 15 years old were being brought in from Atlanta to Fort Walton Beach to work at bars as "taxi dancers" — paid to go to a hotel or a car with patrons. During a walk-through of the bar, frequented by immigrants, everyone said they were 21.
"There's no regulation to have ID if not served booze," said Collins. "It's not like the world on television — they can easily smell an undercover a mile away. It's a very slick operation, very difficult to penetrate."
Collins did bust the front man, an American bar owner, for income tax evasion but could not prove trafficking of immigrants from South America, Eastern Europe and Russia. "It took me four years to prosecute," said Collins. "In that time, there were over 1,000 victims, and I still didn't get a prosecution for trafficking."
The lesson Collins learned? Prosecute what will hold up in court to stop the suffering.
The national tracking center reports types of abuse are usually under the radar and include commercial compelled labor and sex acts through the use of force, wage theft, excessive working hours, workplace discrimination and harassment, child labor violations, unsafe or unsanitary working or living conditions and visa fraud.
Common control methods include restriction of movement, harmful living and/or working conditions, which can traumatize the victim into a spiral of anxiety, helplessness and fear.
Both Called2Rescue and ECHO's grassroots efforts to boost awareness and curb trafficking are mindful of not crossing law enforcement authorities. "We would not be wise to take a vigilante role," said Santiago Rodriguez. "If you want to kick in doors, join the police force."
Rodriguez instead suggests utilizing hotlines and resources trained to investigate crimes.
Of the 75 child trafficking cases Dennis has been directly involved with since 2005, 34 children have been rescued, alive. Human trafficking, he explained, is different in degrees, based on the size of the city.
"A small town has a smaller market," he said. "You get a lot of home grown trafficking where parents, family members turn children out for sex. And I'm just talking about U.S. citizens."
In the United States, Dennis said, the kids who often get caught up in sex trafficking are part of the more than 2,000 children who are reported missing every day, according to the National Center for Missing and Exploited Children (NCMEC). It categorizes the children into case types: runaway, family abduction or non-family abduction, lost, injured or missing.
"Within 72-hours two-thirds of those [on the street] are approached, recruited or abducted into sex exploitation," said Dennis. "Every child running to attention and love or running from abuse or whatever has needs. If I'm looking for a victim, I just find out what they need and show I can meet those needs. It happens that simply."
The world consists of three types of people, he said. The wolf, the shepherd and the sheep, the latter being the "people in our society do not believe anything bad can happen to them."
Local churches, he added, need to wake up. Trafficking is happening in their communities, taking victims from their flock. This is not just an issue for foreign countries — this is a call for action in America.
Dennis invites more people to make a difference in this fight. He called out to veterans who he affectionately referred to as sheepdogs. "They have been the tip of the spear and have a lot of tools. They are willing to go into harm's way … shepherds are given a flock of people to oversee and protect. If we can do that, then we can protect a lot more of our children," he said.
How You Can Help
To get involved contact:
Emerald Coast Humanity Outreach
Facebook.com/DestinECHO
Destin.echo@gmail.com
To report human trafficking:
Contact the National Human Trafficking Resource Center hotline to confidentially report or submit a tip by calling (888) 373-7888.
The National Center for Missing & Exploited Children (NCMEC)
(800) THE-LOST
(800) 843-5678
The Law is Listening
"Human trafficking robs people of their dignity and deprives them of their most basic human rights," Florida Attorney General Pam Bondi said.
In recent years, political voices like Bondi have upped the ante in their battle against human trafficking, grabbing the public's attention with thought-provoking turns of phrase and firsthand accounts of the atrocities occurring right in our own backyard.
The message has been received, especially in the Florida Legislature.
In July 2012, state lawmakers combined three existing human trafficking statutes into a single law, making it more user-friendly for law enforcement. The new legislation increased the penalty for the crime of human smuggling from a first-degree misdemeanor to a third degree felony (which carries state prison time) and allows a court to designate those convicted of human sex trafficking as sex offenders and sexual predators.
This year, other political forces, including Gov. Rick Scott, joined the fight.
On May 30, Scott signed into law crucial legislation designed to address the aftermath of human trafficking. Two new statutes were created to give the victims of trafficking a chance at a brighter future, by expunging any charges of crimes committed while the victim was being forced, threatened or coerced into illegal activities.
This newest legislation is, in many ways, an extension of Florida's Safe Harbor Act, which took effect at the first of the year. The Act addresses the issue of child sex slavery by increasing fines for soliciting prostitutes, and using those fines to help fund the creation of secure "safe houses" with special living quarters for sexually exploited kids. — Chay D. Baxley
Emerald Coast Humanity Outreach Takes Ownership of our Kids
ECHO was founded through the power of prayer. Santiago Rodriguez, an outreach pastor for Destiny Worship Center in Destin was struck by a young woman's story about the existence of human trafficking in the small, coastal town during a meeting at the center two years ago.
"To God, every human being is the same worth. I had to further that thought," said Rodriguez, who has a young daughter. He was concerned local young women could be at risk. Starting with a prayer group, he called upon volunteers from area churches to meet in January 2011 at Grace Lutheran Church in Destin. Rodriguez also met with law enforcement authorities in Okaloosa County.
The result was Emerald Coast Humanity Outreach (ECHO), a not-for-profit group of concerned citizens working with law enforcement to boost awareness and reporting of suspicious human trafficking situations. Since 2012, members have trained teachers, social workers, healthcare providers and businesses to recognize the signs and report what they suspect or see to law enforcement.
"This is not like a church thing or one group. It's about communities knowing and taking ownership of their kids," said Peggy Morgan, president of ECHO. Outreach plans include partnering with other like-minded groups like Called2Rescue based in Pensacola and presentations to schools. ECHO recently visited South Walton and Freeport High schools in Walton County.
"It's not a great topic, but ECHO opened their eyes that this is happening in our world. It can happen here in Freeport just as well as a large city," said Kim Caudill, guidance aide for Freeport High School, who attended the student body presentation. "They encouraged students to seek help from within the school or a friend if they are concerned."
During Spring Break 2013, ECHO's awareness campaign included visits to every hotel along Interstate 10 in Okaloosa County and towns including Crestview, DeFuniak Springs, Destin and Niceville.
"Let's teach people how to see and teach people how to hear," said Morgan. "We need to let them [human traffickers] know that we know they are here." — Martha J. LaGuardia-Kotite