Coming Soon: The August/September 2013 Issue of EC Magazine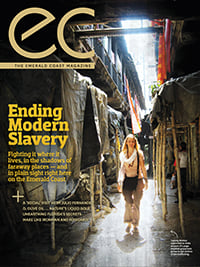 In the next issue of Emerald Coast Magazine, we take a look at the local impact of a national concern: human trafficking. We meet locals who fight it where it lives, in the shadows — and in plain sight right here on the Emerald Coast. Our cover feature follows the personal story of local activists like Tammy Binkley, who sojourned to India as part of a yoga-inspired grassroots group to aid victims of human trafficking.
Also in the next issue:
A 'social' visit with Julio Fernandez
A tasty story on nature's liquid gold: olive oil!
In a revealing conversation with UWF president, Dr. Judy Bense, we "Unearth Florida's Secrets" …
Mattie Kelly is 18! The Destin-based art organization comes of age.
It's summertime … the perfect time "make like Ironman" and … flyboard!
And much more…