Come With Us As We Replay Some Magical Moments from "Inside the EC Scene" at Digital Graffiti 2014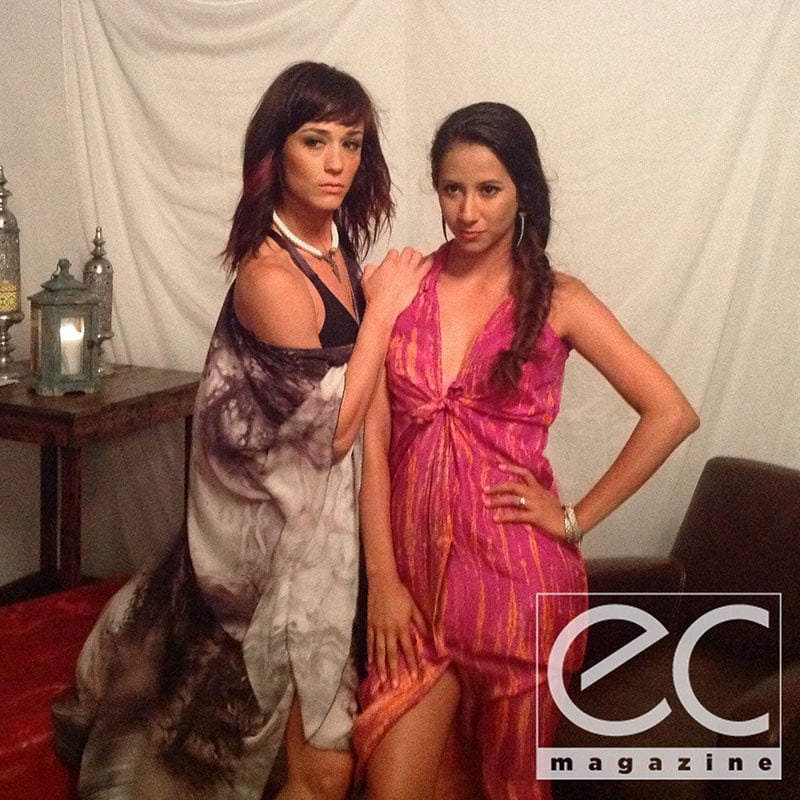 Carlin Trammel
Click the Image for the full gallery of photos taken in the haute EC Lounge photo shoot
Art, architecture and technology merged and converged when 27 dynamic digital art works created by artists representing 12 countries and four continents set aglow the iconic alabaster walls, courtyards and pedestrian pathways of Alys Beach on Scenic Highway 30A.
But that is just the beginning of the excitement for Digital Graffiti 2014. This year's seventh installation of the world's first art projection festival also featured an exclusive behind-the-scenes sneak peek tour, animated performance arts (in a lake no less), live interactive digital art, DJ and VJ stylings, live social media feeds and more.
EC magazine sponsored the must-do summer event and hosted the welcome soiree on Saturday evening. The event was a celebration of all things local — a theme fitting for the first local consumer magazine on the Emerald Coast. Guests were welcomed into the boho-chic lounge styled by Fisher Flowers and Events and greeted with a refreshing signature cocktail called the EC Honeyberri concocted by Chaste No. 850 and Cathead Honeysuckle vodka. Delicious mini dessert cakes were courtesy of Sweet Henrietta's. As DJ Lady Muse mixed smooth sounds, chic models adorned in fashions fresh from designer Cheyann Benedict's trunk show engaged with guests on the swank set of a "haute" photo shoot, while EC's lovely staff meeted and greeted adorned in designer dresses from The Alys Shoppe. All party goers were invited to join EC's exclusive Top of the EC club, which gives members the inside scoop on winning prizes, trips and exclusive access to events and promotions.
Recipe
• Muddle 1-2 strawberries with 3 oz of Cathead Honeysuckle vodka and 1 oz of Chaste No. 850.
• Add: Ice, lemonade to taste and a splash of club soda
The event culminated with the highly anticipated announcement of the winners for DG2014. A panel of industry judges awarded $10,000 in cash prizes to seven talented artists from all over the globe. But there were still more surprises, as artist Justin Gaffrey drew the name of one lucky local who won a painting depicting lovely Alys Beach, which The Alys Shoppe commissioned just for the occasion.
But the night was just beginning. As the sun dimmed, the iconic white walls of Alys Beach began to glow with dozens of pieces of striking digital art. After meandering the pathways, guests paused in Central Park to create their work of art on a virtual graffiti wall and create messages and drawings revealed under a black light. Many lingered near Lake Marilyn mesmerized by the illuminated and animated 20-foot "albino alligator." But nearly all eventually made their way to the Caliza Pool deck to snap a keepsake photo with friends, upload pics live to Instagram, and dance through the night away to Miami-style house music as still more digital art pulsed on.
---
VIDEO RECAP
Video produced by Carlin Trammel
---
SOCIAL MEDIA RECAP