Coastal Coffee Bar
Creative concoctions, memories to savor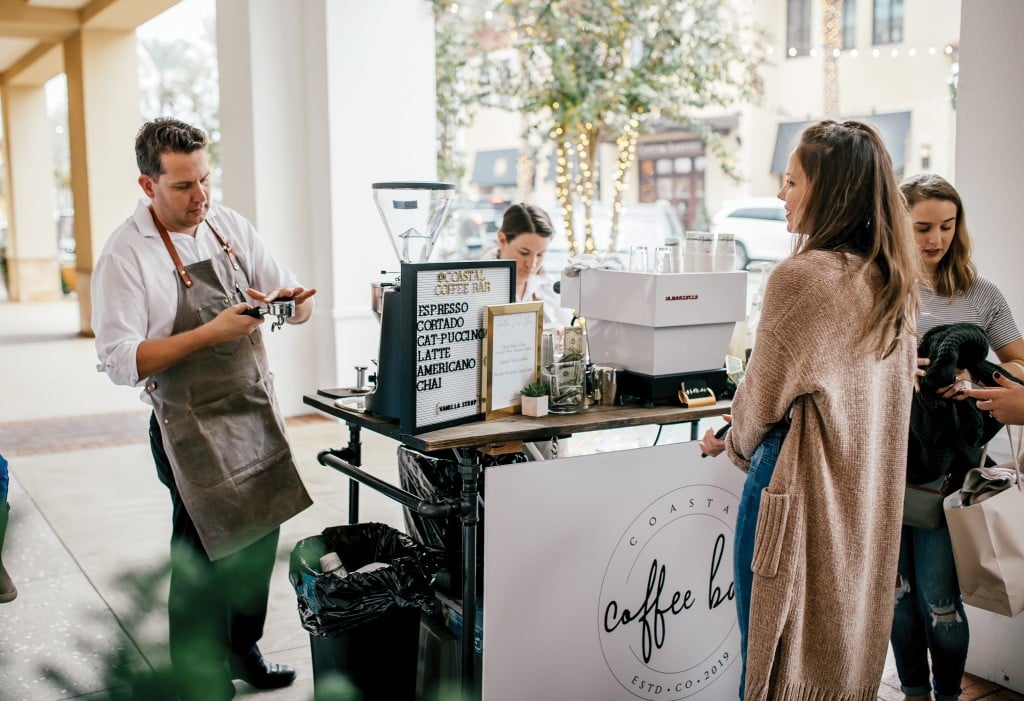 Some 64 percent of Americans start the day with a cup of joe, but that giant coffee collective did not include Kasey Perry.
That is, until she and her husband, Donavan, established the Coastal Coffee Bar Company in Panama City Beach.
"I grew up in New Orleans and did not drink café au lait. I lived in Seattle, the coffee capital, and managed not to drink it," Kasey tells. "Once I tried chai tea latte, I realized that I had never had really good, well roasted, well-crafted coffee."
Kasey is now converted and caffeinated.
"I'm hooked. I love iced caramel macchiatos," she enthused.
Kasey, 42, and Donavan, 44, have poured their creativity, business sense and hearts into an enterprise that they hope will energize the wedding and event business along the Emerald Coast. The couple let their idea of a mobile business simmer for a bit and then started the Coastal Coffee Bar Company in 2019.
Kasey, who has a degree in marketing from Louisiana State University, handles the daily business operations. Donavan, who emigrated to the U.S. from South Africa when he was 21, engages customers and tests and selects coffee profiles.
"We balance each other out," Kasey said. "Our sweet spot is weddings under 500 people."
They also cater small events, such as house parties, fundraisers, ribbon-cuttings, grand openings, appreciation events, bridal shows and "over-the-top birthday parties."
"We offer an experience. Which would you rather have? An air pot with warmed up mud water or a real barista serving you and providing education and entertainment?" Donavan asked.
Serving Bay, Walton and Okaloosa counties — and beyond for a travel fee — Coastal Coffee is a full-service coffee bar. They serve only organic, fair-trade coffee sourced through South Walton-based Amavida. Their menu includes espresso, cortado, cappuccino, latte, Americano and chai beverages.
"We provide our menu and then add two signature drinks options. We concoct fun names and gear them to the theme of the event," Kasey explained.
The business served Meow Made Vibe at the opening of Kittenish Boutique in Grand Boulevard and offered 3 Carat Caramel Macchiato and Rosé Latte sprinkled with pink glitter at the kick-off of Sinfonia Gulf Coast's Le Vie En Rosé fundraiser.
Aware of the growing popularity of cold brew coffee, Kasey and Donavan will serve everything on the menu over ice.
The couple plans to methodically grow their business.
"There is a lot we want to do, but we also want any expansion to be thoughtful and well planned," Kasey said. "As with our brand roll-out, we know we only have one shot." 
Lavender White Chocolate Mocha
Recipe courtesy Coastal Coffee Bar Company
Ingredients
1/4 ounce Pink House Alchemy Syrup

1/2 ounce Hollander Chocolate Sauce

6 ounces milk, steamed and frothed

2 ounces Amavida ingle Origin espresso or strong coffee
Directions
Pour lavender syrup and chocolate sauce into coffee mug. Add in the hot espresso or strong coffee and stir. Add in the steamed, frothed milk.