Christon Birge Flirts With Stardom
The Vernon singer has more than big aspirations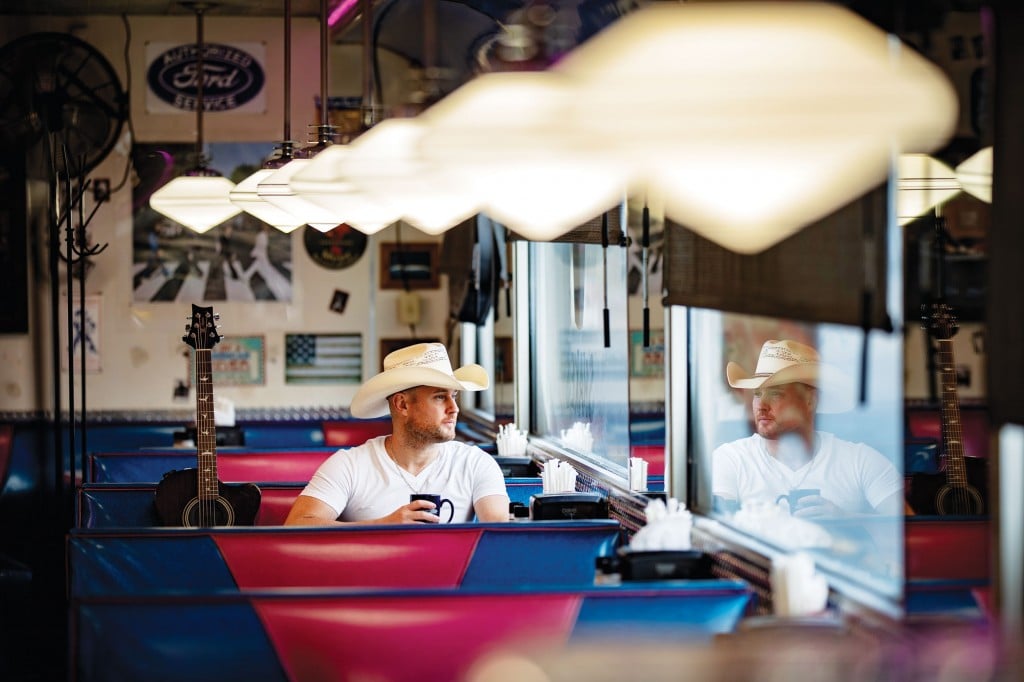 In one of his online promo shots, Christon Birge looks every bit the Nashville country boy at home: denim work shirt, Stetson hat, jeans worn ragged through the right knee and threadbare on the left. After the "street-waif" knees, a pair of expensive-looking snakeskin boots prompts a double-take.
When the first question in a recent interview was about those boots, Birge, the youngest of three brothers, knew he was being messed with. His eyes brightened, and he chuckled appreciatively.
"They're my work boots!" he protested. "I didn't run out to the boot shop and buy them for the picture. I can show you the soles if you want."
From the first hello, Christon Birge gives you the feeling that you're a homeboy and he's gonna like you. Birge is from Vernon, Florida (pop. 728), the 766th most populated city in the state, where nobody is a stranger and it can be hard to tell the local accents from those in Alabama.
Birge grew up playing baseball and basketball and listening to his older brothers play music. Both are named Robert.
"Kind of like George Foreman," Birge said, referring to the prizefighter who named all of his sons George.
Birge's music is boyish and bighearted, classic country twang, strong, clean and playful. Mixed in is Birge's added talent for writing musical curveballs. His quirky lyrics in love songs like Tacos, co-mingles country's old and new-school sensibilities.
About Tacos, his 2017 single — even with the refrain being, "All I can promise is to buy you tacos / And touch your butt" — nobody should start hollering about political correctness until they've paid attention to the verses. In them, they will discover a simple man plighting his troth, with a quirky forever-and-ever promise made up of the homespun endearments he has to offer his bride-to-be.
"By 15, I started wanting a guitar and a trick bike," Birge said. "I couldn't find a job in Vernon, so I got one over in Chipley harvesting watermelons. Tossing watermelons all day to the dude on the truck. After work, I'd go to the basketball court, play a little shirts and skins with my buddies. What with all day tossing melons, the basketball would feel like a helium balloon! Anyway, that's how I got my first guitar."
After Vernon High, Birge became the first in his family to enroll in college. For a while, his affair with music is like some Hemingway story where the main man tries to work a compromise between security and his passion, always with the safety net of a job in case the music thing doesn't pan out.
But what doesn't pan out is the safety-net thing. There have already been signs that "part-time professional musician" wasn't cutting it with respect to Birge's aspirations. Still, there are 10,000 things to choose from, and in 2011, Birge thinks, "Maybe mixed martial arts?"
"That didn't last long," he said. "You could see where that movie ended. You can play at baseball or football, but you can't play at fighting."
Then, in 2014, Birge wins a talent contest at Tootsie's Orchid Lounge in Panama City Beach. He sings a couple of emblematic Marshall Tucker songs, probably from an older brother's collection of '70s music, and ends up at the original Tootsie's in Nashville opening for Kid Rock. But even after that, it still takes a major hurricane, Michael in 2018, for Birge to walk away from the security of a steady job.
"After Michael tore up Panama City," Birge remembers, "I saw people around me that had worked 20 years and suddenly no house, no clothes, no insurance, no job. What the heck! They didn't even like their jobs! You might as well be jumping off doing something you love. For me, that meant music full time. No net!"
So far, it's looking good for Birge. He's putting out singles like Delirious and Tacos, written for his co-vivant and sometimes musical collaborator, Katie Spillman. Somebody describes Birge's nationally aired and critically noted 2019 single Sunscreen On You as "beachy rock."
The YouTube video is a bit more sand than rock. Here's a tiki statue and, over there, sea oats for a backdrop, but the Stetson's still in place and the snakeskin boots. The band does lay down a fine syncopated two-step, right on the sugar sand where Birge weaves and shuffles, extolling the salubrious sensations of slathering your sweetie with suntan lotion.
No albums yet, but you can tell one is coming. Birge has just released Best Friends Bring Beer, written by his friend Shaun Streeter. It will probably be Birge's breakout single. If there were a bull's-eye in convivial puffy-eyed drinking songs, Best Friends would split Roger Miller's Chug-a-Lug arrow right down the middle.
The Perfect Name
Christon Birge might have been a Robert like his brothers, but for an epiphany his mother had while driving. On the radio, she heard the name Christon, which she later told people was the name to beat all names. A few months later, when she found herself pregnant, she decided that is what she would call her third boy.