Chicken 'n' Waffles
Seems so wrong, but tastes so right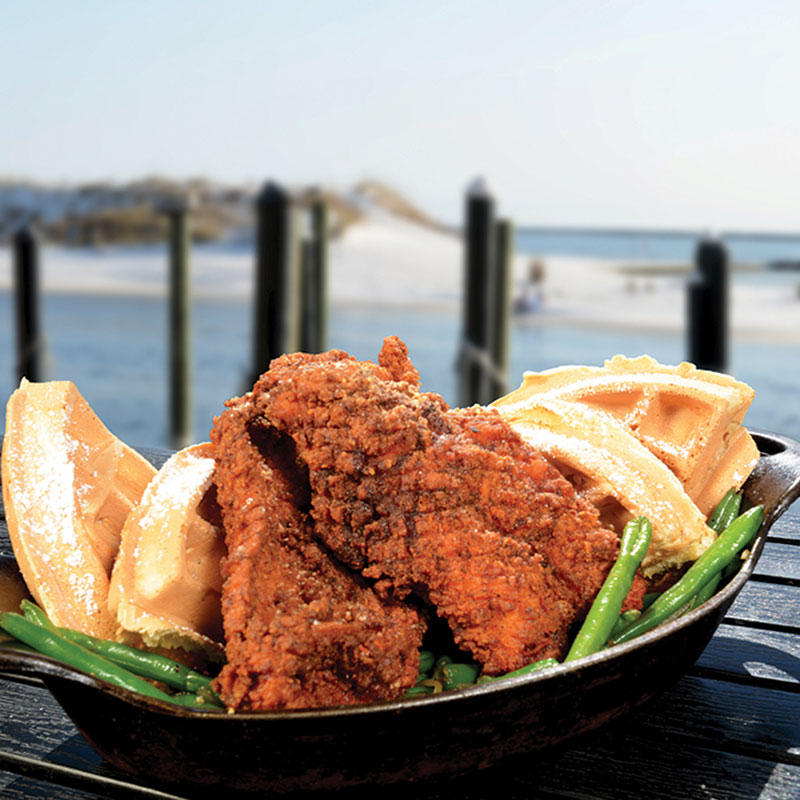 Oscar and Felix, Sonny and Cher, Beauty and the Beast … these are a few classic couplings that just don't seem right … at first. But then again, oil and vinegar is all you need to make a salad sing. Perhaps the same can be said of Chicken 'n' Waffles.
If you've ever tried the unlikely pairing of chicken and waffles, you understand the appeal. It's the immediate satisfaction of uniting, in one bite, the sweet and salty, the soft and crunchy, the maple and … yes, the chicken. It may sound unseemly and downright unsavory to the uninitiated, but chicken and waffles are a delicious, dynamic culinary duo.
No one knows exactly when this dish found its way into Southern cuisine, because it's conspicuously absent in early cookbooks. Some say its origins come from the early 20th century, in the African-American community of Harlem, New York.
How ever it started, we're just glad this unlikely pairing can easily be found on menus all along the Emerald Coast. Breaking down the dish, you have waffles (often Belgian), topped with chicken (most likely fried) and topped with syrup. In one delicious ›› dish, you have a meal that conceivably combines breakfast, lunch and/or dinner, making it a meal that literally serves the most robust of appetites well. And no matter what time of day it's served, eateries all along the coast are perking up this plucky dish with creative variations.
Chicken 'n' Waffles has been considered a house specialty at Mike's Café & Oyster Bar in Panama City Beach since it opened in 1986. Every day, between 7 a.m. and 2 p.m., Mike's serves up a basic version featuring boneless fried chicken on a waffle with butter and syrup.
Sunset Bay Café, inside Sandestin Golf and Beach Resort in Miramar Beach, serves up a traditional Southern version: a waffle topped with fried chicken strips smothered in Southern white-pepper gravy and then drizzled with molasses bacon butter and garnished with Boars Head Applewood smoked bacon and chives.
A decadent rendition is served up at Primrose, located in Destin's new luxury hotel, The Henderson. Called the Open Faced Wafflewich, it is a fluffy Belgian waffle and fried chicken breast that is sprinkled with aged cheddar cheese, smoked bacon and topped with three sunny-side-up, farm-fresh eggs that have been seasoned with fresh herbs. And it's all served with warmed maple syrup. Bring a friend, because the portion on this one may require some assistance to manage!
Jackacuda's Seafood & Sushi on the Destin harbor is well known for its seafood, but owners Chris Runyan and Tyler Jarvis have reeled in another big hit with their version of chicken 'n' waffles, called Nashville Hot Chicken + Waffles. It layers boneless spicy chicken atop a vanilla bean waffle, and then smothers it all in green beans and syrup.
McDonald's riff on the Southern classic should quickly rise up the ranks of breakfast favorites — if it ever makes it on the menu full-time. The chain is currently testing a Chicken McGriddle — a fried chicken patty placed between two maple syrup-infused McGriddle buns — at select locations in Northeast Florida and Southeast Georgia.
For a real hearty, homestyle version of chicken 'n' waffles, head to Five Sisters Blues Café in Pensacola, which is part of the Great Southern restaurant group. Prepare to take on two big pieces of Aunt Sara's fried chicken on top of a buttermilk Belgian waffle with maple syrup and butter on the side. This homey joint oozes with a sense of joy for food with live music, making this unexpected soulful meal combo that much more comforting.