Cheers to the Champions
Best of the Emerald Coast Winners' Reception Celebrates the Best in Business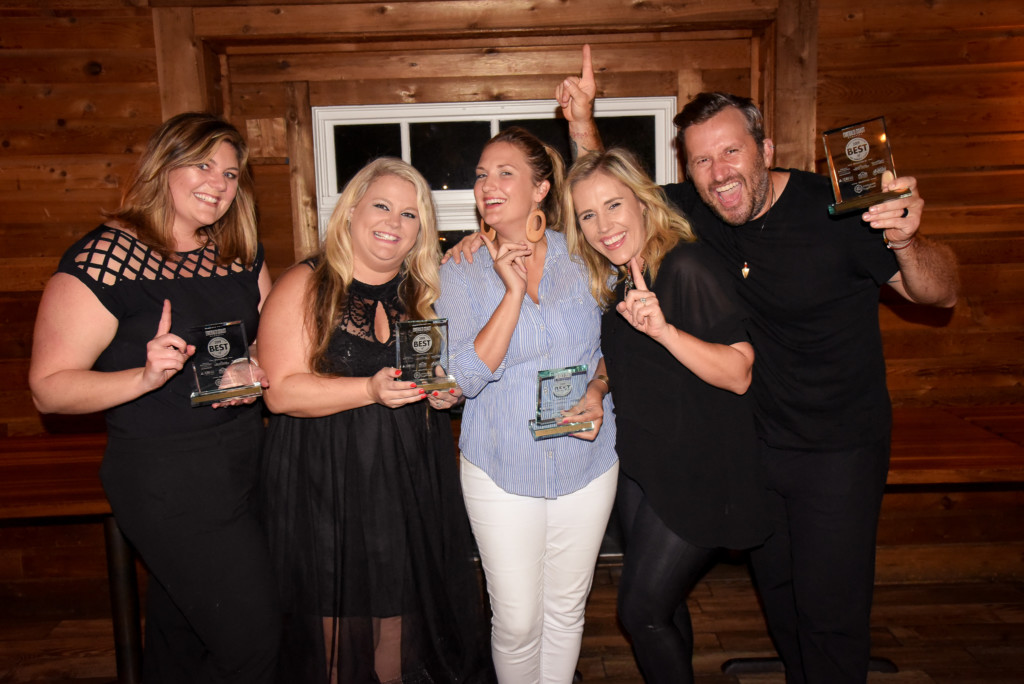 This year's Best of the Emerald Coast winners were given a red-carpet welcome to Brotula's Seafood House & Steamer in Destin last Tuesday, Oct 9, as over 300 honorees gathered to mingle and make merry with fellow recipients. Being the 20th annual edition of this highly-anticipated celebration, excitement was palpable.
As guests signed in and received complimentary cocktail tickets, the Junior League of the Emerald Coast led the way to a sweeping display of laser-engraved, glass awards boasting the lustrously modern, elegant craftsmanship of BayArea Awards.
Equipped with new arm candy, many found it fitting to pose for the Hive Creative Consulting's and Land Air Sea Productions' cameras before hitting the bar.
I derailed one such man's quest before he could belly up, as his rubicund, beaming facade struck me as particularly gleeful. Jon Seeling, as he enthusiastically introduced himself, was proud to share his business, 98-Bar-B-Que, was acclaimed as this year's best in BBQ.
"This is a huge honor, as I believe Best of the Emerald Coast is one of the more prestigious awards a business can be given," Seeling said. "It's not just saying you're the best in Panama City Beach or Destin, but distinguishable within our entire region. I know we're looking forward to showing up on the 19th to cruise around the boulevard and tour the best our area has to offer."
I bumped into Seeling again as we tackled the twilight-imbued buffet station on Brotula's back deck where, void of its typical aroma of offal and engine oil, the Destin Harbor was rich with tantalizing sizzle of hibachi-fried rice and seafood medleys.
"Are you gonna get in there?" Seeling asked, offering me the spoon to a creamy vat of cheddar-cheesy shrimp n' grits. Of course, I did.
For an invitation to the evening reception which promised "heavy hors d'oeuvres and drinks on us," it did not disappoint. Indeed, many hands struggled to juggle plates encumbered by piles of hickory-smoked tuna dip, crispy bruschetta and pyramids of freshly-rolled sushi.
Chased by Octoberfest brews, crisp wines and cocktails alike, it was a piquant meal made perfect by musical accompaniment by DJ30A and a front-row seat to sundown.
Shortly after, Bethany Worley, the 2019-2020 President of the Junior League of the Emerald Coast, took to the stage and reminded all a true cause for celebration:
"Best of the Emerald Coast is one the Junior League of the Emerald Coast's biggest fundraising events of the year," said Worley. "Our partnership with Emerald Coast Magazine and Rowland Publishing allows us to make a bigger impact here for the children of Okaloosa and Walton Counties. "
As beneficiaries of Best Of the Emerald Coast, the Junior League of the Emerald Coast go toward their annual Child Clothing Project, which grants the clothing of over 400 children each year.
"We work with guidance counselors in our elementary schools who identify children on free and reduced lunch programs who meet a need," said Worley. "Just $100 can fully sponsor a child, as this allows for two pairs of pants, two shirts, a brand-new pair of shoes, a pack of underwear and socks and a nice, cozy jacket for the fall and winter seasons."
Mac Little, Rowland Publishing's Sales and Event Manager, also chimed in with important reminders on logistics for the October 19 event.
And, added Little, "don't forget to bring all the string lights you can. You want your space to represent the bright, and beautifully distinguished businesses you own."
Though the evening had begun to wind down, participating businesses were still abuzz, comparing notes with fellow vendors.
"Do you think six hundred chocolate-covered strawberries will be enough?" I overheard, and, "How many koozies are too many koozies? Wait, you're bringing koozies, too?!"
But as someone whose can cooler collection is repeatedly exhausted, (and exclusively replenished by the Best of the Emerald Coast event each year) I can assure you the limit does not exist.
For Zandra Wolgram, editor of Emerald Coast Magazine, Best Of has become a "wonderful way for locals to come together and celebrate that which makes life on the Emerald Coast so special."
"This year being our 20th anniversary is epic for us," Wolfgram said. "We are proud of our heritage as the first local consumer lifestyle magazine on the Emerald Coast. We invite everyone to come on out and join us in celebration, and wear Emerald green in honor of the occasion."
"It is an honor to plan this event to celebrate you, the businesses that make this community so wonderful!" added Little. "Tonight, I have met some new faces receiving their first Best of Emerald Coast award, as well as some veterans. This gets me pumped for the big event at Grand Boulevard on October 19th."
As always, Emerald Coast Magazine thanks the community and the following sponsors for their dedication and support: Grand Boulevard Sandestin, ResortQuest by Wyndham Vacation Rentals, Silver Sands Premium Outlets, Carr Riggs & Ingram CPAs, Counts Real Estate, The Hive Creative Consulting, Distillery 98, Eloquent Signs, Proffitt PR, Brotula's Seafood House and Steamer, Trulieve, Farmer's Daughter Vineyards, Idyll Hounds Brewery, Estuary Oysters, Emerald Coast Audio Visual Solutions, Land Air Sea Productions, and Gulf Power Company.
See more photos from the event below:
Photos courtesy of The Hive Creative Consulting