Cajun Cuisine and Hospitality
Ruby Slipper delivers a taste of the Big Easy to Destin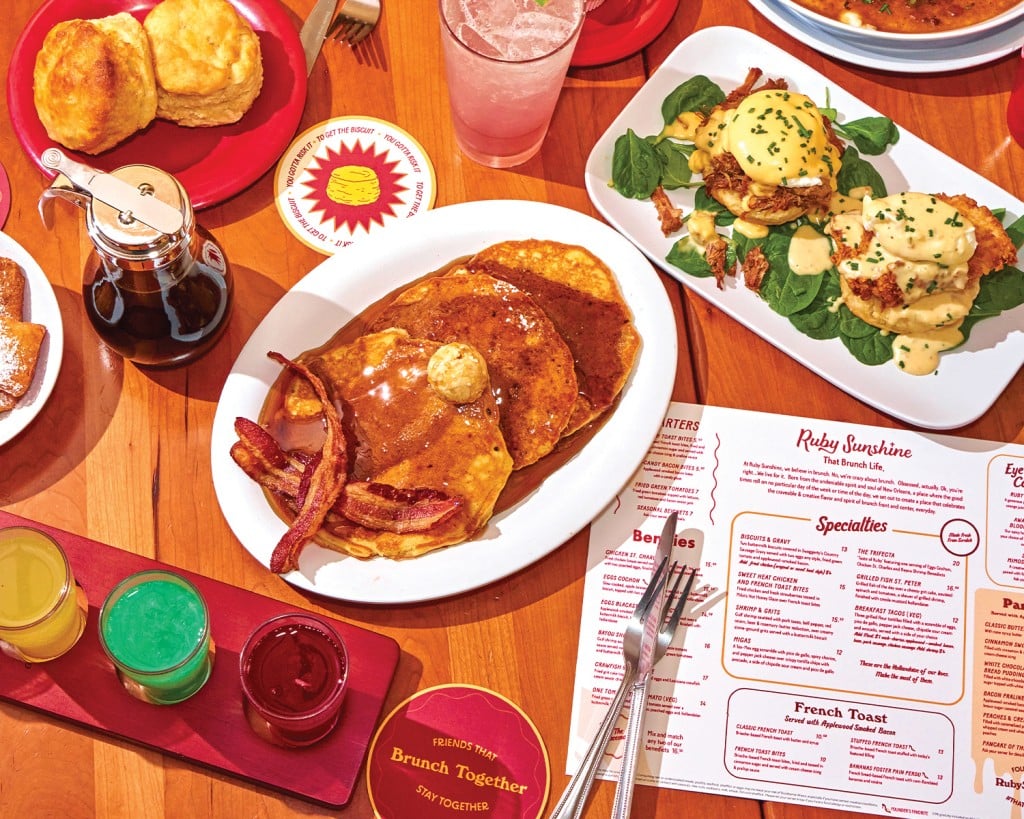 Conceived and developed in New Orleans, the Ruby Slipper Cafe in Destin is the company's 21st location.
It occupies the freestanding building at 34902 Emerald Coast Parkway that was once the home of Graffiti & The Funky Blues Shack.
"We had been looking at Destin for years," said co-founder Jennifer Weishaupt, "but we just couldn't find the right pace or the right timing. We really like this location. It's the right place at the right time."
Weishaupt said that Michael Carro of SVN Southland Commercial Real Estate Group was instrumental in finding the location.
Julie Payne serves as general manager and is in charge of 60 employees. There are 164 seats in the dining room and another 15 at the bar.
"We're excited to bring our Big Easy-inspired brunch to the beautiful Florida Panhandle," Peter Gaudreau, the CEO of the Ruby Slipper Restaurant Group, said in a press release.
"Destin is a natural next step for our expansion along the Gulf Coast with restaurants already in Mobile, Orange Beach and Pensacola," Gaudreau added. "We think the Destin area captures that sense of New Orleans hospitality and Southern charm that Ruby Slipper is all about."
Ruby Slipper has a tradition of partnering with charitable organizations, and in Destin its preferred partner is Food For Thought Outreach, which helps children in need.
"It's a different concept from anything out here, and they're going into a great location," said Shane Moody, CEO of the Destin Chamber of Commerce. "So that will be something new and attractive, and it's positive that they're a community-oriented company."
Weishaupt was born on Long Island and first came to New Orleans to attend Tulane University. After earning a master's degree there in 1997, she became a chemical engineer with Shell Oil.
She and husband Erich were married in 2001. He was an electrical engineer with Shell Oil.
Then, in 2005, Hurricane Katrina devastated New Orleans, flooding their neighborhood.
"We made the decision to rebuild our house, and we got really active in the neighborhood association," Weishaupt recalled.
Soon afterward, a neighbor offered to let them build a restaurant at a former corner store site just a few blocks from the family home.
"We really didn't know anything about the restaurant business, but you kind of have to look inside yourself to find solutions to problems," Weishaupt said. "We decided to take some of our management and real estate business experience and see if we could open a restaurant that would really help rebuild our neighborhood."
The restaurant, she said, became a "gathering place where people could escape some of the chaos of rebuilding their homes and dealing with insurance companies."
Weishaupt's idea for the name Ruby Slipper came from something she heard on radio station WWOZ in early 2006.
"The DJ was talking about her child who had just come back to New Orleans from Houston after being evacuated for the hurricane," Weishaupt said. "And she was telling the story of her daughter seeing her schoolmates for the first time in a year. Her daughter told them that she had learned that as someone from New Orleans, she grew up in Oz and every place else is just Kansas.
"And I thought that was such a beautiful sentiment that spoke to the colorfulness and quirkiness of life in New Orleans," Weishaupt said. "All of us were homesick for all that during those days."
In July 2015, Ruby Slipper Cafe opened its first location outside of New Orleans in downtown Pensacola. It added an Orange Beach, Alabama, location in June 2016.
The company now includes a Ruby Sunshine division, which owns and operates locations in Tennessee, Alabama and North Carolina.
---
Ready to Eat?
Check out Ruby Slipper's extensive menu at RubySlipperCafe.net. The restaurant is open from 7:30 a.m. to 2 p.m. on weekdays and from 7:30 a.m. to 3 p.m. on weekends. Reach the business by phone at (850) 388-6248.