Breezy and Strappy
Update your summer slides with color, shimmer and sass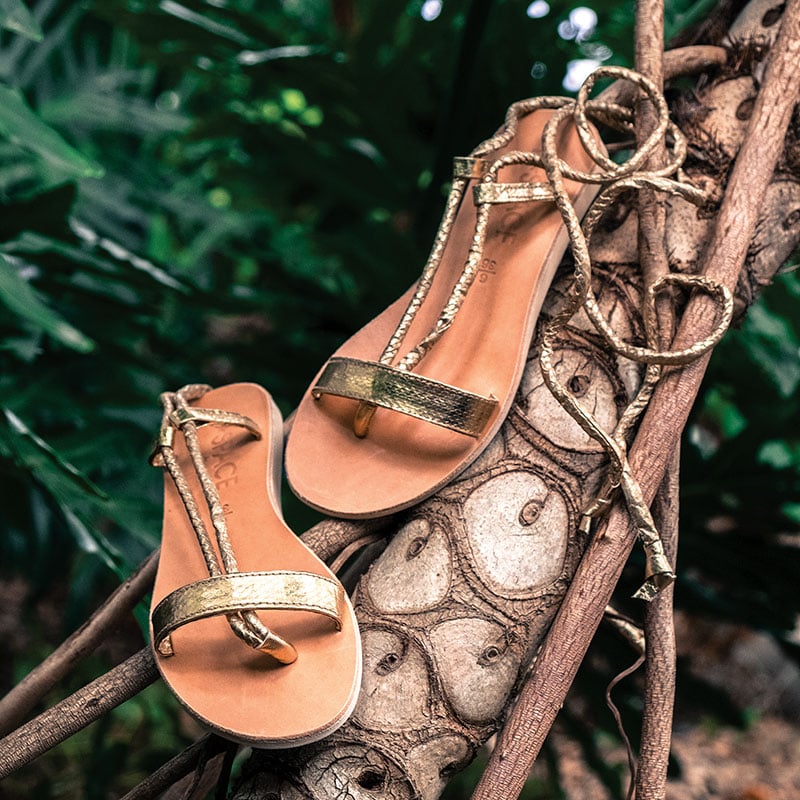 Summertime sandals and bright toenail polish are on full display, so if you're still in last summer's flip-flops, treat yourself to an update: breezy sandals in shimmering metallic or with embellishments from jewels to lace to pom-poms.
"Trends include everything from brightly colored sandals to high-heeled mules and embellished slides … along with platform sandals and flat gladiators," said Elyse Waite, Envie Boutique & Salty Beach Outfitters store manager.
Lace-up gladiator sandals have been the top sellers at The Florida House in Panama City Beach.
"We sell out of those over and over again," said store manager Danielle Crowson. "They have been the bestsellers of the year by far."
Another footwear blast from the past that is making a comeback is the comfortable espadrille. Dating to 13th century Spain, espadrilles are summery shoes made of cotton fabric with a rope sole. Traditional espadrilles cover the toes, while contemporary variations are strappier. Espadrilles are light but sturdy, just right for casual summer wear in colors and patterns that are all about summer fun.
If you're feeling bold, slip on neutral-colored sandals with eye-catching extras such as vividly colored pom-poms, sassy tassels or fringes at the toes or ankles. With a breezy sundress or a simple top with cut-off jean shorts, the boldness of this type of sandal will add just the right amount of "pop" to your outfit.
And don't count out flip-flops, which have staying power that dates to 1500 B.C. Egypt.
"Our summer footwear styles consist of vibrant flip-flops," said Jennifer Lister, store manager at Vineyard Vines in Miramar Beach.  Keep yours up to date with bright colors, cute patterns and a variety of soles that keep your feet comfy.
The keys to sandal success, say Lister and Waite, are to choose varieties that best help you feel great and enjoy your summertime.
"Have fun with all of the different sandal options," says Waite.
From breathable footwear featuring laces and cutouts to strappy, ankle-tie styles, there are sandals for everyone this summer.
---
Nail the Look
With eye-catching sandals on your feet, it's imperative that your pedicure is on point. With each season come new polish colors to ogle. This summer sizzles with a palette of electric blue (Essie: Butler Please), red coral (OPI: Living on the Bula-Vard!), peachy pink (Chanel Les Vernis: Tulle) and muted metallic (Sally Hansen: Glow with the Flow). The cheery nature of summer makes for the ideal time to experiment with nail art, such as a playful pineapple or a smiling sunshine.