Bow to The Cow
At The Tin Cow, quality is prime … and that's no bull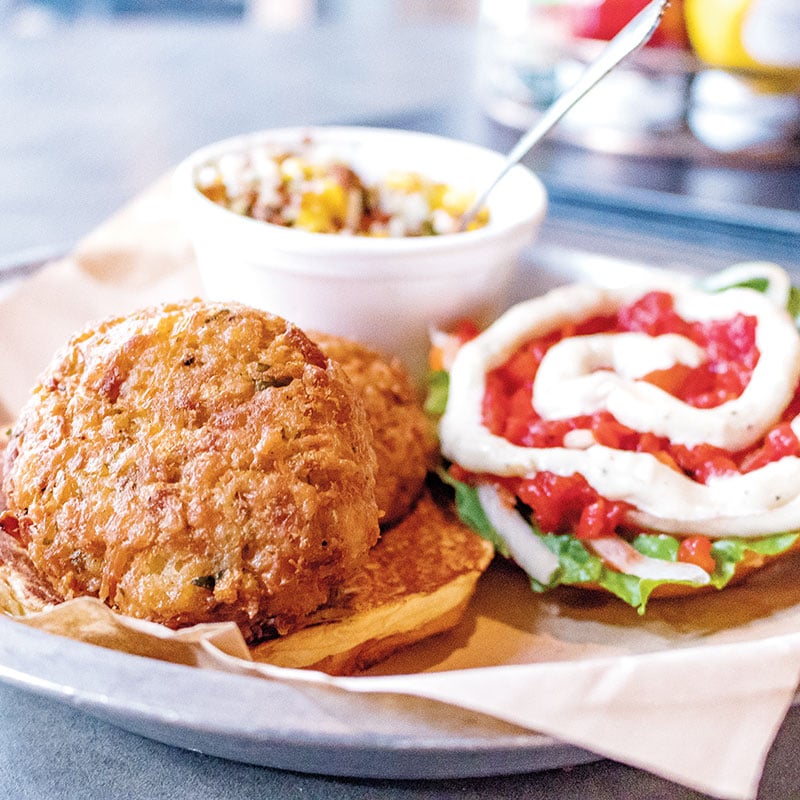 The idea of opening a burger joint is far from a novel one, but the concept behind The Tin Cow took things to another level. The focus at The Tin Cow is on premium meats and fresh ingredients, resulting in a menu that fully glorifies the divine bovine — both on the bun and in the cup.
Having successfully sliced into the pizza scene by opening Hopjack's Pizza Kitchen & Taproom back in 2008, Joe Abston could have easily sat back on his barstool and let his restaurants continue to rise; but a suggestion from a customer to mix things up by tossing burgers onto the menu gave him an idea — one that came to fruition in 2012, when he and his buddy Mike Weeks decided to partner up and launch a burger joint.
But it wouldn't be just any burger joint; it would be one that combined an array of ground-up ingenuity with canned craft beers, adult-minded milk shakes and sides that are far from ordinary. They don't just shake out some pre-cut frozen fries into a deep fryer and call it a day, nor do they toss factory-made chips onto a plate. No, The Tin Cow demands excellence in everything: They hand-cut potatoes each day for their fries and potato chips, tossing them in truffle oil and parmesan cheese … or infusing them with bacon.
"Nearly two thousand pounds of potatoes are peeled and cut by hand each week for our menu," says Abston. "That's a lot of potatoes."
It may, indeed, be a lot of spuds; but the high number is exemplary of how high they've set the bar for every aspect of their food — right down to the ketchup. Their signature burgers offer fistfuls of flavor to satisfy any craving, whether you go mad for Angus or love a legume; and the listing of proteins, cheeses, toppings, sauces and breads packed onto the "Create Your Own" menu is a veritable stampede of spectacular ways to take your burger bliss beyond imagination. ››
All of those decisions can be a bit staggering; so if you feel better following the herd and ordering straight off the menu, try out one of their top sellers, like the Classic, the Greek or the Chain Reaction. Each is a perfect pairing of patty and bun, reimagined to go beyond the grind of so many burger restaurants that trot out their boring offerings with the enthusiasm of cows out to pasture. The menu at The Tin Cow is a work of wit and passion, with creativity at play in the flavors and the names of every item. There are truly talented culinary artists behind the ideas, and they've milked their experience and their genius for all they're worth.
They're obviously doing something right, as The Tin Cow now has three locations in the area. Across the board, they maintain their brand of excellence — and their excellence is something they use for the good of others, as well.
"We created our Chain Reaction Burger because we wanted a unique way to give back to the community," Abston explains. "We asked local teens involved in a teen development program called 'Chain Reaction' to design a burger whose partial proceeds would be donated to the organization; and so far, we've been able to contribute nearly $8,000." This half-pound service-oriented burger is loaded up with Angus steak, melted cheddar, romaine lettuce, fresh-cut bacon-infused potato chips, thick-cut bacon and a slathering of ketchup and Caesar dressing on a cornmeal-dusted Kaiser bun.
From appetizers like freshly made pork rinds and pickle chips to kimchi-laden burgers and creamy milkshakes spiked with booze, Abston and Weeks have brought their vision to life and have proven that burgers and shakes can stray far from the expected. The Tin Cow has branded itself as a cut above — or a cow of a different color.
And that's something they take extreme pride in.
"We set ourselves apart by using the freshest ingredients and using local sources for those items whenever possible," says Abston. "And that's a difference you can taste."
---
The Tin Cow is located at 102 South Palafox Place, in Pensacola; 204 East Nine Mile Road, in Pensacola; and 5070 Hwy. 90, in Pace. Open daily, 11 a.m.–2 p.m. For more information, visit thetincow.com, or call (850) 466-2103.