Bitterroot Food and Spirits Has a Big-City Feel
Step inside and prepare for an upscale and relaxed experience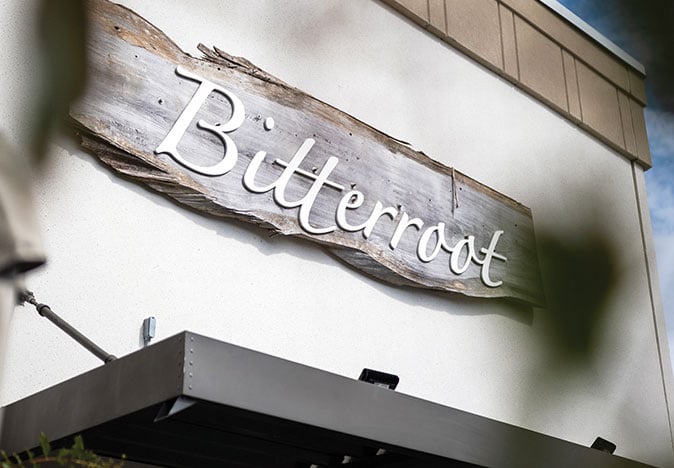 The pink-petal bitterroot flower is a symbol of rebirth and opportunity.
It is the state flower of Montana where Brendan McMahon's mother grew up, and he thought it an appropriate name for his new eatery, located at the site of his previous restaurant, Everkrisp. With the new venture, he is introducing diners to a New York-style, upscale experience unlike any other in the area.
"Where Everkrisp was a fast, casual experience, I really wanted people from the Kelly Plantation, Regatta and Bluewater Bay areas to be able to venture out for traditional, fine dining without having to drive all the way out to the Destin Harbor," McMahon says of Bitterroot, which opened at 4463 Commons Drive this April. "We're by no means a white-tablecloth, exclusory restaurant, but we are an accessible place where you can come off the golf course or beach for a nice meal."
A Washington, D.C., native, McMahon grew up in the restaurant industry by way of his father's business, and still operates a fine-dining concept and gourmet sandwich shop there today. But McMahon says he spends most of his time in Destin with his wife Ashley, with whom he founded Bitterroot, and prefers it that way.
"I love living down here, but I realized I was really missing the fine dining aspect of the industry," he said. "So, Ashley and I collaborated and realized this would be the way to scratch the itch and introduce a menu influenced by all different cultures and cuisines."
Low lighting, mixed industrial-modern materials and a big-city tavern-style bar set the stage for house-made pasta dishes, a mixologist-driven cocktail menu and an ever-changing selection of seasonal delicacies. McMahon, along with Michelin restaurant-trained chef Chad Donelson, prioritize variety and "keeping the conversation open" about ways in which to refresh their menu.
Among guest-favorite dishes is the traditional chicken and rice, a roasted half-chicken on a bed of Anson Mills Carolina Gold rice and hearty miso mushroom cream sauce. "It's a simple Southern dish we tried to sophisticate as much as possible without messing up the heart of its flavor," McMahon said.
Homemade flatbreads, vehicles for pecan butter, arugula, black pepper dressing, toasted shallot, aged goat gouda and pickled beets are the go-to appetizer, though many opt for a traditional charcuterie board of assorted cheeses, prosciutto and sopressata.
McMahon recommends the Osso Bucco short rib for the main course. The tender, braised meat lies atop homemade ricotta gnocchi and a pistachio pesto-dressed ratatouille.
A head-on Gulf prawn stir fry lends a Far East flair to the menu, while a 30-day dry-aged New York strip steak and Cape lemon-butter snapper picatta satisfies cravings for traditional fine dining fare.
Though McMahon is proud of Bitterroot's diverse gastronomy, it's the cocktail menu he calls his pride and joy.
"Mixology has been a passion of mine since it started catching on around 2005," said McMahon. "I was lucky enough to get in with some really good people and devote a lot of energy and focus into the art, so I would say that's my biggest strength."
McMahon's old-fashioned Old Fashioned, made the traditional way with lemon peel instead of orange, is enhanced with demerara syrup and walnut bitters for an earthier, classic flavor. So popular are they that Bitterroot devotes their Monday nights to the cocktail, selling them for just $5.
Too, guests are infatuated with the Zapata, a tequila, lime, watermelon and basil-foamed concoction that's as tasty as it is aesthetically pleasing, and Bitterroot's French 75 which incorporates a rosemary-infused simple syrup that adds a burst of flavor to its lemony gin and champagne blend.
"It's very satisfying hearing people tell me at the bar that they don't feel like they're in a strip center, but in New York," said McMahon. "They tell us they were really missing something like this near them, so we're happy to fulfill the need with something people enjoy."