Best of The Emerald Coast 2018
The votes have been tallied and here are the winners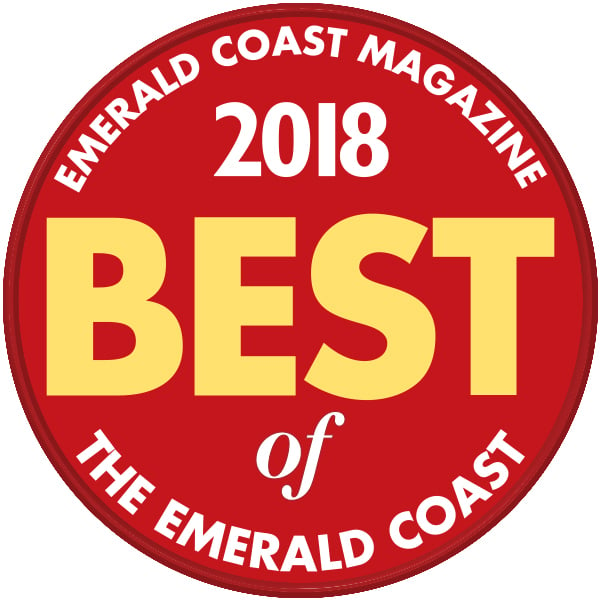 Each year, the beloved readers of Emerald Coast Magazine cast their votes for over 200 regional businesses that they view are the best in their specialty.
The 2018 winners reflect the establishments that serve our favorite meals, the healthcare professionals who keep us healthy, the boutiques that clothe us, the businesses that organize us and every service that makes life on the Emerald Coast the best.
See which businesses were awarded "Best of the Emerald Coast."
Celebrate with us and meet the winners at the 19th annual Best of the Emerald Coast event on Oct. 20 at Grand Boulevard at Sandestin.
Don't miss the opportunity to support those affected by Hurricane Michael.
Proceeds made during this year's Best of the Emerald Coast will go toward assisting in disaster relief for children in need through the Junior League of the Emerald Coast's Child Clothing Project.
Additionally, donations are welcome and will be accepted at a designated donation repository on-site. All exhibitors are also encouraged to bring donation items.
Learn more about which items you can donate and the hurricane relief efforts here.
Winners will be present to share their products, educate attendees and make meaningful connections with patrons, both old and new. We thank you, readers, for participating in the "Best of the Emerald Coast" poll and giving top businesses the recognition they deserve.
Brought to you by Emerald Coast Magazine
Benefitting the Junior League of the Emerald Coast.
---
Entertainment
Best Place for Kids Birthday Party
30A Horse Farm at Arnett's Gulfside
arnettfarm30A.com
Santa Rosa Beach
(850) 654-3333
DJ
Rock The House
rockthewedding.com
Santa Rosa Beach
(850) 582-9725
Golf Course
Kelly Plantation Golf Club
kellyplantationgolf.com
Destin
(850) 650-7600
Local Artist
Justin Gaffrey Gallery
justingaffrey.com
Santa Rosa Beach
(850) 267-2022
Local Attraction
Big Kahuna's Water & Adventure Park
bigkahunas.com
Destin
(850) 837-8319
Local Event
Emerald Coast Blue Marlin Classic
fishecbc.com
Miramar Beach
(850) 267-6360
Musician/Vocalist/Band
Boukou Groove
boukougroove.com
Destin, New Orleans
(850) 225-2001
Place to Go Dancing
John Wehner's Village Door Dockside Restaurant & Nightclub
hevillagedoor.com
Miramar Beach
(850) 502-4590
Place for a Date
Marina Bar and Grill
sandestin.com/dining
Miramar Beach
(850) 267-7778
Place to Take the Kids
Baytowne Adventure Zone
baytowneadventurezone.com
Miramar Beach
(850) 428-2736
Place to Watch a Sunset
Bud & Alley's Waterfront Restaurant
budandalleys.com
Seaside
(850) 231-5900
Radio Personality
Woofy Ramone, 99Rock
WKSM.com
Fort Walton Beach
(850) 243-3699
Resort (tie)
Sandestin Golf and Beach Resort
sandestin.com
Miramar Beach
(850) 267-8186
The Henderson, A Salamander Beach & Spa Resort
hendersonbeachresort.com
Destin
(855) 741-2777
Tennis Facility
TOPS'L Beach and Racquet Resort – Managed by ResortQuest
topsltennis.com
Miramar Beach
(850) 267-9222
---
Food & Beverage
Appetizer
Bonefish Grill
bonefishgrill.com
Destin, Panama City, Pensacola
(850) 650-3161*
*Destin location
Asian
Sushimoto
destinsushi.com
Miramar Beach
(850) 424-5977
Atmosphere
Marina Bar and Grill
sandestin.com/dining
Miramar Beach
(850) 267-7778
Bakery
Black Bear Bread Company
blackbearbreadco.com
Grayton Beach
(850) 213-4528
Bar/Tavern
The Craft Bar
thecraftbarfl.com
Destin, Santa Rosa Beach, Miramar Beach, Panama City Beach, Pensacola (Opening 2018)
(850) 460-7907*
*Destin location
BBQ
Jim 'N Nick's
Bar-B-Q
jimnnicks.com
Destin
(850) 424-5895
Beer Selection/Craft Beer
The Craft Bar
thecraftbarfl.com
Destin, Santa Rosa Beach, Miramar Beach, Panama City Beach
(850) 460-7907*
*Destin location
Best Frozen Treat (Ice Cream, Yogurt, Gelato, Snow Cones)
Moo La La Ice Cream & Desserts
Miramar Beach
(850) 654-3333
Brewery
Grayton Beer Company
graytonbeer.com
Santa Rosa Beach,  Grayton Beach
(850) 650-3161
Bloody Mary
Sunset Bay Cafe
sunsetbaycafesandestin.com
Sandestin
(850) 267-7108
Breakfast
Mama Clemenza's
mamaclemenzaseuropeanbreakfast.com
Miramar Beach
(850) 424-3157
Brunch
Mama Clemenza's
mamaclemenzaseuropeanbreakfast.com
Miramar Beach
(850) 424-3157
Cajun/Creole
Louisiana Lagniappe
thelouisianalagniappe.com
Destin
(850) 837-0881
Chef
Chef Jim Shirley
chefjimshirley.com
Santa Rosa Beach
Chinese
Jin Jin 1
jinjin1.com
Santa Rosa Beach
(850) 622-5558
Coffee
Café Siena
sandestin.com/dining
Miramar Beach
(850) 267-4488
Crab Cakes
The Red Bar
theredbar.com
Grayton Beach
(850) 231-1008
Crawfish
Brotula's Seafood House and Steamer
brotulas.com
Destin
(850) 460-8900
Dessert
Bon Appétit French Bakery & Cafe
facebook.com/bonappetitfrenchbakeryandcafe
Fort Walton Beach
(850) 244-2848
Distillery
Timber Creek Distillery
timbercreekdistillery.com
Crestview
Fine Dining
Marlin Grill
marlingrill.com
Miramar Beach
(850) 351-1990
Food Truck/Airstream
Big Red Truck
destinfoodtrucks.com
Destin
(850) 737-1185
French
Bijoux
bijouxdestin.com
Miramar Beach
(850) 622-0760
Gourmet/Food Shop/Specialty Food Store
Thirty A Filet & Vine
thirtyafiletandvine.com
Santa Rosa Beach
(850) 267-0648
Grouper Sandwich
Dewey Destin's Seafood Restaurant
destinseafood.com
Destin
(850) 837-7575
Gumbo
Slick Lips Seafood & Oyster House
slicklipsseafood.com
Sandestin
(850) 347-5060
Hamburger
McGuire's Irish Pub
mcguiresirishpub.com
Destin, Pensacola
(850) 650-0000
*Destin location
Happy Hour
Cuvee Destin/Cuvee 30A
cuveedestin.com
Destin
(850) 650-8900
Healthy Menu Options
Everkrisp
everkrisp.com
Destin, Miramar Beach
(850) 842-4504*
*Miramar Beach location
Hibachi
Osaka Japanese Hibachi Steakhouse & Sushi Bar
osakahibachiandsushi.com
Destin, Panama City Beach
(850) 650-4688*
*Destin location
Italian
Clemenza's at Uptown
clemenzasatuptown.com
Fort Walton Beach
(850) 243-0707
Locally Owned Restaurant
Vintij Food & Wine
vintij.com
Miramar Beach
(850) 650-9820
Locally Made Product
The Honey Hutch
thehoneyhutch.com
Santa Rosa Beach, Tampa
(850) 499-6528
Margarita
Cantina Laredo
cantinalaredo.com
Miramar Beach
(850) 654-5649
Martini
Marlin Grill
marlingrill.com
Miramar Beach
(850) 351-1990
Mediterranean
Aegean Restaurant Greek Cuisine
aegeanfl.com
Shalimar, Miramar Beach
(850) 460-2728*
*Miramar Beach location
Mexican/Latin American 
Cantina Laredo
cantinalaredo.com
Miramar Beach
(850) 654-5649
Mojito
Cuvée Kitchen
cuveekitchen.com
Destin
(850) 460-2909
Nachos
Lucy Buffett's LuLu's Destin
lulubuffett.com
Destin
(850) 710-5858
On-site Catering
Emerald Grande at HarborWalk Village
emeraldgrande.com
Destin
(850) 424-0622
Outdoor Bar
John Wehner's Village Door Dockside Restaurant & Nightclub
sandestin.thevillagedoor.com
Destin
(850) 502-4590
Outdoor Dining
Boshamps Seafood & Oyster House
lulubuffett.com
Destin
(850) 424-7406
Oysters
Slick Lips Seafood & Oyster House
slicklipsseafood.com
Sandestin
(850) 347-5060
Pizza
Fat Clemenza's
fatclemenzas.com
Miramar Beach
(850) 650-5980
Restaurant in Bay County
Firefly
fireflypcb.com
Panama City Beach
(850) 249-3359
Restaurant in Escambia County
The Grand Marlin Restaurant & Oyster Bar
thegrandmarlin.com
Pensacola Beach, Panama City Beach
(850) 677-9153*
*Pensacola location
Restaurant in Okaloosa County
Clemenza's at Uptown
clemenzasatuptown.com
Fort Walton Beach
(850) 243-0707
Restaurant in Walton County
Seagar's Prime Steaks & Seafood
seagars.com
Miramar Beach
(850) 622-1500
Romantic/Special Occasion Restaurant
Restaurant Paradis
restaurantparadis.com
Rosemary Beach
(850) 534-0400
Salad
Everkrisp
everkrisp.com
Destin
(850) 460-8881
Local Sandwich Shop
The Local  Market
localmarketdestin.com
Destin
(850) 460-8979
Seafood Market
Destin Ice Seafood Market
destinice.com
Destin
(850) 837-8333
Seafood Restaurant
Dewey Destin's
destinseafood.com
Destin. Rosemary Beach
(850) 837-7525*
*Destin location
Sports Bar
Tailfins Seafood House & Oyster Bar
tailfinsdestin.com
Destin
(850) 650-1200
Steakhouse
Ruth's Chris Steak House
ruthschris.com
Destin
(850) 837-7884
Seafood Steamer
Brotula's Seafood House and Steamer
brotulas.com
Destin
(850) 460-8900
Shrimp Salad
Lucy Buffett's LuLu's Destin
lulubuffett.com
Destin
(850) 710-5858
Sushi
Osaka Japanese Steakhouse Sushi & Hibachi Bar
osakahibachiandsushi.com
Destin, Panama City Beach, Tallahassee
(850) 650-4688*
*Destin location
Thai
Real Thai Fusion Restaurant
Miramar Beach
(850) 837-5344
Tuna Dip
Old Florida Fish House
oldfloridafishhouse.com
Santa Rosa Beach
(850) 534-3045
Wedding Caterer
Townsend Catering
townsendcatering.com
Santa Rosa Beach
(850) 622-0663
Wine List/Wine Bar
Vintij Food & Wine
vintij.com
Miramar Beach
(850) 650-9820
Wings
Buffalo's Reef
buffalosreef.com
Fort Walton Beach
(850) 243-9464
---
Online Categories
Best Local Business Social Media Account
Fun 4 Emerald Coast Kids
Fun4EmeraldCoastKids.com
Okaloosa, Walton, Bay Counties
(904) 200-1609
Must-See Attraction
Gulfarium Marine Adventure Park
gulfarium.com
Fort Walton Beach
(850) 243-9046
Must-Try Eatery for Visitors
Seagar's Prime Steaks & Seafood
seagars.com
Miramar Beach
(850) 622-1500
Place to Discover a Unique Experience
The Shard Shop Destin
shardshop.com/destin
Grayton Beach, Destin, New Orleans
(850) 842-4440*
*Destin location
Scuba Dive Shop
ScubaTech of NW Florida Inc.
scubatechnwfl.com
Destin
(850) 837-2822
---
Service Providers
Acupuncture
Tortoise Clinic of Chinese Medicine
thetortoiseclinic.com
Santa Rosa Beach
(850) 267-5611
Aesthetician
Gulf Coast Facial Plastics & ENT Center – Donna Rizzuto
gulfcoastfacialplastics.com
Panama City
(850) 784-7722 ext. 117
Airport
Destin-Fort Walton Beach Airport
flyvps.com
Eglin Air Force Base
(850) 651-7160
Architect
W. ARCHITECT P.A.
Destin
(850) 865-0470
ATV/Golf/Electric Cart Dealership
Dixielectricar
dixielectricar.com
Santa Rosa Beach
(850) 269-0011
Audio Visual Provider
AVX
avxinc.com
Santa Rosa Beach, Birmingham, Ala.
(850) 529-4743*
*Santa Rosa Beach location
Auto Repair/Body Shop
Emerald Coast Collision Repair Inc.
emeraldcoastcollisionrepair.com
Fort Walton Beach
(850) 664-3762
Automobile Dealership
Lee Nissan FWB
leenissanfwb.com 
Fort Walton Beach
(850) 243-3123
Bank
First Florida Bank
FirstFlorida.bank
Destin (Corporate Headquarters), Miramar Beach, Niceville, Mary Esther, Freeport, Panama City
(850) 269-1201*
*Destin location
Boat Sales and Service
Legendary Marine
legendarymarine.com
Destin, Panama City Beach, Fort Walton Beach, Pensacola, Gulf Shores, Ala.
(850) 337-8300*
*Destin location
Builder/Contractor
Chi-mar Construction LLC
chimarconstruction.com
Destin, Seagrove Beach
(850) 837-8016
Car/Limo Rental/Shuttle Service
654Limo
654limo.com
Destin, Panama City Beach, Pensacola, Santa Rosa Beach, Fort Walton Beach, Niceville
(850) 654-LIMO (5466)
Cardiologist
White-Wilson Cardiology
white-wilson.com/cardiology
Destin, Fort Walton Beach, Niceville, Navarre
(850) 863-8100*
*Fort Walton Beach location
Charity/Nonprofit
Destin Charity Wine Auction Foundation
dcwaf.org
Miramar Beach
(850) 650-3732
Charter Boat
Backdown2
backdown2.com
Destin
(850) 837-9551
Cheerleading/Gymnastics Facility
U.S. Gold Gymnastics and Cheerleading Academy
usgoldgymnastics.com
Destin, Crestview
(850) 654-3124*
*Destin location
Chiropractic Practice
Emerald Coast Chiropractic
destinchiropractor.com
Destin, Sandestin
(850) 654-1850
Commercial Real Estate Group
Century 21 Blue Marlin Fine Homes and Estates
C21BlueMarlin.com
Destin
(850) 837-7800
Computer Services/Tech Support
CRC Data Technologies
CRCDataTech.com
Destin
(850) 654-7262
Cosmetic/Plastic Surgery Practice
Destin Plastic Surgery Center
theplasticdoc.com
Destin
(850) 654-1194
Credit Union
Eglin Federal Credit Union
eglinfcu.org
Crestview, Destin, Eglin AFB, Fort Walton, Hurlburt Field, Mary Esther, Navarre
(850) 862-0111
Customer Service
project:STYLE salon
projectstylesalon.com
Panama City Beach
(850) 588-7771
Dance Studio/Ballet Company
Luna Ballroom
lunaballroomdestin.com
Destin
(850) 714-1669
Dental Practice
The Center for Cosmetic and Family Dentistry
DestinDentist.com
Destin, Panama City Beach
(850) 654-8665*
*Destin location
Dermatology Practice
Coastal Skin Surgery & Dermatology
coastalskinsurgery.com
Fort Walton, Miramar Beach, Niceville, Panama City Beach
(850) 654-3376*
*Miramar Beach location
Dive Charter Boat 
ScubaTech of NW Florida Inc.
scubatechnwfl.com
Destin
(850) 837-2822
Event Planning Firm
Proffitt PR
proffittpr.com
Miramar Beach
(850) 460-7777
Event Venue
SunQuest Cruises, Solaris
sunquestcruises.com
Miramar Beach
(850) 650-2519
Eye Doctor Practice
O'Donnell Eye Institute
greatfloridaeyes.com
Santa Rosa Beach
(850) 622-4000
Family Physician/Practice
Coastal Family Practice and Acute Care Center, LLC
coastalfamilypractice.net
http://coastalfamilypractice.net
Seacrest
(850) 231-9286
Financial Planning/Investment Firm
Krueger, Fosdyck & Associates
fa.ml.com/krueger_group
Destin
(850) 269-7003
Flooring
Infinity Flooring
infinityfloors.com
Miramar Beach
(850) 650-1039
Florist
GG Bloom
ggbloom.com
Destin
(850) 460-2078
Full Service Spa
Salamander Spa at The Henderson
hendersonbeachresort.com
Destin
(855) 741-2777
Gym/Health Club/Fitness Center/Studio
Bluewater Fitness
bluewaterfitness.net
Niceville
(850) 279-6767
Hair Salon
Avantgarde Salon Spa
avantgardeaveda.com
Destin, Niceville
(850) 654-5057*
*Shoppes of Destiny location
Heating and Air Service
Gulfshore Air Conditioning & Heating, Inc.
gulfshoreair.com
Niceville
(850) 897-6540
Holistic Health/Alternative Health
Mount of Olives
mountofolives.com
Panama City
(850) 784-9001
Hotel
Hilton Sandestin Beach Golf Resort & Spa
hiltonsandestinbeach.com
Miramar Beach
(850) 267-9500
Homeowner's Association
Kelly Plantation Owners Association/Professionally Managed by FirstService Residential
kellyplantation.com
Destin
(850) 654-9860
Insurance Agency (tie)
Insurance Zone
ins-zone.com
Miramar Beach, Santa Rosa Beach, Pensacola
(850) 424-6979
Waldorff Insurance & Bonding
waldorffinsurance.com
Fort Walton Beach
(850) 581-4925
Interior Design Firm
Lovelace Interiors
lovelaceinteriors.com
Miramar Beach
(850) 837-5563
Landscaping/Lawn Service
Meadows Lawn Service
Bay County, Santa Rosa, Destin
(850) 210-7363
Law Firm
Bracken Law, PA
brackenlawpa.com/brackenlawpa
Miramar Beach
(850) 792-2677
Lighting Store
Beautiful Lights
beautifullights.com
Destin
(850) 650-9417
Locksmith
A to Z Lock & Safe
atozlockandsafe.com
Destin, Eglin AFB, Niceville, Mary Esther
(850) 837-0045
Martial Arts/Karate
Centerline Martial Arts
cmadestin.com
Miramar Beach
(850) 585-6153
Massage Therapist
Linny Clark /Serenity by the sea Spa
serenitybytheseaspa.com
Miramar Beach
(850) 622-9595
Media Provider (Cable, Internet, Phone)
Cox Communications
cox.com
Crestview, Fort Walton Beach, Destin, Pensacola
(850) 796-1269*
*Destin location
Medical Center/Hospital
Sacred Heart Health System
sacredheartemerald.org
Miramar Beach, Pensacola
(850) 278-3000*
*Miramar Beach location
Medical Practice
White-Wilson Medical Center
white-wilson.com/
Destin, Fort Walton Beach, Niceville, Navarre
(850) 863-8100*
*Fort Walton Beach location
Medical Spa
Meritage Spa
meritagespa.com
Miramar Beach
850-837-6772
Mental Health Services
Mara Fiorentino, MD
marafiorentinomd.com
Destin
(850) 654-0054
Mortgage Lender
Bank of England
engfwb.com
Fort Walton Beach
(850) 362-6488
Nail Salon
Serenity by the sea Spa
serenitybytheseaspa.com
Miramar Beach
(850) 622-9595
New Business
Black Bear Bread Company
blackbearbreadco.com
Grayton Beach
(850) 213-4528
On-Site Dry Cleaner
Destin Cleaners
Destin, Miramar Beach
(850) 654-9450*
*Destin location
Oral Health Care Specialty Practice
Gulf Dental Center
Panama City
(850) 522-8822
Orthodontist Practice
Stubbs Orthodontics
stubbsortho.com
Niceville, Destin
(850) 678-8338
Orthopedic Surgical Practice
Orthopaedic Associates
orthoassociates.net
Fort Walton Beach, Destin, Niceville
(850) 863-2153*
*Fort Walton Beach location
Pediatric Practice
Coastal Pediatric Group
coastalpediatricgroup.com
Panama City Beach
(850) 659-6556
Personal Trainer
The Travel   Trainer on 30A – Sean Miller
thetraveltraineron30a.com
(850) 764-8390
Pharmacy
Emerald Coast Compounding Pharmacy
eccpharmacy.com
Santa Rosa Beach
(850) 622-5800
Photo Booth Company
Epic Photo Co.
epicphotoco.com
Santa Rosa Beach
(888) 988-3223
Photography
Sunset Images
sunsetimagesphotography.com
Destin, 30A, Fort Walton Beach, Pensacola, Navarre, Perdido Key
(850) 642-0605
Physical Therapy Practice
Tender Touch Health Care Services
tendertouchhomehealth.com/services/physical-therapy
Panama City
(850) 913-1500
Plumbing Fixtures/Service
Emerald Bay Plumbing
emeraldbayplumbing.com
Destin
(850) 837-1979
Pool Building/Service Company
Cox Pools
coxpools.com
Panama City Beach, Destin
(850) 650-9138*
*Destin location
PR/Advertising Agency
Proffitt PR
proffittpr.com
Miramar Beach
(850) 460-7777
Printing/Copying Services
Eloquent Signs
eloquentsigns.com
Miramar Beach
(850) 460-2425
Prosthodontics Practice
Paul Kellum D.D.S.
paulkellumdds.com
Destin
(850) 837-6645
Property Management Group
Newman-Dailey Resort Properties, Inc.
destinvacation.com
Miramar Beach
(800) 225-7652
Residential Real Estate Group
SRE • Sandestin Real Estate Sales
sandestinrealestate.com
Destin, Sandestin, South Walton, 30A
(850) 267-8100
Roofing
Specialty Roofers Inc.
specialtyroofers.com
Fort Walton Beach, Panama City Beach
(850) 974-7663*
*Fort Walton Beach location
Security/Alarm System
Westco Protection
westcoprotection.com
Mary Esther
(850) 664-6464
Sign Company
Eloquent Signs
eloquentsigns.com
Miramar Beach
(850) 460-2425
Specialty Fitness (Pilates, Yoga, etc.) (Tie)
Destin Hot Yoga
destinhotyoga.com
Miramar Beach
(850) 547-6133
Pure Barre
purebarre.com/fl-destin
30A, Destin
(850) 837-1090
Specialty Pet Services/Products
Goochie Poochie Spa Resort
goochiepoochiesparesort.com
Destin
(850) 460-7460
Specialty Surgical Practice
Emerald Coast Surgery Center
emeraldcoastsurgerycenter.com
Fort Walton Beach
(850) 863-7887
Storage Facility
Niceville Mini Storage Inc.
Niceville
(850) 729-7366
Title Company (tie)
SETCO Services, LLC
setcoservices.com
Miramar Beach, 30A, Fort Walton Beach, Panama City Beach, Panama City, Crestview, Pace, Pensacola
(850) 650-6161
McNeese Title, LLC
mcneesetitle.com
Destin, Seagrove Beach
(850) 337-4242*
*Destin location
Tutoring/Learning Center
The Tutoring Center
sandestin.tutoringcenter.com
Miramar Beach
(850) 424-7935
Vacation Rental Company/Service
Newman-Dailey Resort Properties
NewmanDailey.com
Destin, Miramar Beach, Santa Rosa Beach
(850) 837-1071
Veterinary Practice
Airport Veterinary Clinic
airportvetdestin.com
Destin
(850) 837-3227
Videography
Land Air Sea Productions
landairseaproductions.com
Destin
(850) 499-4366
Watersports
La Dolce Vita
ldvbeach.com
Crystal Beach, Destin, Miramar Beach, Navarre Beach, Okaloosa Island, 30A, South Walton
(866) 651-1869*
*Miramar Beach location
Wedding Planner Company
Kiss the Bride Weddings Destin/30A
kissthebridedestin.com
Destin, Santa Rosa Beach, 30A
(850) 376-8272
Wedding/Reception Venue
SunQuest Cruises, Solaris
sunquestcruises.com
Miramar Beach
(850) 650-2519
Weight Loss Facility
Dr. Bawa & Associates
drbawa.com
Destin, Fort Walton Beach, Santa Rosa Beach, 30A
(850) 665-2059
---
Shopping
Antiques Shop
Smith's Antiques Mall & Interiors Market
smithsantiquesmall.com
Miramar Beach
(850) 654-1484
Beachwear Retailer
Barefoot Princess
sandestin.com/barefoot-princess
Miramar Beach
(850) 351-1806
Children's Clothing Retailer
Coconut Kidz
shopsandestin.com/coconut-kidz
Miramar Beach
(850) 351-1800
Consignment/Resale Shop
ReRuns 4 Wee Ones
reruns4weeones.com
Valparaiso
(850) 389-2130
Eyewear Store
Palm Eye Care
palmeyecare.com
Fort Walton Beach, Niceville
(850) 279-4361*
*Niceville location
Furniture Retailer
Tuskers Home Store
tuskershomestore.com
Miramar Beach
(850) 424-3969
Gift Shop
Frill Seekers Gifts
FrillSeekersGifts.com
Destin
(850) 460-2700
Jewelry Store
McCaskill & Company
mccaskillandcompany.com
Miramar Beach
(850) 650-2262
Locally Owned Retailer
Bay Breeze Patio
baybreezepatio.com
Miramar Beach
(850) 269-4666
Men's Accessories
Island Clothiers
sandestin.com/island-clothiers
Miramar Beach
(850) 351-1806
Men's Apparel
Island Clothiers
sandestin.com/island-clothiers
Miramar Beach
(850) 351-1806
Men's Shoes
Sunset Shoes and Lifestyles
sunsetshoesonline.com
Miramar Beach, Destin and Panama City Beach
(850) 837-5466*
*Miramar Beach location
Outdoor Furniture Retailer
Bay Breeze Patio
baybreezepatio.com
Miramar Beach
(850) 269-4666
Sporting Goods Retailer (Tie)
Copeland's Gun Shop
waltonoutdoors.com/welcome-to-copelands-gun-shop
Freeport
(850) 835-4277
BOTE
boteboard.com
Destin, Fort Walton Beach, Grayton Beach
(850) 403-0433*
*Grayton Beach location
Wedding Shop
Margaret Ellen Bridal
margaretellenbridal.com
Inlet Beach
(850) 641-0266
Women's Accessories
Barefoot Princess
sandestin.com/barefoot-princess
Miramar Beach
(850) 351-1806
Women's Boutique
Today's Boutique
todaysdestin.com
Destin
(850) 837-5565
Women's Shoes
Sunset Shoes and Lifestyles
sunsetshoesonline.com
Miramar Beach, Destin, Panama City Beach
(850) 837-5466*
*Miramar Beach location