Best of the Emerald Coast 2011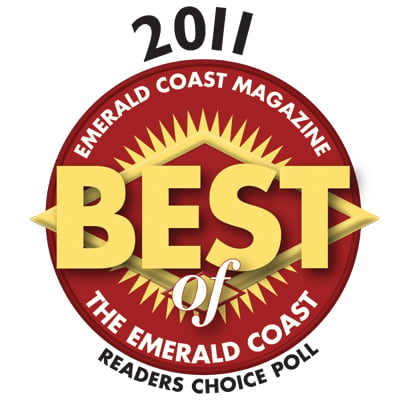 You have spoken, the votes have been tallied and the results are here. In this annual Best of the Emerald Coast issue, we recognize the fabulous work your favorite restaurants, shops and service providers do for you.
The Best of the Emerald Coast Awards is still one of the most popular events of the season. After all, it showcases the best food and beverages, shopping, entertainment and services available along the Emerald Coast.
Are your favorites among the winners? We hope so. Celebrate with them at the annual Best of the Emerald Coast Awards ceremony Saturday, Oct. 15, from 6 to 9 p.m. at Grand Boulevard. The event, which is open to the public, promises an evening of food, fun, fashion and entertainment. Enjoy complimentary food and beverages and sample products and services from many of the winners.
Tickets are $25 in advance or $35 at the door; proceeds benefit the Junior League of the Emerald Coast. To purchase tickets, visit jlec.org for a list of ticket locations.
We congratulate the 2011 winners of The Best of the Emerald Coast and thank them for making our region the best destination ever.
Food and Beverage
Best Appetizer | Bonefish Grill
Again this year, Bonefish tops the list of favorite appetizers with its famous Bang Bang Shrimp tossed in a creamy spicy sauce. Also, try the Wagyu Beef and Ginger Dumplings, handmade with American-style Kobe and pan-seared with crispy shallots, Thai peppers and soy sauce. Destin and Pensacola.
Best Bagel Shop | Not Just Bagels
With two dozen flavors of fresh gourmet bagels, breads and pastries, as well as a variety of cream cheeses, Not Just Bagels will have you in comfort-food heaven. All toppings and fillings are also made fresh every day. And as the name implies, Not Just Bagels serves sandwiches too. Try the delicious chicken salad on a savory Swiss bagel. Destin.
Best Bakery | Panera Bread
Panera's cozy cafes are everyday gathering places for casual work meetings, quiet chats with friends or some alone time to enjoy free Wi-Fi with a morning pastry. You can't go wrong with the fresh Pecan Braid, a pastry dough twisted and braided with buttery ground pecans and sugar syrup, but other yummy possibilities include the Sesame Semolina and Three Cheese artisan breads. Destin and Fort Walton Beach.
Best Barbecue | Jim 'n Nick's Bar-B-Q
It's official. Jim 'n Nick's is the boss of the sauce. The restaurant refuses to cut corners, instead smoking meats for 14 hours in hickory. The result? Dishes such as slow-smoked baby back and spareribs, hand-pulled pork and sliced Angus beef brisket are definitely vote getters. Destin.
Best Bloody Mary | Red Bar
A favorite among locals, visitors and celebrities, The Red Bar is a must-visit when in Grayton Beach. Come for lunch or dinner (or a little later) to kick back on the funky furniture and listen to live music while enjoying great food and cocktails — especially the award-winning Bloody Mary. Grayton Beach.
Best Breakfast | Another Broken Egg Café
Earning Best Breakfast for the 11th year in a row, Another Broken Egg Café boasts the most coveted breakfast in town. The café offers more than 130 delicious, home-cooked breakfast, brunch and lunch foods in a warm and inviting atmosphere. Destin, Miramar Beach and Grayton Beach.
Best Brunch | Regatta Bay Golf and Country Club
Overlooking tranquil Lake Regatta and surrounded by rolling greens and sprawling trees warmly lit in an emerald hue, Regatta Bay's talented culinary team create a balance of flavors and textures that is matched only by the artistry of its presentation, making every meal as special as a weekend brunch. Destin.
Best Buffet | Golden Corral Family Steak House
With selections of meat, pasta, pizza, fresh vegetables, a salad bar and a meat-carving station, this family-style chain restaurant offers the biggest and best buffet in town. Be sure to save room for the large selection of baked goods and desserts, made fresh every day by the staff. Destin.
Best Buffalo Wings | Buffalo's Reef Famous Wings
At Buffalo's Reef, they don't start cooking until you order, so relax and have a beer. Savor something sweet with the honey barbecue sauce or something zesty with the garlic Parmesan wings. Like it spicy? The hot 'n' spicy wings are for you. But if you order them super hot, you'd better be prepared. Fort Walton Beach.
Best Cajun | Louisiana Lagniappe
As the name suggests, this New Orleans dining experience serves up "a little something extra." Louisiana Lagniappe (Lan-yap) features authentic Creole cuisine such as lobster tail, shrimp étouffée and Cajun seafood gumbo, as well as steak entrees. Enjoying a beautiful sunset while you dine makes for a memorable occasion every time. Destin.
Best Catering | Sarah K's Gourmet
Sarah K's Gourmet earned recognition as one of the Top Five Destinations for Crab Cakes in Taste of Home magazine. Sarah's gourmet shrimp dip was featured in Woman's World magazine. And her chef-crafted ready-to-heat cuisine has earned her the Best of the Emerald Coast award six years running. Destin.
Best Chef | Clovis Da Silva, Fat Clemenza's
He's been in American kitchens for 19 years, and Clovis Da Silva brought his Italian "chops" to Fat Clemenza's three years ago. Though all his dishes are delicious, the executive chef's fish and steak dishes are especially popular, as is the lamb with porcini mushroom sauce. Save room for Da Silva's dessert. Try the popular orange chocolate carrot cake or decadent pineapple cheese cobbler. Miramar Beach and Fort Walton Beach.
Best Chinese | P.F. Chang's China Bistro
From its famous Ginger Chicken Stir-fry Romaine Wraps to the Shanghai Noodles with Grilled Rib Eye and Broccoli, P.F. Chang's strives to create great craveable foods you can't get anywhere else. Each dish on this restaurant's extensive menu is prepared to order using only the freshest and highest-quality ingredients. Miramar Beach.
Best Coffee | Starbucks Coffee
Starbucks figures that putting people before products makes good sense. Its relationship with farmers yields the highest-quality coffees, and the connections it makes in communities creates a loyal following. Serving the finest coffees in the world with friendly service, Starbucks Coffee is a local favorite. Destin, Grayton Beach, Miramar Beach and Fort Walton Beach.
Best Dessert | The Melting Pot
For a truly memorable meal experience, save room for dessert and dip strawberries, cake and marshmallows into the warm heavenly chocolate delight at The Melting Pot, renowned for its chocolate fondue portion of the four-course meal and earning it Best Dessert yet again. Miramar Beach.
Best Fine Dining | Seagar's Prime Steaks & Seafood
A five-star dining restaurant specializing in the finest prime beef and freshest seafood available, Seagar's offers the most elegant table on the Emerald Coast. With private dining facilities and a wine list featuring more than 800 labels, Seagar's continues to be extolled by critics as one of the best restaurants around. Miramar Beach.
Best French Restaurant | Bistro Bijoux
Located in The Village of Baytowne Wharf at Sandestin, this romantic French bistro serves perfectly seasoned dishes made from the freshest ingredients and presented like a work of art. Try the pan-seared diver scallops nestled in a saffron cream with crispy rice cakes and curried peanuts. Miramar Beach.
Best Gourmet/Food Shop | The Fresh Market
Need inspiration for dinner tonight? With fresh food, seasonal selections and an abundance of hard-to-find gourmet items, The Fresh Market makes shopping a convenient and delicious shopping experience. Destin.
Best Grocery Store | Publix
From the butchers to the bakers, and from the clerks to the baggers and stockers, the staff at Publix puts on a friendly face every day, making shopping for everyday items a bit more pleasant and keeping customers coming back again and again. Destin and Fort Walton Beach.
Best Hamburger | McGuire's Irish Pub
An award-winning steakhouse with traditional Irish food and in-house brewery, McGuire's offers 25 different trimmings for its giant, custom-ground steak burgers. Try the Big Daddy burger with bacon, cheddar and jalapeno or the Terrible Garbage Burger, which piles on some of everything. Destin and Pensacola.
Best Happy Hour | Tommy Bahama's Restaurant & Bar
Raising a glass with family and friends is easy at island-inspired Tommy Bahama's in Grand Boulevard, where people can sip, mix and mingle. Try the Tommy Bahama Kentucky Mai Tai, featured this fall. The combination of bourbon and Southern Comfort with the orange and lime juices gives it quite a kick. Miramar Beach.
Best Hibachi | Osaka Japanese Hibachi Steakhouse and Sushi Bar
For an enjoyable and memorable dining experience where dishes are prepared at your table, Osaka is your place. The Japanese steak house offers an amazing and entertaining show as your meal is prepared right in front of you. Destin.
Best Ice Cream Shop | Cold Stone Creamery
Cold Stone Creamery's unique ice cream creations, smoothies, cakes and shakes win again thanks to the creativity that goes into each dessert. Choose your favorite topping and watch the staff hand-mix your treat on a frozen slab of granite. It's the ultimate ice cream experience. Destin.
Best Italian Restaurant | Fat Clemenza's Brick-Oven Pizzeria
In its fifth season, Fat Clemenza's maintains the same quality and consistency as the first day owner Dominic Damiano opened its doors. The checkered tablecloths and old family photos on the wall create an atmosphere of a throwback to an Italian neighborhood restaurant in any big city. Miramar Beach and Fort Walton Beach.
Best Locally Owned Restaurant | Callahan's Restaurant and Deli
A multi-year Best of award winner, Callahan's aims to please with its custom-cut meats and generous portions of delicious food. In addition to the fresh sandwiches, pastas and salads, the restaurant offers nightly dinner specials. Try the New York Strip — and save room for Key Lime cheesecake for dessert. Destin.
Best Margarita | Cantina Laredo
This authentic Mexican restaurant's margaritas are made from freshly squeezed lime juice, as well as an impressive line of tequilas that include triple-distilled and aged brands that, once again, make the margaritas fabuloso. Miramar Beach.
Best Martini | Bonefish Grill
Just like the delicious food, the Bonefish Martini, made with Stoli vodka, cranberry and sparkling Prosecco, is a good reason to stop at Bonefish. And the Fresh Watermelon, Ocean Trust, Lemongrass, Espresso and Chocolate are just a few of the martinis that draw locals and visitors alike to this hopping restaurant and bar. Destin and Pensacola.
Best Mexican/Latin American Restaurant | Pepito's Mexican Restaurant
This authentic Mexican restaurant once again earns a spot on our "Best of" list because the restaurant's delicious and healthy Mexican dishes are made with only the freshest ingredients. Destin and Niceville.
Best Outdoor Bar | Poppy's Crazy Lobster Bar & Grill
Serving drinks called the Crazy Lobster Cooler (made with vodka, raspberry liqueur, pineapple juice and cranberry juice) and the Harbor Sunset (with Bacardi Rock Coco, citrus vodka, melon liquor and pineapple juice), Poppy's Crazy Lobster earned top outdoor bar for serving drinks inspired by the Emerald Coast. Destin.
Best Outdoor Dining | Harry T's
The circus memorabilia on display at Harry T's adds to the fun atmosphere at the restaurant, but the boathouse is a favorite place for feasting on fresh seafood, burgers and steaks while enjoying fantastic views and a coastal breeze as well. Destin.
Best Pizza | Fat Clemenza's Brick-Oven Pizzeria
Once again, this quaint pizzeria wins Best Pizza for its pizza made with homemade dough and pizza sauce. Each pizza is hand-tossed and wood-fired to perfection. Miramar Beach and Fort Walton Beach.
Best Romantic Restaurant | The Melting Pot
Celebrate your love as you indulge with your significant other in the Melting Pot's signature fondue cheese appetizers and entrées. Then top off your romantic rendezvous by dipping strawberries, cake or marshmallows in warm chocolate fondue and you'll see why this casual do-it-yourself restaurant wins Best Romantic Restaurant again this year. Miramar Beach.
Best Sandwich Shop | Lenny's Sub Shop
At Lenny's you really get it your way as you build your hot or cold deli sandwich or salad. The menu features fresh Boar's Head meats and cheeses, garden toppings and Lenny's signature pepper relish, as well as fresh baked bread. Destin, Mary Esther, Fort Walton Beach, Niceville, Crestview.
Best Seafood Market | Destin Ice Seafood Market & Deli
Destin Ice Seafood Market & Deli offers the freshest selection of what the Gulf has to offer. Pick up some ready-to-eat or cook-at-home fish, Buckhead meats, decadent desserts and a bottle of wine. Destin.
Best Seafood Restaurant | Dewey Destin Seafood
Situated in an old beach house overlooking the romantic Destin Harbor, Dewey's is a great place for family dining or a romantic date. At the original location, you can enjoy fresh seafood as you sit at rustic tables along a dock overlooking the bay. Taste more than 100 years of Destin history as you bite into a delicious grouper sandwich or dig into the famous smoked tuna dip. Destin.
Best Service (Food and Beverage) | Seagar's Prime Steaks and Seafood
The meals are exquisite. The atmosphere is elegant. The wine list is extensive. And the service is exceptional. At Seagar's, guests enjoy an intimate five-star dining experience that spoils it for other venues. Miramar Beach.
Best Sports Bar | Johnny O'Quigley's Ale House
There's not a bad seat in the house at neighborhood-style Johnny O'Quigley's. The 48-inch big screen televisions lining the walls offer some of the best sports viewing in town, along with plenty of good food, wine and beer. Touchdown! Destin.
Best Steakhouse | Fleming's Prime Steak House & Wine Bar
Sandestin's neighborhood steakhouse comes to life with a celebration of great food, wine and memorable times. Fleming's serves the finest in USDA Prime beef — corn-fed, aged up to four weeks for flavor and texture, then hand-cut daily and broiled at 1600 degrees to seal in all the juices and flavor. Miramar Beach.
Best Sushi | Harbor Docks
Though Harbor Docks is a seafood restaurant, the eatery features a large sushi and sashimi selection made fresh daily by master sushi chefs. Inspired by Asian influences, Harbor Docks also serves fresh seafood served fried, sautéed or boiled. Destin.
Best Thai | Royal Orchid
Sink into silk pillows around a traditional sunken Thai table or dine American style at a table or booth as you feast on delicious dishes like crispy duck, pad-thai, moo-yang and all sorts of curries. The family-operated business offers exceptional service and a just-right touch of Asian ambiance. Miramar Beach.
Best Wine List | Vin'tij Wine Boutique
Its remarkable list of some of the finest wines from the most respected vineyards in the world made Vin'tij Wine Boutique the top choice of the Emerald Coast's wine lovers. The vibrant restaurant, filled with local art, also serves lunch and dinner with impeccable wine pairings from its extensive collection. Miramar Beach.
Shopping
Best Antique Store | Smith's Antiques Mall & Interiors Market
Receiving rave reviews since it opened its doors in 1993, Smith's Antiques' 25,000-square-foot showroom is full of antiques and interior wares from 90 different dealers located throughout the country, and continues to be an antique lover's favorite spot. Miramar Beach.
Best Bath and Body Shop | Bath & Body Works
With scents like Sparkling Mojito and Passion Fruit Colada, Bath & Body Works' shower gels, lotions and hair-care products make you feel like you're on an island retreat. The Salty Caramel- and Apple Crumble-scented candles add a comfortable coziness to any room in the house. Destin and Fort Walton Beach.
Best Beachwear Retailer | Sporty Lady of Destin
A beach-lover's dream, Sporty Lady of Destin offers expert sizing advice, as well as the perfect suit (or two or three) for all sizes and shapes among its 10,000 swimsuits in inventory, and has been winning customers over for more than 30 years. Destin.
Best Children's Clothing Store | Hugs and Hissyfits
An eight-time Best of winner and brainchild of owner Lisa McKee, Hugs and Hissyfits offers the best in children's boutique clothing by designers that include Little Mass, Miss Me, Mimi and Maggie and Bailey Boys, among others. Hugs' motto is "if we don't love it, we don't buy it." Destin and Fort Walton Beach.
Best Consignment Shop | Ava's Attic
The second time's a charm at Ava's Attic. This adorable boutique features an extensive selection of designer fashions, beautiful furniture, home accessories, bedding and clothing and accessories for women and children at great prices. Miramar Beach.
Best Eyeglass Store | Pearle Vision
For the optimal optical treatment, Pearle Vision offers eye exams, eyeglasses, prescription sunglasses, designer eyewear and contacts, all in the most fashionable and contemporary styles, in its office at the Shoppes at Paradise Key. Destin.
Best Furniture Store | Sandcastle Designs
The experienced design staff at Sandcastle offers expert advice in the area's largest furniture showroom, as well as custom window treatments, professional white glove delivery service and much more to satisfy all tastes. Miramar Beach.
Best Gift Shop | P.S. Gifts
Need help finding the perfect gift for any occasion? The staff at P.S. Gifts helps customers find that special something that's just right — and also offers free gift-wrapping — and will deliver your gift with a smile. Fort Walton Beach.
Best Jewelry | McCaskill & Company
Owners Bill and Elizabeth Campbell and their staff offer expert guidance, suggestions and advice as they strive to make each visit to McCaskill & Company a special occasion. Some of the world's most exclusive jewelry and watch designers, including David Yurman, Tag Heuer and Paul Morelli, mean you get the best fine jewelry selection in the Emerald Coast. Miramar Beach.
Best Locally Owned Retailer | Sporty Lady
Women all over the Emerald Coast are sporting swimwear and sportswear from this family-owned retailer. The shop strives to give its customers a vast selection of styles in a wide variety of sizes in its 4,800-square-foot store in the Shoppes at Paradise Key. Destin.
Best Men's Clothing | Jos. A. Bank
For the resort, golf course, business meeting or charity ball, Jos. A. Bank is the expert in men's apparel, offering business dress, business casual, sportswear styles and formal wear. It's voted tops by Destin-area men who care what they wear. Destin.
Best Sporting Goods Store | Bass Pro Shops
For the outdoors man, woman or child who loves fishing, hunting, camping and boating, the 50,000-square-foot sports center features an exhaustive selection of gear and gadgets to suit every outdoor lover. Destin.
Best Toy Store | Learning Express
For the best selection of unique, educational and age-appropriate toys, Learning Express offers it all. The self-proclaimed "neighborhood toy store" is a hub of activity, a meeting spot for kids and families and a one-stop destination for toys that help raise smart, healthy kids. Miramar Beach and Destin.
Best Wedding Shop | Simply Elegant Bridal
Celebrating every bride's special day, Simply Elegant wins again for offering the largest selection of bridal and bridesmaid gowns. This wedding boutique also offers the best selection of tuxedoes for the groom and his groomsmen. Fort Walton Beach.
Best Women's Accessories | Private Gallery
The friendly staff makes each guest feel as if they are in their own private gallery, hence the name. Serving a niche market with an eclectic mix of jewelry, handbags, shoes and clothing, the boutique features top names, as well as up and coming designers. Destin.
Best Women's Clothing | Today's Boutique
Celebrating 30 years in business and its 11th Best of win, Today's offers exceptional service and a large selection of the latest trends in the Shoppes of Paradise Key. Check out the store's website for the latest trend report, or just stop in for expert advice from the staff. Destin.
Best Women's Shoes | Sunset Shoes
Inspired by the beautiful beaches and relaxed atmosphere of Northwest Florida, comfort and easygoing style are the hallmark of Sunset Shoes' footwear collections. With four locations between Destin and Panama City Beach, Sunset Shoes has become the Euro-comfort headquarters on the Emerald Coast. Destin, Miramar Beach and Panama City Beach.
Entertainment
Best Art Gallery | The Zoo Gallery
This favorite shop for locals and visitors alike offers an eclectic mix of arts and crafts, including framed art, pottery, jewelry, furniture, accessories and apparel. The casual gallery is always a winner in the Best Of competition. Destin, Miramar Beach and Grayton Beach.
Best Golf Course | Regatta Bay Golf & Country Club
Positioned among nature preserves along Chocawhatchee Bay, this par-72 course is a true escape into a golfer's paradise. Designed by Robert C. Walker, Regatta Bay was selected as one of Golf Digest's "Top Places to Play in North America." Destin.
Best Local Attraction | Florida's Gulfarium
The state's oldest marine park dates back to 1955 and features live animal shows daily, the Living Sea and one-on-one interaction opportunities with the African Spur Tortoise and the Lesser Cockatoo. Soon, you'll be able to enjoy an even better dolphin show at the renovated 600,000-gallon tank, with a center stage and a floating dock system. Fort Walton Beach.
Best Musicians/Vocalists | Heritage
It all started in 2007 with three guys in a backyard playing a ukulele and a set of bongos just for fun. Rising from the back yards of Okaloosa County, Heritage broke into the pop/reggae scene in 2009 with their debut album, Natural High. Now the group is gaining ground throughout the U.S.
Best Place To Be Seen | AJ's Seafood & Oyster Bar
Enjoy watching the view from Destin Harbor, and expect to get some attention yourself while dining on fresh char-grilled oysters on the deck. Or, stop in for a cocktail at happy hour. Whatever you do, expect to have a blast at this trendy hot spot. Destin.
Best Place To Go Dancing | John Wehner's Village Door
Owner John Wehner created this hot spot to offer the same eclectic and electric style as his other nightspot, the Famous Door on New Orleans' Bourbon Street. The Village Door is Destin's hottest live-music dance club. Linger at the lively bar, grab a table to watch the crowd or hit the dance floor to party the night away. Miramar Beach.
Best Place To Take the Kids | Big Kahuna's
Thrills, chills and spills await you and your family at the destination for family fun. With more than 40 water attractions and an adventure park, Big Kahuna's offers something fun for everyone. Featuring dozens of slides and the biggest manmade waterfall in the world, your family is sure to have a blast. Destin.
Best Place To Watch a Sunset | HarborWalk Village
Though there are plenty of gorgeous spots along the Emerald Coast, nothing beats HarborWalk Village at sunset. Overlooking Destin Harbor, it's the perfect place to celebrate life in paradise. Destin.
Best Radio Personality | Woofy, 99 Rock
He's been a fixture on Emerald Coast radio since the early '90s. And Woofy's listeners have seen him grow from a single man into a husband and father of two who works to make his community a better place for everyone, earning loyal fans year after year. Fort Walton Beach.
Best Resort | Sandestin Golf and Beach Resort
The 2,400-acre resort featuring 30 charming village neighborhoods with stunning beach and bay property offers a complete resort experience for the entire family. With championship golf, a vibrant village, a full-service marina, water sports, tennis and recreation programs, there is something for everyone to enjoy. Miramar Beach.
Service Providers
Best Air Conditioning/Heating | Gulf Shore Air Conditioning & Heating
Serving the Emerald Coast since 1995, Gulf Shore strives to exceed the highest standards for service and training. The company specializes in custom system design, ensuring you'll be keeping cool in the summer and warm in the winter. Niceville.
Best Accounting Firm | Carr, Riggs & Ingram
Among the nation's most technologically advanced accounting firms, CRI provides its professional staff with continuous technical training. That dedication to technology translates into its clients partnering with the most current and informed accounting professionals, and earned the firm top honors among accounting firms. Destin, Niceville, Mary Esther and Crestview.
Best Acupuncture Clinic | Tortoise Clinic
Every patient at Tortoise Clinic receives not only their specific acupuncture but also dietary advice based on 3,500-year-old Chinese dietetics, as well as hot and cold therapy. The clinic also makes its own pain relief liniment based on a 600-year-old formula. Miramar Beach.
Best Aesthetician | Tammy Binkley, Avantgarde Salon Spa
Whether you want a thorough facial and body experience or an express facial on your lunch break, Avantgarde Salon Spa's Tammy Binkley, licensed aesthetician and skin care specialist celebrating her 10th year at the salon, provides facials, chemical peels, Brazilian bikini wax, eyebrow shaping and eyelash tinting. Destin.
Best Architect | Matthew Savoie, Savoie Architects
Keeping the client as an integral part of the design team, Matthew Savoie and Savoie Architects pay particular attention to the client's needs and desires, creating a solution that is personal in function and design while respecting the natural beauty of the site and environment. Santa Rosa Beach.
Best Automobile Dealership | Sam Taylor Buick Cadillac
One of the largest volume Buick and Cadillac dealers along the Gulf Coast, Sam Taylor Buick Cadillac is dedicated to its customers. It must be working. The staff's attention to customer service has earned the dealership a return spot on our Best Of list for the fourth year in a row. Fort Walton Beach.
Best Boat Sales and Service | Legendary Marine
One of the top boat dealers in the country, Legendary Marine caters to the needs of the discriminating buyer and offers an array of services, from new and pre-owned boat sales to a parts and service department and boat service. The dealership's commitment to quality and customer satisfaction has made it a local favorite. Destin and Fort Walton Beach.
Best Builder/Contractor | Dixon Kazek Construction
Having won first place in the Parade of Homes seven times, as well as the Emerald Coast Association of Realtors (ECAR) Realtors Choice Award and the Building Industry Association Builder of the Year award, Dixon Kazek Construction proves that quality construction is the heart of the company's philosophy. Miramar Beach.
Best Car Service | Porsche of Destin
All Pro service technicians go through detailed and demanding factory training at dedicated Porsche technical centers. The Porsche certified service team experts provide unrivaled expertise in all aspects of maintaining and servicing Porsche vehicles. Destin.
Best Charter Boat/Watersports | Destin Vacation Boat Rentals
Enjoy all that Destin has to offer, Destin Vacation Boat Rentals makes it happen. Providing fishing, pontoon or powerboat rentals (including fishing and snorkeling gear) and jet skis, they allow you to have fun in the sun and make the most out of life on the Emerald Coast. Destin.
Best Chiropractic Practice | Payne Chiropractic Wellness Center
Dr. Alan Payne and his team at Payne Chiropractic Wellness Center can help get your body back into proper alignment and strive to give people of all ages optimal health through natural chiropractic care. The state-of-the-art healing facility's services include massage, clinical nutrition with the BioMeridian assessment tool and Aqua Chi hydro-therapy device. Destin.
Best Cosmetic Surgery Practice | Destin Plastic Surgery
Dr. William R. Burden and Dr. Scott Ennis are known for their experience and dedication to staying in the forefront of leading technology in plastic surgery. They are recognized for their endoscopic incision surgery of the face, breast and body. Destin Plastic Surgery and its affiliated Anti-Aging Skincare Clinic also specialize in the most popular, non-surgical procedures, including Botox, fillers and medical-grade skincare products. Destin.
Best Customer Service | Sam Taylor Buick-Cadillac
Since 1974, carrying on the family tradition means ensuring that 100 percent of Sam Taylor customers are satisfied 100 percent of the time. The dealership's total customer satisfaction approach is the guiding principal that distinguishes it from other dealers in the area. Fort Walton Beach.
Best Dental Practice | The Center for Cosmetic and Family Dentistry
Led by Dr. Dennis Lichorwic, who was just elected president of the Florida Academy of Cosmetic Dentistry, and Dr. Fred Tepedino, the Center offers family dentistry and cosmetic dentistry, as well as the Zoom Advanced Power laser teeth whitening system and Invisalign and Invisalign Teen invisible aligners, earning the practice its ninth Best of the Emerald Coast award. Destin and Panama City Beach.
Best Dry Cleaner | French Laundry
Having recently spent $100,000 on an environmentally friendly dry clean machine, French Laundry avoids harsh chemicals. They also clean wedding gowns, provide wash-dry-fold services, and even clean military and band uniforms at a discounted price. No wonder they were voted the best. Miramar Beach and Santa Rosa Beach.
Best Electrician | MetroPower
With the best commercial electricians servicing Northwest Florida, MetroPower's light is bright. The company's focus is on safety while providing high-quality electrical and mechanical service and construction to its customers. Destin.
Best Event Planner | Eventful Planner
Tammy D'Agostino, the company's head chef and designer, started her company in Los Angeles, Calif., and brought her bubbly personality, creative flair and passion for perfection to the Emerald Coast. Tammy and her creative team strive to put all the pieces together for a truly amazing event your guests will never forget. Destin.
Best Eye Doctor | Grace Zhang — White-Wilson Medical Center
Specializing in ophthalmology, Dr. Grace Zhang performs eye surgery and medical care for adults and children. In addition to her expertise, Dr. Zhang gives individualized care and gets to know her patients for personalized service. Fort Walton Beach and Niceville.
Best Flooring | Infinity Flooring
Once again, Infinity Flooring proves it values its work and its customers. The flooring company offers quality hardwood flooring, tiles, vinyl and carpet products at reasonable prices while schedules are kept and customer concerns are promptly taken care of. Miramar Beach.
Best Florist | GG Bloom
Like an Old English garden filled with wonderful and unique aged pottery, beautiful flowers and home and garden accents, GG Bloom has a unique flair for creating amazing flower arrangements and gift baskets. And if you prefer silk flowers that fool anyone, GG Bloom designs arrangements that will stand the test of time. Destin.
Best Gym/Health Club | Destin Health and Fitness Club
The Emerald Coast's first-ever upscale health and fitness center offers the ultimate workout experience in its state-of-the-art facilities. With a wide range of classes, including the new TRX class — a body weight suspension class — as well as new equipment coming in constantly, no wonder it ranked No. 1 with our readers. Destin.
Best Hair Salon | Avantgarde Salon Spa
With its AVEDA lifestyle salon, artistic ambiance and talented stylists, Avantgarde Salon Spa also features Best Aesthetician Tammy Binkley and Best Massage Therapist Neal Senn. Avantgarde Salon Spa is the place to go not only for the latest hairstyle but for a full day of rest and relaxation within the salon's two locations at Emerald Coast Parkway and Destin Commons. Destin.
Best Home Repair | Roessler's Remodeling Professionals
Your dream home is within reach with Roessler's quality contractor services in certified stucco repair, full-scale remodeling and new home additions. Serving the Emerald Coast for more than 10 years, this award-winning local company is committed to customer service and it shows. Destin.
Best Interior Designer | Ashley Harkins, Design Avenue
Ashley Harkins, a design specialist with Design Avenue, pulls from her 13 years of professional experience to provide great customer service and great design. Her friendly personality and eye for design earns her praise from loyal customers. Destin.
Best Interior Design Firm | Design Avenue
A full-service interior design center, Design Avenue is also a unique destination for fun gifts. Led by Best Interior Designer Ashley Harkins, Design Avenue provides help with every stage of the design process. Destin.
Best Landscaping/Lawn Service | Barefoot Lawn Care & Landscape
Barefoot has serviced the 30A area and Destin since 1997, providing professional irrigation services, sodding, seeding and mulching, and even fountains and water features. Trying to sell your home? Barefoot can improve your home's curb appeal and value. Santa Rosa Beach.
Best Law Firm | Matthews, Jones & Hawkins LLP
By recently expanding services to Niceville and DeFuniak Springs, and with the addition of Michael Jones to the firm formerly known as Matthews & Hawkins, MJ&H proves client service is key. More than a traditional provider of legal services, the firm strives to find innovative and practical solutions to client problems. Destin, Niceville and DeFuniak Springs.
Best Lighting Store | Beautiful Lights
Fitting every need, every whim and every budget, Beautiful Lights has provided impeccable service, from selection (or a custom design) to installation, for four years. The shop works with residential and commercial clients to customize perfectly beautiful lighting for all. Destin.
Best Limo Service | 654 LIMO
Since 2003, 654 Limo has been the premier luxury ground transportation on the Emerald Coast. Arrive in style in one of Florida's premier limousine rental vehicles. Or enjoy a luxurious chauffeured ride in a stretch Hummer, Navigator or Escalade and see why the company is tops in limo service. Destin.
Best Massage Therapist | Neal Senn, Avantgarde Salon Spa
Once again, Neal Senn proves he has the magic touch. The four-time Best of the Emerald Coast winner offers a variety of massages including Swedish, stone, deep tissue, elemental nature, pregnancy and couples massage. And he's the only massage therapist in the area to offer scar tissue removal for patients recovering from surgery. We feel better already. Destin.
Best Medical Provider | Sacred Heart Hospital on the Emerald Coast
This state-of-the-art medical center continues to accomplish its mission to improve the health of the community with a wide range of medical and surgical services, including intensive care, general and orthopedic surgery, cardiology, cancer care, comprehensive radiology and laboratory services, rehabilitation, 24-hour emergency care, women's health and maternity care. Miramar Beach.
Best Medical Practice | Dr. Bawa & Associates
Bio-identical hormones and weight loss are Dr. Nitin Bawa's passion, keeping him busy with patients who feel better and have lost weight with his help. He uses medications, hormone adjustments and lasers to help with weight loss and is constantly researching which options have scientific merit. Santa Rosa Beach.
Best Nail Salon | 4 Seasons Nail & Spa
Nail down a date soon for some "me" time at Destin's favorite place to be pampered — 4 Seasons Nail & Spa. A staff of four certified technicians will spoil you with your choice of pedicures, manicures, artificial nails, eyebrow waxing, eyelash tinting and more. Located next to Marshall's, 4 Seasons is ready to spoil you year-round. Destin.
Best Pet Care | Bow Wow Meow Pet Company
Newly opened this year, Bow Wow Meow offers a healthy selection of foods for dogs and cats. When owners John and Natalie Scanlan's dog, Buddy, experienced digestive problems, they found natural and organic dog and cat food made in the United States and made it available at their shop. A bonus: the self-wash rooms allow pet owners to rinse sand-covered paws. Paws up on that. Seagrove Beach.
Best Photographer | Pure 7 Studios
Take one look at their photos and you immediately see how the photography team at Pure 7 Studios captures the humanity and emotion of their subjects. The images capture the wonderful moments in life with a passion only true artists can attain. Destin.
Best Pool Building/Service Company | Cox Pools
A family-owned business that has been serving Northwest Florida for more than 50 years, Cox Pools provides personal pool-design assistance, as well as a full line of pool maintenance accessories. The Pool Wish List on the company's website lets you design your pool online, what fun! Destin.
Best Rug Retailer | Rug Décor
More rugs, more help, more service — that's what the friendly and knowledgeable design staff offer as they assist in selecting just the right rug from the industry's best names in traditional, modern and contemporary area and accent rugs, all shipped at no cost to you. Destin.
Best Spa Services | Serenity by the sea Spa
Celebrating its 10th anniversary this year, Serenity wins again for its full-service spa, salon and fitness center located at Hilton Sandestin Beach Golf Resort & Spa. Treat your mind, body and soul in total comfort and have your wellness needs met in a tranquil, relaxing atmosphere. Miramar Beach.
Best Surgery Center | Destin Surgery Center
Destin Surgery Center is known for offering a high-quality, service-oriented environment for your surgical procedure. Its state-of the art equipment allows surgeons to perform procedures in the specialty areas of: general surgery, gastroenterology, gynecology, ophthalmology, orthopedic, pain management, plastic surgery and podiatry. This state-of-the-art facility is accredited by the Accreditation Association for Ambulatory Health Care; licensed by the state of Florida and Medicare certified. Destin.
Best Vacation Rental Service Firm | ResortQuest
With superior accommodations, unmatched customer service and exceptional value, ResortQuest earns top ratings from customers. The firm has the largest selection of condos and vacation homes to fit your lifestyle and budget. Destin and Fort Walton Beach.
Best Veterinarian | Airport Veterinary Clinic
Consistently rated a five-star clinic, the practice's veterinarians, Dr. Kelly Haeusler, Dr. Victoria Lyon and Dr. Misha Ratcliff, offer kind and attentive care to the furry members of the family, as well as excellent customer service, making this full-service clinic a top-ranked service provider among locals. Destin.
Best Wedding Planner | Shelby Peaden Events
She studied interior design and fine arts, but Shelby Peaden loves designing events and, in particular, weddings. With attention to the smallest details and a personal one-on-one approach, Shelby Peaden Events helps brides and grooms create a magical memory of their special day. Destin.
Best Wedding/Reception Venue | Solaris, SunQuest Cruises
What's better than saying "I do" on a cruise at sunset? Sunquest Cruises offers the Solaris, an elegant yacht, as well as a full-service bridal consulting team specializing in romantic weddings on the water. Dine, dance and cruise as you celebrate love on the Emerald Coast. We do! Miramar Beach. ec