Best Of The Emerald Coast 2006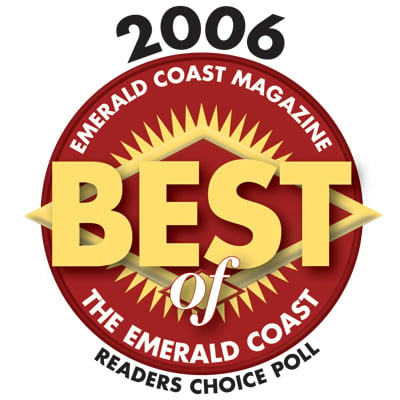 By Lori Hutzler Eckert
Every year, our readers – a discriminating lot to be sure – cast votes in the Best Of the Emerald Coast poll. This year, after a record number of ballots were counted, 100 people, places and things were chosen as the finest our region has to offer.There is a mix of returning gold standards – including Smith's Antiques Mall as "Best Antiques Store" and Harbor Docks restaurant with a "Best Of" trifecta for "Best Casual Dining," "Best Seafood" and "Best Sushi" – as well as some new winners, including Sarah K's Gourmet for "Best Locally Owned" food and beverage establishment and Edible Arrangements as "Best New Business."
Winners will be honored at the annual Best Of the Emerald Coast awards ceremony sponsored by Quality Mercedes Benz of Fort Walton Beach, along with venue sponsors Sandestin Golf and Beach Resort and The Village of Baytowne Wharf at Sandestin, on Friday, Oct. 20. The outdoor-festival-style event, which will benefit the Destin Family YMCA, will be located in The Village's Events Plaza. And more than 50 winners will offer samples of the product or service that landed them on this cream-of-the-crop list.
Ladies and gents, without further ado, your 2006 Best Of the Emerald Coast winners are …
FOOD & BEVERAGE

Best Appetizer | Bonefish Grill
From the Bang Bang Shrimp to the Cajun Chicken Egg Roll, the freshly made appetizers of Destin's Bonefish Grill set the tone for a great meal, whether you're in the main dining room or at the funky bar.

Best Asian restaurant | Osaka Japanese Steakhouse & Sushi Bar
With one of the Emerald Coast's largest sushi bars and an extensive entree menu, Osaka elevates Asian-style dining. This Destin restaurant, open for lunch and dinner, also features master chefs who expertly prepare shrimp, chicken, lobster and steak on authentic hibachis.

Best Bakery | Donut Hole
This longtime Emerald Coast favorite serves breakfast, lunch and dinner in Santa Rosa Beach and also recently reopened in its original Destin location – to the cheers of many residents and visitors.

Best Barbecue | Jim 'N Nick's Bar-B-Q
The slow-cooked, Southern-style barbecue at Jim 'N Nick's is the ultimate in comfort food. Ribs, chicken, pulled pork, salad and corn muffins that are award-winners in their own right make this Sandestin smokehouse restaurant a local hot spot.

Best Breakfast | Another Broken Egg Café
Breakfast never had it so good. Located in Grayton Beach, Sandestin and Destin, Another Broken Egg Café is perfect for everything from a quick early-morning bite to a leisurely weekend brunch to a tasty lunch. Eggs, of course, are served just about any way you like them, along with sandwiches, soups and salads.

Best Brunch | Big City Café
Sunday goes sunny side up in Fort Walton Beach with this seemingly endless brunch buffet – fresh-baked breads and muffins, a dozen salads, soups, meats, sausage, bacon, unlimited champagne … you get the idea. A live jazz band and seating inside and out make this weekend feast a memorable experience.

Best Casual Dining | Harbor Docks
Since 1979, dining at Harbor Docks has been a Destin tradition. This come-as-you-are restaurant provides the perfect place to eat fresh oysters on the half shell and sip some of the coldest beer around – all while overlooking Destin Harbor.

Best Caterer | Gourmet Entrees to Go
Fine food comes to you with this full-service caterer. Offering everything from barbecue for a backyard feast for 10 to an elegant sit-down wedding reception for 500, Gourmet Entrees to Go will make a made-to-order feast for any special event.

Best Chef | Tim Creehan
The multi-award-winning Creehan cooks up more than great food at his Beach Walk restaurant in Destin. With a seasoning line, multiple cookbooks, and signature snack chip for a national brand, Creehan's diverse career has become a recipe for success.

Best Dessert | Southern Style Desserts
This Destin bakery can't be beat if you're in the mood for a sweet treat such as a gooey cinnamon roll, a cookie or a slice of fresh-baked pie. And for special occasions, Southern Style takes the cake when celebrating weddings, anniversaries and birthdays.
Best Fast Food chain | Chick-Fil-A
A simple but scrumptious sandwich has changed the way many people feel about drive-through meals. The lure of a Chick-Fil-A classic sandwich includes a chicken breast on a buttered bun with the all-important pickle. And don't forget the waffle fries!

Best Fine Dining restaurant | Seagar's Prime Steaks and Seafood
Fine dining and fabulous service come together at Seagar's, located in the Hilton Sandestin. With prime steaks and seafood, tableside service and hundreds of labels of wines, this award-winning critic's choice also is a repeat reader's choice.

Best French restaurant | Café Provence
If your inner bon vivant is beckoning, look no further than this quaint restaurant, which serves fine French country food. The extensive menu includes house specialties of seafood, pork, lamb and beef, as well as a selection of lighter fare and several choices for children. Bon appétit!

Best Grocery Store/Supermarket | Publix Super Markets
With gourmet foods, a pharmacy, bakery and deli, and exceptional customer service, Publix Super Markets across the Emerald Coast make checking off your grocery list a pleasurable experience.

Best Hamburger | McGuire's Irish Pub
Irish eyes are sure to smile at the seemingly countless ways to dress McGuire's gourmet steak burgers. From the merlot and mushroom sauce to the Jamaican jerk seasoning, these burgers are sure to please hungry lads and lasses.

Best Happy Hour | Blue Point Fish Club
Talk about a twofer – the Blue Point Fish Club in Destin Commons offers two evening happy hours. The first round of specials features beer and wine from 4 to 7 p.m., and cocktails are featured during the happy-hour promotion from 10 p.m. to closing.

Best Italian restaurant | Guglielmo's La Fiamma
The flavors of Italy come to the Emerald Coast at Guglielmo's, a local dining tradition. Featuring authentic Italian fare with a wide selection of pasta dishes and house specialties, Guglielmo's proudly carries la fiamma, or "the flame," for Italy.
Best Locally-Owned restaurant | Sarah K's Gourmet
Someone's in the kitchen . . . and it's Sarah, thank goodness! This professionally trained chef cooks up a variety of carry-out cuisine, ready to serve in about 10 minutes or less. With appetizers, desserts and all the courses in between, Sarah K's menu is perfect for a casual meal for two or a large formal dinner party.

Best Margarita | Pepito's Mexican Restaurant
On the rocks or frozen, Pepito's Mexican Restaurant serves up authentic margaritas every day of the week, with great happy-hour specials that will make you say "Ole!" And for a fruity twist on this classic, try Pepito's peach or strawberry margaritas.

Best Martini | Cava Blue
Shaken, stirred or on the rocks, you can find the martini of your dreams at Cava Blue, a hip and happening metro-style bar at Bianco in Destin. Offering the area's most extensive martini menu, Cava features 60 specialty libations to sooth your inner James Bond.

Best Mexican / Latin American Restaurant | La Paz Restaurante & Cantina
True south-of-the-border flavor can be found right here on the Emerald Coast at La Paz. Featuring fresh and authentic traditional Mexican dishes, this restaurant, bar and catering service says it all with the slogan, "It's the food, amigo!"

Best Outdoor Dining | Dewey Destin Seafood Market & Restaurant
If you are looking for the place the locals go for fresh seafood with an unbeatable view, visit Dewey Destin Seafood Market & Restaurant. Fresh seafood, including scallops, oysters, crabs and fish, is served dockside, overlooking the bay and Crab Island.

Best Pizza | Ciao Bella Pizza da Guglielmo
In the Guglielmo tradition, these two pizza parlors, located near the foot of the Destin Bridge and at Silver Sands Factory Stores, feature authentic Italian pizza with a variety of savory ingredients. That's amore!

Best Romantic Restaurant | Zampieri's Harbor Grille
Your heart will sing with every visit to Zampieri's. The perfect location for an intimate dinner for two, this chic but comfortable restaurant features inside and outside dining with a view of the harbor that you and your special someone are sure to love.

Best Salad Bar | Ruby Tuesday
Ruby Tuesday has raised the bar on salads. Its new Fresh Garden Bar allows diners the chance to create their own sensational salad, with a variety of garden greens, fresh veggies, cheeses and a wide selection of dressings.

Best Seafood Market | Destin Ice Seafood Market & Deli
Featuring seafood that couldn't be any fresher if you caught it yourself, this market has been a longtime local favorite on the Emerald Coast. Displays of fish, including grouper, amberjack and snapper, as well as fresh boiled shrimp and crabs will tempt the taste buds of any seafood lover.

Best Seafood Restaurant | Harbor Docks
Locals and visitors flock to Destin's Harbor Docks for its right-off-the-boat fresh seafood, prepared in countless delicious dishes, including Chargrilled Shrimp, Louisiana-Style Crawfish Salad and Sautéed Catch with Artichoke Hearts.

Best Service | Seagar's Prime Steaks & Seafood
Seagar's is well known for its five-star menu, an extensive wine list and an elegant atmosphere, but the whole experience of dining at this award-winning restaurant comes together with the exceptional service. The table captains, sommelier and professional servers deliver a first-class evening every time.

Best Sports Bar | Johnny O'Quigley's Irish Pub & Grille
Cheer on the Fighting Irish, or any other college or national sports team, at this fun and friendly neighborhood-style bar. With multiple televisions and plenty of good stick-to-your-ribs food, not to mention the Tower of Beer, this pub is a score for any sports fan.

Best Steakhouse | Ruth's Chris Steak House
It's prime eating time at Destin's Ruth's Chris, with steaks broiled to perfection at 1,800 degrees. The Cowboy Ribeye, the Porterhouse for Two and the T-Bone all will put a little sizzle in your evening.

Best Sushi | Harbor Docks
If you are serious about sushi, head to Harbor Docks in Destin. Yes, your favorite seafood and casual restaurant also serves sushi. Renowned Chef Yoshie has prepared an exclusive menu for Harbor Docks, featuring maki, sashimi and nigizi.

Best Wine List | Cuvee Beach
Cuvee, in the vernacular of wine enthusiasts, means "blend." True to its name, Cuvee Beach in Destin offers an amazing mix of fine wines by the bottle, half bottle and glass. Enjoy a little vino in the restaurant's main dining room or newly expanded bar.

Best Wine Shop | Chan's Wine World
Chan's Wine World encompasses all things wine and wonderful. With certified wine specialists, wine tastings and wine education classes, not to mention the more than 1,000 labels in stock, Chan's makes selecting the perfect wine fun and easy. We'll drink to that!
LOCALS
Best Volunteer | Traci Stokes
Although she has been a resident of the Emerald Coast for only six years, Stokes has become a leader in the community, giving of her time and talents. The marketing director for Silver Sands Factory Stores, she focuses on volunteering on the local level with organizations including the Mattie Kelly Arts Foundation, Children in Crisis, Sinfonia and the Cultural Arts Association.
Best Educator | Stephanie Thetford
For six years, Thetford has been sharing her passion for learning and love for math with students at Fort Walton Beach High School. The Crestview native, who has been a teacher for 14 years, remains focused on helping each child who enters her classroom to achieve his or her goals.
Best Corporate Citizen | Legendary Inc.
Legendary Inc., owned and operated by Peter Bos, is not just building brick-and-mortar structures on the Emerald Coast – it is growing a community. Through charitable giving, in-kind services and volunteerism, the development and hospitality company has set the pace for corporate involvement.

Best Radio Personalities | Scratch and Laurie
For eight years, Z96 WZNS-FM's Scratch and Laurie have been making the weekday's early-morning hours a little easier to face with "The Morning Show," featuring music, news and the co-hosts' unique current-affairs commentary, including the popular "SNL" report.

Best TV Personality | Jared Willets
The morning anchor and health reporter for WEAR-TV, Willets is the voice that gets many Northwest Florida residents going each morning. The on-air personality, who also is a husband and father, has lived in Pensacola since 1980 and considers this area home.
SHOPPING
Best Antique Shop | Smith's Antiques Mall
With more than 90 dealers from across the country offering unique and beautiful antiques in a 25,000-square-foot showroom, Smith's Antiques Mall in Destin has become a best of the "Best Of" awards, winning year after year.

Best Beachwear Retailer | Beach Bums Swimwear
Get into the swim of things with Beach Bums Swimwear in Miramar Beach, offering one of the largest selections of swimwear for women, men and children. With lines including St. John, Ann Cole and Esprit, Beach Bums has you covered for a fun day at the beach.

Best Children's Clothing Store | Hugs & Hissyfits
Located on the Miracle Strip Parkway in Fort Walton Beach and in Destin Commons, this children's boutique offers big style for little ones with boys' and girls' clothing lines including Kate Mack, Biscotti and Bailey Boys.

Best Consignment Shop | Closet Swap
Recycling is fashionable more than ever at the Closet Swap. Offering some of the hottest designers at very cool prices, this high-end resale boutique is a great location to stock up on a new wardrobe while clearing your own closet for extra cash.

Best Eyeglass Store | Mollega Eye Care
For the hottest looks in eyewear, visit Mollega Eye Care in Destin. Designer frames, sports glasses and transitional lenses are just a few of the products that make this eyeglass store a clear winner.

Best Furniture Store | Resort Interiors
By design, Resort Interiors continues to be a local favorite on the Emerald Coast. With a 60,000-square-foot furnishing center in Destin, this full-service interior decorating store has been making area homes look good for more than a decade.

Best Jewelry Store | Destin Jewelers
With a selection that ranges from fine jewels to fun baubles, Destin Jewelers can add a little sparkle to any day. Browse the gallery of designs by artists including Philip Stein, Judith Ripka and Yvel, and find the perfect gift for that special someone (or maybe even yourself).

Best Locally Owned Retailer | Sporty Lady
For 28 years, Sporty Lady has been outfitting active women across the Emerald Coast. Owned by Mary Beth and Rob Gunnerson, this one-stop shop for swim- and sportswear is located in the Shoppes at Paradise Key.

Best Men's Business Attire | Brooks Brothers
Always a classic, Brooks Brothers offers tailor-made style in an off-the-rack store with discount prices. Suits, sport jackets, trousers and grooming accessories are in season at this wardrobe-stocking staple, located in Silver Sands Factory Stores.

Best Men's Casual Clothing | Don Alans Men's Store
Celebrating 20 years in business, Don Alans' success is based on one-on-one service by its experienced staff. Its clothing stores, located in Santa Rosa Mall and Pensacola, suit up local gents with top-brand leisure lines including Lacoste, Bugatchi, Vineyard Vines and Bill's Khakis.

Best Nursery/Garden Center | Potager's Gardens & Verandas
Fresh floral arrangements in unique designs are a trademark of Potager's Gardens & Verandas. This family-owned business in Destin also is known for expertly designing some of the area's most exquisite courtyards and container gardens on the Emerald Coast.

Best Shopping Complex | Destin Commons
This 25-acre, open-air lifestyle center features one-stop shopping for the whole family. With a mix of 75 retailers, including major chains and local boutiques, along with a variety of entertainment and dining options, Destin Commons is a shopper's paradise.

Best Sporting Goods Store | Bass Pro Shops
Just passing by the Bass Pro Shops, located in Destin Commons, is enough to lure most anglers through the door. Featuring two floors and 50,000-square-feet of fishing and hunting gear, this store is sure to get any visitor hooked on fishing and outdoor fun.

Best Wedding Shop | Simply Elegant
For more than 15 years, Emerald Coast brides have relied on Simply Elegant to make their wedding day picture-perfect. A full-service bridal boutique in a new, larger location, Simply Elegant can assist with formalwear for a beachside wedding to a black-tie affair.

Best Women's Accessories | Today's Boutique
Dressing for success means paying attention to detail, including your accessories. Today's Boutique offers a full line of ladies shoes, purses, scarves, hats and even jewelry to tie your whole look together.

Best Women's Clothing | Today's Boutique
For more than 25 years, Today's Boutique has offered contemporary clothing on the Emerald Coast. And for more than five years, this ladies-wear store has captured a "Best Of" award. With lines including David Kahn Jeans, Cambio and Caroline Vaile, Today's Boutique always is a winner for the fashion-forward woman.

Best Women's Shoes | Shoo Fly Shoo
Slip into something fabulous at Shoo Fly Shoo in Destin. This upscale ladies' shoe and handbag boutique carries hot lines including Kors by Michael Kors, Ann Klein and Isabella Fiore. From casual to cocktail, they have the shoe that fits.
SERVICE PROVIDERS
Best Architect | Dungan-Nequette Architects
Dungan-Nequette Architects, owned by Jeff Dungan and Louis Nequette, has designed some of the area's most beautiful homes and commercial buildings, including the new Private Residence Club in Rosemary Beach.

Best Boat Sales and Service | Galati Yacht Sales
As the largest Five-Star certified dealer in the marine industry today and an annually ranked top performer by the world's leading watercraft manufacturers, Galati Yacht Sales is sure to have just the thing to float your boat.

Best Builder/Contractor | Joe Young Constructors Inc.
For three years, Joe Young Constructors of Destin has been building the Emerald Coast's future, specializing in residential and commercial construction. Owner Joe Young has been in the construction business since 1972 and has been involved in the industry locally for 24 years.

Best Charter Boat Service | Dawn Patrol
Reel in a splashing good time with the expert captain and crew on the Dawn Patrol. Focused on back bay and inshore Gulf fishing as well as deep-sea fishing, landing a charter with this boat always is a great catch.

Best Chiropractor | Alan Payne, C.D.
At Payne Chiropractic Life Center in Destin, Alan Payne, C.D. focuses on family health-care through natural chiropractic services.

Best Community Civic Organization | American Business Women's Association
A group of diverse local businesswomen, the Emerald Coast Chapter of the ABWA focuses on professional and personal growth through leadership, education, networking and national recognition. The organization is known locally for its sponsorship of the annual Billy Bowlegs Poker Run, as well as its scholarship program.

Best CPA | Carr Riggs & Ingram LLC
This regional Certified Public Accounting firm is nationally recognized as an industry leader, including being ranked 38th in Public Accounting Report's top 100 firms in the country. Located in Niceville, Destin and Mary Esther, Carr Riggs & Ingram covers the Emerald Coast with a commitment to excellence in accounting services.

Best Customer Service | Legendary Marina
Keep your boat ship shape at Legendary Marina on the bay in Destin. This dry-storage facility, also known as the site of Wyland Whaling Wall 88, offers more than 750 bays and can accommodate boats up to 55 feet long.

Best Dentist | Dennis Lichorwic, D.M.D.
Dr. Lichorwic gives his patients a lot to smile about with a full range of cosmetic dentistry services, including the latest, most advanced techniques such as "Zoom! 2" whitening, veneers and Invisalign. Lichorwic and his staff at Destin Center for Cosmetic Surgery are committed to quality care and patient satisfaction.

Best Dry Cleaner | Bangkok Dry Cleaners
From a favorite sweater to a couture wedding gown, Bangkok – Northwest Florida's largest dry cleaners – keeps its many happy customers looking and feeling good with fast and professional service.

Best Eye Doctor | Sam Poppell, M.D.
A board-certified ophthalmologist and the medical director and founder of the Emerald Coast Eye Institute, Dr. Poppell is a leader in his field, specializing in the latest, most advanced eye-care procedures such as sutureless cataract surgery, corneal transplants, laser surgery and reconstructive surgery.

Best Financial Planner (CFP) | Scott Finkler
Helping secure strong futures for many Emerald Coast families, Scott Finkler of Wachovia Securities takes financial planning to a personal level with superior individualized service. Active in the community, Finkler also finds time to volunteer with local civic and professional organizations.

Best Flooring | Coastal Carpet & Tile, Carpet One of Destin
Your home can make a statement with flooring from Coastal Carpet & Tile, Carpet One of Destin. With a 5,000-square-foot showroom filled with countless tile, carpet and hardwood options, the experts at this home-décor store make it the go-to place.

Best Florist | Destin Floral Designs
From a single flower to an elaborate and artistic bouquet, Destin Floral Designs by Gifts of Joy can help you celebrate any special occasion in great style. Master floral designer Joy Segno and her husband, Ralph, have been serving the Emerald Coast for more than 20 years with their professional service and stunning floral arrangements.

Best Gym/Health Club | Gold's Gym
It's always crunch time at Gold's Gym in Destin. As part of a worldwide health-club organization, Gold's offers state-of-the-art equipment and the latest techniques and classes for physical training. And working out is no sweat for busy parents, with Gold's convenient, on-site child care. Time to get fit!

Best Hairstylist | Joseph Rogers
The area native opened Avantgarde Salon & Spa at the age of 19; 10 years later, he leads a staff of 10 stylists at the successful Aveda Concept Salon. Rogers is known for his expertise, individualized service and cutting-edge styles.
Best Hair Salon | Avantgarde Salon & Spa
Voted as one of the top 200 salons in the nation by Salon Today for six years in a row, Avantgarde Salon offers a team of creative stylists, aestheticians, nail technicians and massage therapists who are dedicated to the most contemporary methods and styles.

Best Insurance Agent | Sharon Huoy
Offering personal, commercial and life insurance options with competitive pricing and exceptional customer service, Sharon Huoy with The Insurance Center in Mary Esther can cover all your insurance needs.

Best Interior Designer/ASID | Susan Lovelace
An award-winning designer and the owner of Lovelace Interiors, Susan Lovelace has had her work featured in Architectural Digest, Veranda, Home Furnishings Today, Florida Design, Southern Living and Coastal Living.

Best Interior Design Firm | Lovelace Interiors
Style is an individual choice, and the professional and talented design staff at the award-winning Lovelace Interiors, located in Destin and WaterColor, can help you define a beautiful and comfortable yet personal look for your home.

Best Landscaping / Lawn Service | US Lawns of Fort Walton (formerly Coastal Landscaping Services)
Richard Lowery's full-service landscaping company, featuring design, installation and maintenance options, has helped make the Emerald Coast more beautiful from Mary Esther to Panama City Beach for nine years.

Best Limo Service | 654-LIMO
Let the good times roll with 654-LIMO. With stretch Hummers, Navigators and Escalades, as well as exceptional customer service, this limousine rental service will help you celebrate any event in style.

Best Personal Trainer | Jennifer Bentley
Individualized service is Jennifer Bentley's strength with her personal-training business, Elite Fitness. Certified by the Aerobics and Fitness Association of America, Bentley focuses on strength and core training as well as specialized programs.

Best Pest Control Service | Bryan Pest Control
Let the "Swat Team" at Bryan cure what bugs you. Founded in Fort Walton Beach in 1977, the pest control company now serves the Emerald Coast with additional offices in Niceville, Crestview and Destin.

Best Photographer | Jennifer Small
Documenting the most important moments of our lives, professional photographer Jennifer Small specializes in weddings and family events. Small also focuses on outdoor portraiture, as she says she is inspired by the area's beautiful landscapes.

Best Plastic Surgeon | Steven Clark, M.D., D.M.D.
At Bluewater Plastic Surgery & Cosmetic Center, Dr. Clark calls upon his years of artistic surgical skills and wide variety of surgical procedures for reconstructive and cosmetic needs in an atmosphere of comfort and confidentiality.

Best Private School | St. Mary School
For 60 years, St. Mary School in Fort Walton Beach has been providing an excellent academic curriculum combined with a Catholic-based program to the nine area parishes. This Blue Ribbon School is the only Catholic school in Okaloosa and Walton counties.

Best Real Estate Agency | Pelican Real Estate & Development Company
Whether you are buying or selling, Pelican Real Estate is ready to help. With services including residential and commercial real-estate sales, rental management and development, Pelican's 180-plus agents understand the Northwest Florida market.

Best Real Estate Agent | Barbara McCall
A licensed Realtor® since 1982, McCall, along with her husband, heads the Emerald Coast Team of Re/MAX Southern Realty, which reached $17 million in business last year. McCall specializes in single-family and condominium resort real estate.

Best Spa Services | Serenity by the Sea
For relaxation or rejuvenation, Serenity by the sea in the Hilton Sandestin offers men and women that much-needed "ahhh" moment. With services including massages, body treatments and pedicures, the 12,000-square-foot spa will make you happy from head to toe.

Best Travel Agent | Destin Air Charters
It's vacation planning with white-glove service. Destin Air Charters, which opened just a year ago, not only gets you where you want to go, but helps plan your stay as well. With a carte blanche-style program, this travel company can book
a hotel stay, an all-inclusive vacation or even a cruise.

Best Veterinarian | Airport Veterinarian Clinic
Pamper your pet with quality care at Airport Veterinarian Clinic in Destin. The friendly and professional staff provides annual checkups and emergency health care. And the clinic is conveniently located by the airport for boarding your furry family member.
ENTERTAINMENT
Best Art Gallery | Wyland Galleries
Enjoy a look at life under the sea with a visit to Wyland Galleries, located in Destin Commons. The gallery features brush paintings, photography and acrylic works, and bronze sculptures by world-famous marine-life artist Wyland.

Best Community Event | Seabreeze Jazz Festival
Celebrate spring with the annual Seabreeze Jazz Festival, held at the Seascape Resort and Conference Center in Destin. Hosted by WSBZ 106.3 FM, this popular weekend event features some of the country's top jazz artists, as well as hundreds of vendors, in an outdoor musical festival along with a golf tournament and wine tasting.

Best Golf Course | Regatta Bay Golf & Country Club
Bordering breathtaking nature preserves along Choctawhatchee Bay, this 6,894-yard, par-72 course is an extraordinary one for players of all levels. Designed by Robert C. Walker, Regatta Bay was selected as one of Golf Digest's "Top Places to Play in North America."

Best Golf Instructor | Dan Shelton
A golf pro at Regatta Bay Golf and Country Club, Dan Shelton is an instructor par excellence. Shelton, the 2004 Area PGA Pro of the Year, focuses on short- and long-game development for all ages.

Best Musician/Vocalist/Band | Michael J. Thomas
An accomplished saxophonist and songwriter, Thomas has entertained his many Emerald Coast friends and fans with his smooth jazz sounds since arriving in 1999. He can be heard in many local restaurants and is a frequent entertainer at area festivals.

Best New Business | Edible Arrangements
The recently opened Emerald Coast business delivers gifts that always are in good taste. Edible Arrangements creates beautiful bouquets of fresh fruits, cut and artistically designed to look like flowers. It's a great idea that is sweet and unique.

Best Place to Be Seen | AJ's Seafood & Oyster Bar
With great food, live entertainment, an open-deck bar overlooking the harbor and seasonal promotions, AJ's is the headquarters for fun all year long.

Best Place to Go Dancing | AJ's Seafood & Oyster Bar
While you are at AJ's seeing and being seen, take time to shake your groove thang across Club Bimini's dance floor. This open-air bar at AJ's features the sounds of some of the area's hottest bands, seven days a week.

Best Place to Take the Kids | Big Kahuna's Water & Adventure Park
No sand or seaweed here – just good clean fun on 25 acres in the heart of Destin. With more than 40 water attractions, the park is a real splash for the whole family.

Best Place to View a Sunset | Lucky Snapper
The Emerald Coast offers some of the most beautiful sunsets in the world, and one can get a front-row seat to the show on any evening at the Lucky Snapper. With outdoor tables overlooking Destin Harbor, enjoy a cocktail or a meal as the sun sets over the sea.

Best Splurge for Her | Edge of Paradise Day Spa
Make time for yourself at the Edge of Paradise, which offers an exceptional day spa and salon experience with special services as well as the much-needed chance to feel pampered.

Best Splurge for Him | Bose Factory Store
Getting your fellow a gift from Bose is a sound decision. Featuring top-of-the line sound systems, both new and factory-renewed, the store's extensive selection will make him want to sing.

Best Tennis Facility | Tops'l Beach and Racquet Resort
With 14 courts – both hard and Rubico surfaces – you can catch some game action nearly anytime by consulting the tennis host for details on regularly scheduled round robins, drills and clinics.

Best Tennis Instructor | Erik Stenberg
Fort Walton Beach Tennis Center's pro Erik Stenberg focuses on two-way communication when coaching kids. This ace has been teaching tennis to all ages on the Emerald Coast since 1994.

Best Weekend Getaway | Sandestin Golf and Beach Resort
Nestled on 2,400 acres of beach and bay-front land, Sandestin Golf and Beach Resort offers a paradise found. But with more than 2,200 accommodations, multiple golf courses, a variety of restaurants, a world-class spa, and shopping at The Village of Baytowne Wharf and The Market Shops at Sandestin, is a weekend really enough?