Art for Everyone
Chain of Parks Art Festival returns in full bloom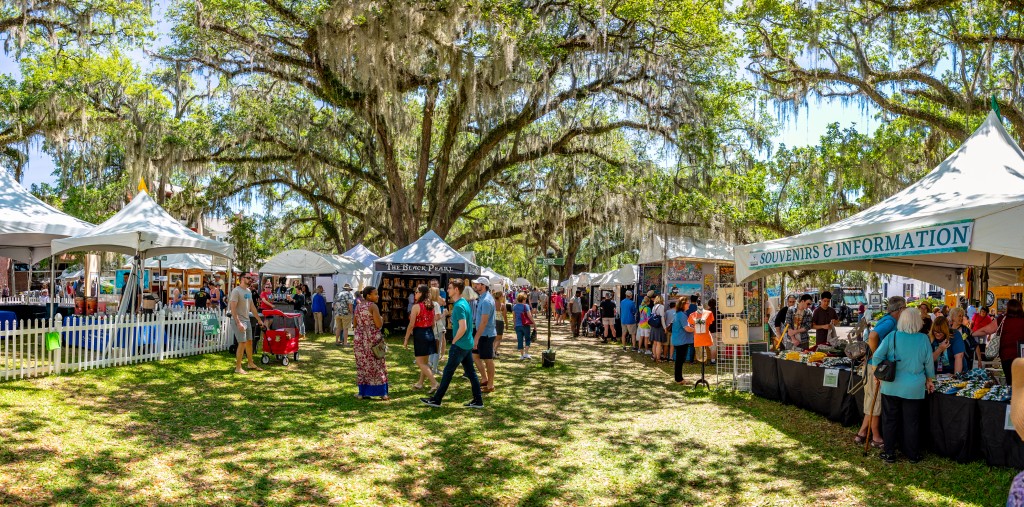 Downtown Tallahassee's "Chain of Parks" will welcome 150 artists and bring Tallahassee art lovers of all ages together during LeMoyne's 22nd Annual Chain of Parks Art Festival, April 23-24, 2022.
LeMoyne Arts, a nonprofit dedicated to promoting education, interest and participation in the contemporary visual arts, says the Festival is a way of making art accessible to all. The event unites audiences with artists whose work they might not otherwise have an opportunity to see.
"This Festival is intended to celebrate art in engaging and interesting ways that all generations will benefit from," said Powell Kreis, programming director and festival manager for the Chain of Parks Art Festival. "It's a weekend of art, music, food and fun that encourages tourism while bringing the intrigue and inspiration of an art gallery to a public space."
Attendees can view and purchase original works from fine artist applicants who were thoughtfully selected to participate in the event, which is recognized as one of the nation's "Top 100 Fine Art Festivals" by Sunshine Artist Magazine and was named the "BEST Family Amusement" in the Tallahassee Democrat's Tallahassee Reader's Choice Awards 2021.
The festivities begin on Thursday, April 21, with the Chain of Parks Art Festival Opening Night, in collaboration with Florida State University and featuring presenting artist Lana Shuttleworth. Shuttleworth's presentation will accompany her "Recycled Beauty" exhibit, available for viewing at LeMoyne Arts starting Thursday. On Friday before the Festival, guests can also engage with a featured artist through an experiential workshop.
The Festival's main event, Artists in the Park, will fill the streets on Saturday and Sunday with artist booths, live street art, on-site chalk artists, live music and local favorite food trucks. The Village, an interactive area for children and adults, will feature art activities and community partner vendor tents.
On Saturday of the Festival, judges will review the artists' works in each media category. Winning artists' award ribbons and flags will be displayed in their booths. Winning artists vie for $10,000 in awards.
Saturday evening, the event transitions into "Evening Groove," where participants can dance and sing in the streets to the live music of Tallahassee Nights Live, a touring musical production.
While the pandemic caused the 2020 Festival to be canceled and resulted in a scaled-back 2021 event, organizers and volunteers are working hard to resume a full, fun and special 2022 event.
"The entire Festival team is thrilled to be planning for the event to return to its full offerings and more in 2022," said Kelly Dozier, Chain of Parks Art Festival Chair and Sponsor Chair.
The festival is made possible through the generous support of Presenting Sponsor, Mad Dog Construction, and Visit Tallahassee, Leon County, City of Tallahassee, Community Redevelopment Agency, and local businesses and donors.
For more information on the 2022 Chain of Parks Art Festival, visit the website at chainofparks.com.