Another Side of Tallahassee — The Natural One
After You "Do" The Capitol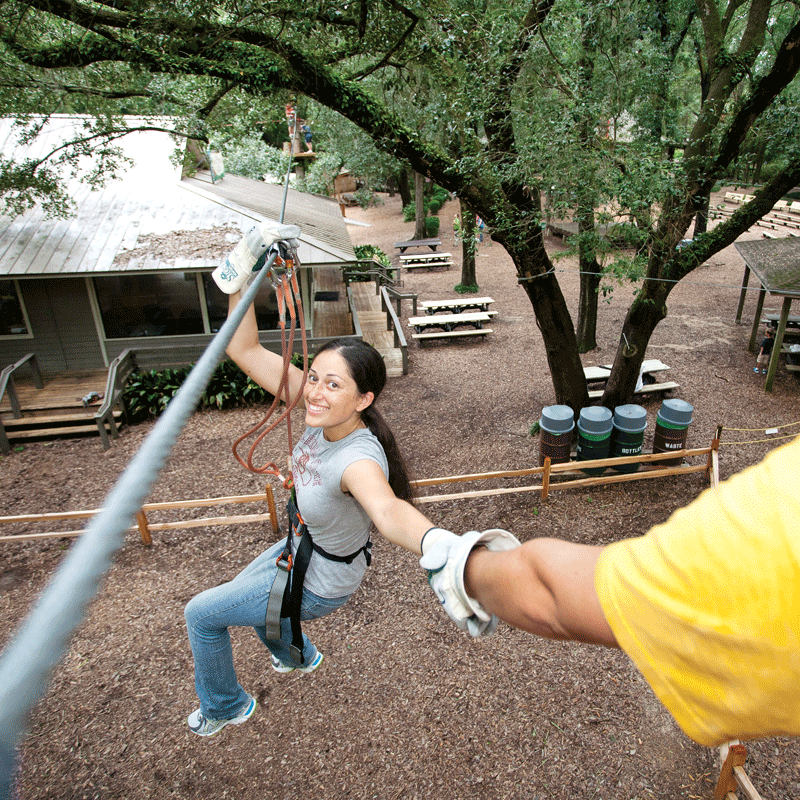 Starting with the lush canopy created by lumbering live oaks, handsome hickory and sweet gum trees shading the town's meandering, hilly roads, Florida's charming capital city is an unexpected breath of fresh air. And that's exactly what you'll get when you choose from any number of outdoor excursions that await the young at heart. From invigorating mountain bike treks through state parks and tarzan-inspired tree-top ziplines above Cypress marshes to peaceful kayak and pontoon boat rides down the crisp, crystal-clear manatee-manned rivers of Wakulla Springs — there is an adventure awaiting. All you need to bring is your sense of spirit! 
Dining in Tallahassee is a bit of an adventure, too. With Tupelo honey infused in everything from salad dressing to ice cream and Gulf coast shrimp and grits reinvented on nearly every restaurant menu, it's clear that the natural bounty harvested for Tallahassee's culinary scene offers delicious twists on traditional Southern themes.   
New places such as The Front Porch bring casual elegance to dining, which is especially pleasant outside under the stars. Wakulla Springs Lodge may be low key, but Chef Jodi Perez' menu is pretty jazzy — the Bee Charmer Salad is a must try. The entrees at Cypress are as beautiful as the vibrant art collection. And for a big bite of soulful cooking, Paisley is the place to go. The menu and atmosphere are as charming and memorable as Kiersten Worrell, the owner, who asks of her Smoked Gouda Grits with a side of Apple Butter, "Can you taste the love?" The answer, if you can put your fork down long enough to utter it, is a resounding, "You betcha Chocolate Chip Whipping Cream Biscuits!"
Scott Holstein (Hotel Duval)
Tristin Kroening (crab cakes)
Hotel Duval is a "green" safe haven (top). The Front Porch has a laid-back vibe with a contemporary menu like this fresh take on a traditional crab cake appetizer (bottom). 
Adventure continues into wee hours with several watering holes. Andrew's Capital Bar & Grill and Madison Social are great hot spots to see and be seen toasting friends with trendy cocktails, but venturing outside of town to Bradfordville Blues Club tucked behind a stand of live oak trees dripping in Spanish moss is where you'll find authentic blues music and plenty of music-loving locals kicking up their heels in what is essentially an old-style juke joint. 
But you don't have to go far to hear great tunes in Tallahassee. We happened upon acoustic singer Allie McKay on a Saturday afternoon at Downtown Marketplace. Here, you can nibble freshly popped kettle corn and sip fresh squeezed lemonade, browse arts and crafts and farmer's market-style booths, and enjoy a free concert in the fresh sunshine. 
Hotel Duval, located in the heart of downtown, is the perfect central staging area for an eco-adventure. This chic boutique hotel effortlessly combines luxury with natural elements. Even the hotel's signature scents such as level two: Serene Green with Green Clover & Aloe inspire you to go explore and drink in the out of doors. Now, that's what we call a "green hotel." The different sensory scents found on each floor is just one example of the attention to detail you'll find in this trendy, upscale hotel. But if getting closer to nature is your intention, try the historic Wakulla Springs Lodge. Built in the 1930s, it features 27 quirky yet quaint guest rooms, each with a spacious marble bathroom, walk-in closet, and antique or period furniture.
Yes, we "went green" in Tallahassee. And we can't wait to go "au natural" in the capital city again.
---
Getting There
Distance from Destin: 165 miles  Driving Time: 2 hours, 45 minutes
(Don't forget about the time change. Tallahassee is on Eastern time.) Take U.S. 331 North to Interstate 10. Travel east 114 miles, and get off at Exit 199 (U.S. 27) and go south, which will take you directly to Tallahassee's downtown area.
Amazing Must Do Adventures  
Mountain Bike Trail Riding Elinor Klapp Phipps Park 4000 N. Meridian Rd.
(850) 891-3866
Manatee Kayak Tours TNT Hide-A-Way Rental 6527 Coastal Hwy, Crawfordville
(850) 925-6412
Ranger-led River Boat Tour Edward Ball Wakulla Springs State Park
(850) 245-2157
Tallahassee Tree to Tree Adventures (located on site at the Tallahassee Museum)
(850) 575-8684
Tallahassee Downtown Marketplace Ponce De Leon Park (Every Saturday, 9 a.m.–2 p.m., March through November)
Bradfordville Blues Club 7152 Moses Lane
(850) 906-0766
To plan your next trip, find all the info you need at Visit Tallahassee.