An Inspired Retreat in Alys Beach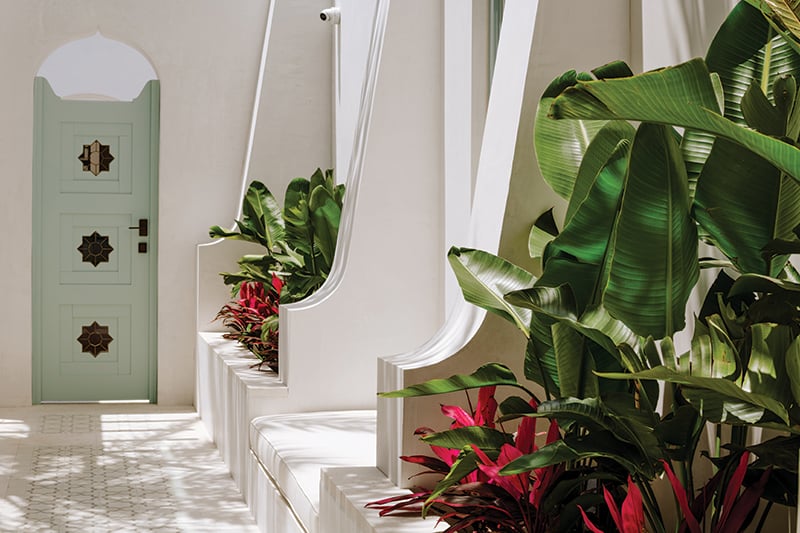 Story by Emme Martin | Photography by Nicola Harger, courtesy of Alys Beach
The worldly owners of this idyllic Alys Beach, Florida, townhome wanted the house to reflect their cultured past, which included 20 years living in Dubai and countless travels.
The team at E. F. San Juan, a custom architectural molding, millwork and cabinetry firm based in Youngstown, Florida, worked closely with the award-winning designers at Khoury Vogt Architects (KVA) and the builders at Davis Dunn Construction to create the residence's custom wood details. Exterior gates, trim, interior doors, ceilings and other add-ons reflect an Arabesque style and aesthetic while complementing the Gulf Coast community.
The townhome's clean, white walls emphasize the seafoam-green trim and geometric patterns. E. F. San Juan was responsible for the three exterior gates and exterior ceiling paneling in the garage and north porch.
Additionally, they customized the courtyard gates to fit the home's specific needs, providing beauty as well as privacy.
The windows and doors are custom impact-rated glass by Weathershield, also sourced through E. F. San Juan, which will protect the house from harsh Florida elements.
Overall, the custom exterior elements add a layer of luxury and present the home as a charming sight for the owners and passersby.
"The E. F. San Juan team was proud to flex its creative skills for this project," said company president Edward San Juan. "We always enjoy working with clients who have a unique vision. The KVA team always has beautiful plans for each home, especially in Alys Beach, and working with Davis Dunn Construction for many years has yielded some truly stunning works of art."
On the inside, the intricate details continue through stunning customized trim designed by KVA, making every corner of the house a work of craftsmanship.
The millwork and soothing color scheme successfully tie the interior decorative millwork with the outdoor facade, making this home feel complete in every detail.
Visit EFSanJuan.com or follow on Instagram @ e.f.sanjuan to see more projects.
---
From intricate wooden gates, shutters, railings and other details to impact-rated glass windows and doors that protect homes from the elements, E. F. San Juan's footprint can be seen throughout Alys Beach.