American Business Women's Association Announces "Woman of the Year"
Emerald Coast Chapter Members Honor Emily Hedrick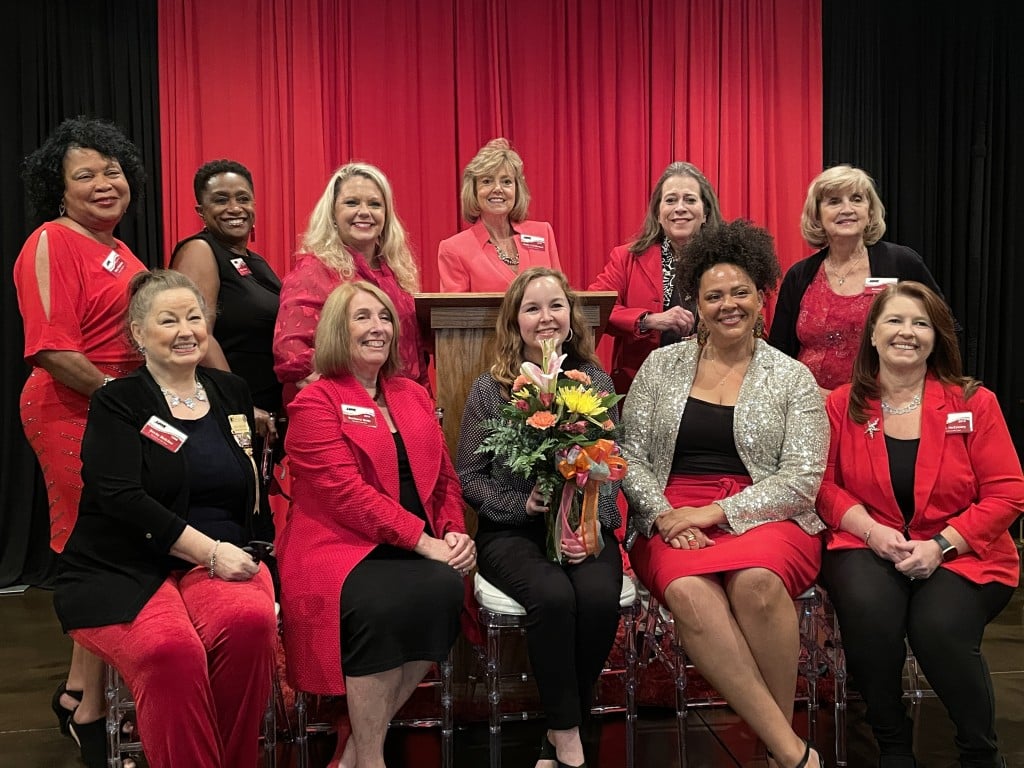 The American Business Women's Association (ABWA), Emerald Coast Chapter announced Emily Hedrick as their 2022 Woman of the Year. The chapter hosted the annual Woman of the Year celebration during their monthly meeting at The Event Room in Fort Walton Beach on March 1, 2022. Woman of the Year is a long-standing tradition in ABWA to recognize a member that has made a notable contribution to the success of her chapter, her business, and her community.
Hedrick has held several positions in the chapter, currently serving as the Vice President and Membership Committee Chair for 2021-2022; Secretary from 2019-2021; and was the Hospitality Committee Chair and Fundraising Committee Chair in 2018-2019. She has also participated in the Women Empowering Women Symposium Committee four out of the five years of existence, as well as Newsletter and Publicity and Promotions Committees during her four-year membership. She has completed 12 continuing education credits through ABWA and attended two National Conferences.
Hedrick currently serves as the Marketing Lead for Bookkeep, an automation platform for accountants, bookkeepers, and business owners, as well as, a communications consultant for Best Gurl, Inc. After winning a full-tuition scholarship from ABWA National in November 2021, she is currently a student at Northcentral University pursuing her Master's of Business Administration.
"I am so honored to be named 2022 Woman of the Year for my chapter. I have so much I could say about my four years in the chapter and organization and how much I have grown and developed, personally and professionally, because of it. Ultimately, take advantage of the opportunities you are given because you never know where they will take you," said Hedrick. "Thank you to my amazing chapter sisters that have been role models, teammates, colleagues, clients, and friends."
Past Women of the Year, Jeanne Rief (1990), Becky Belcher (1996), Sherry Smith (2005), Gayle Charmichael (2000), Jackie Picher (2014), Sallye Belton (2015), Mary Florence (2016), Barbara Britt (2018), Tracy McCreary (2019), and Dawn Novy (2021) were all in attendance for the Woman of the Year Celebration.
Southern Star Printing provided the programs, Baskets by Mary provided the table centerpieces, and The Beauty Experts sponsored the event.
"I'm so pleased to announce Emily Hedrick as our Woman of the Year. We have seen the hard work, detail, and intention she puts into everything she does. Emily embodies the mission of ABWA, is a great representative for our chapter, and a wonderful ambassador for the organization" said Diane Fraser, American Business Women's Association Emerald Coast Chapter President.
As Woman of the Year, Hedrick will participate in local and national events, including the ABWA District 1 panel discussion on March 21. She will be invited by the national organization to be an ambassador for ABWA and recognized as a representative for the Emerald Coast Chapter and will work to build next year's Woman of the Year program and event.
The Emerald Coast Chapter meets on the first Tuesday of the month, at The Greater Fort Walton Beach Chamber of Commerce. Meetings start at 5:30 p.m. and offer networking opportunities and excellent educational opportunities through guest speakers. If you are interested in becoming a member, or just learning more about the chapter, visit www.abwa-ecc.org.