Aged 30 Years to Perfection
Sandestin Wine Festival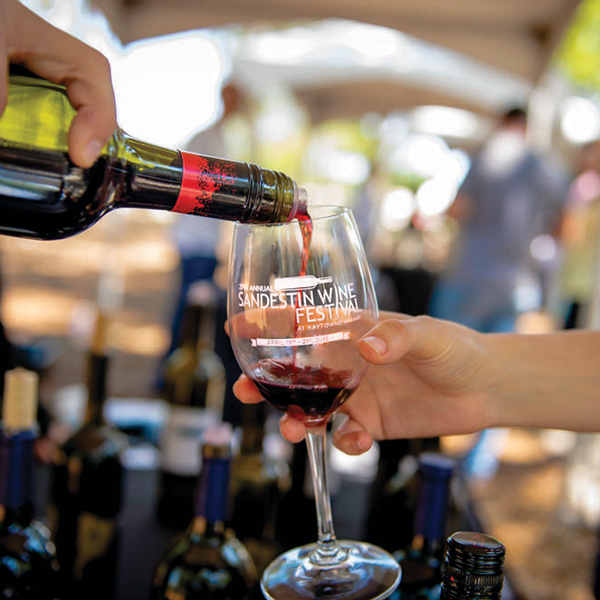 For three decades, April has been a highly anticipated month for both local and visiting wine enthusiasts along the Emerald Coast. Nearly every wine lover in the area has the second week (this year it's April 14–17) set aside for the four-day Sandestin Wine Festival in The Village of Baytowne Wharf. This year, there is one more reason to raise a glass: The "Kentucky Derby" of wine festivals marks its 30th year in 2016.
The Sandestin Wine Festival started on a rainy day in 1986 to give attendees of the Louisiana Bar Association something to do, but it has evolved into a springtime tradition for Northwest Florida's largest resort.
"As we look back on the history of this festival, it's amazing to see how after 30 years the Sandestin Wine Festival really has aged to perfection," says Village of Baytowne Wharf events manager Julie Stuckey, who has worked on the festival for four years. "We've been able to add on to the grand tastings with more selections from around the world and have added to our food offerings, not to mention extending our festival all around the Village streets and the Grand Lawn."
To keep it fresh, Sandestin is serving up more than just wine with which to "wine and dine" festival-goers. By popular demand, the festival is reprising the Champagne & Seafood Voyage aboard the Solaris on Friday afternoon and a favorite Sunday finale, Brunch on the Bay at Baytowne Marina. In between, wine lovers can listen to live music while sipping their favorite domestic and imported wines and sampling gourmet bites prepared by the resort's executive chef, Javier Rosa. In the evening, many Village merchants are hosting wine-themed dinners.
And for a taste of something new, and perhaps unexpected, add a splash of yoga to your wine weekend. The resort calls it Mind, Body & Beach, and it's a little down time designed to relax, rejuvenate and experience the Emerald Coast's beautiful beaches on Friday morning before you dive into the wine festival.
For a complete schedule of events and to purchase tickets, visit Sandestinwinefestival.com. 
---
Wine pairs well with the good life on the Emerald Coast.
Most of us don't like to be labeled, but when it comes to wine, all bets are off. Recently, local private wine labels such as the 30A Company (in partnership with Mercer Estates in Washington) and Seaside Wine Project (in concert with Kokomo Winery in California) are appearing on area restaurant menus and local shop shelves.
The South Walton Tourist Development Council has officially designated the last weekend in April as Northwest Florida Beaches Ultimate Wine Week.
So you could say that each year, the entire community pulls out the stops — or stoppers, as the case may be.
And that is exactly what Chan Cox, owner/founder of Chan's Wine World, and his crew hope to deliver in Grand Boulevard's Grand Park on April 28–May 1 with the South Walton Wine & Food Festival. Part of the allure for this year's event is sure to come from appearances by a host of superstars from both the wine and spirits industries who will serve as first-time celebrity guests at the South Walton festival.
Among the A-listers are Cristina Mariani-May of Banfi Vintners, a leading U.S. importer of fine wines; French winemaker Ronan Laborde, CEO of Chateau Clinet; and taster Alexander Peartree of Wine Enthusiast magazine. For more details and to purchase tickets for this four-day festival, visit sowalwine.com.
The Destin Charity Wine Auction Foundation (dcwaf.org) means dreams will come true for some in our community who need them most. To date, the foundation has raised $10 million for local children's charities since it was formed 11 years ago, placing it at No. 4 on Wine Spectator magazine's list of Top 10 Charity Wine Auctions in the United States. Cheers to DCWAF!