A Word With Matt Battaglia
Emmy-winning producer, actor, former NFL player finds refuge in Carillon Beach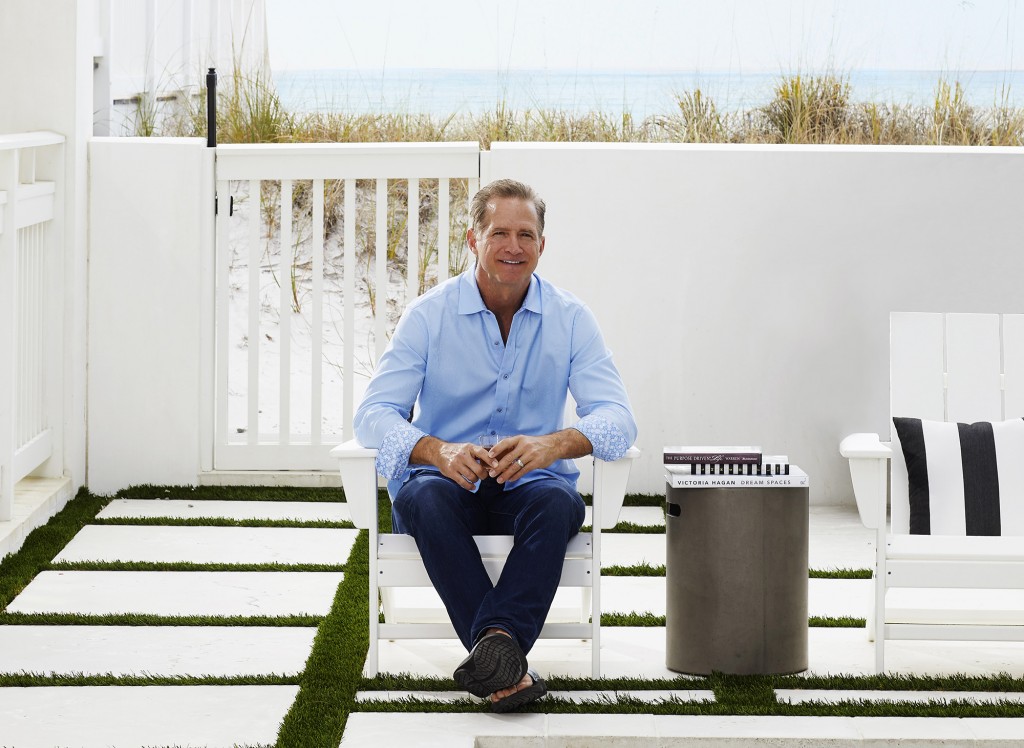 It just may take an entire football team to play actor Matt Battaglia in a movie — there are that many parts to consider.
That would probably suit the former NFL-turned Emmy-winning actor, producer and philanthropist just fine.
The Tallahassee native, who grew up in the Atlanta suburbs, is a raging Seminoles fan, though he is known to root for any SEC team in a pinch.
Casting for this easygoing 54-year-old with chiseled dark features would have to include someone who could nail what he considers his greatest role: a family man.
Battaglia is father to son, Blaize, and daughter, Paxton, and husband to his wife, Tina.
An Emmy-winning producer, Battaglia has coproduced a two-time Golden Globe nominated film and has acted in more than 100 films, network pilots and television shows.
As an actor, Battaglia has appeared in Thor, starring Chris Hemsworth, Natalie Portman, and Samuel L. Jackson.
Last summer, he reappeared in the HBO critically acclaimed television series True Detective. He is often recognized for his role as Phoebe's (Lisa Kudrow) fireman boyfriend, Vince, on the hit sitcom Friends.
Other notable appearances include stints on Mike & Molly, The Mentalist, The Client List, Longmire and a pilot for Warner Bros. entitled Rise.
Other shows include episodes of 24 with Keiffer Sutherland, HBO's Big Love, Shark, CSI-NY, Bones and CSI-Miami just to name a few.
Battaglia also has produced television shows such as Last Shot with Judge Gunn, for which he won an Emmy Award.
He co-produced the two-time Golden Globe nominated film Brothers, starring Tobey Maguire, Jake Gyllenhaal and Natalie Portman, and optioned the national bestseller Bad Monkeys by Matt Ruff for Fox Studios.
We caught up with disarmingly dashing and endearing Battaglia in Los Angeles on a break in between projects and asked him about his passion for football, acting and real estate; growing up in Tallahassee (Burt Reynolds is "Uncle Burt") … and his new life on the Emerald Coast.
EC: How did actor Burt Reynolds impact your career?
MB: Yes, I knew him as Uncle Burt.We have similar paths in that he too played college ball (FSU) and sort of fell into acting.
He filmed Deliverance in 1972 in Northeastern rural Georgia, near where we lived, and later shot Smokey & The Bandit in and around Atlanta. He would stay at our house to get away from paparazzi.
The premiere of the sports comedy The Longest Yard was in Tallahassee in 1974. (Burt Reynolds played the lead character Paul "Wrecking" Crewe.)
And I remember riding in a limo with Uncle Burt to the premiere, but what's funny is I left there not wanting to be an actor, but wanting to be a football player."
EC: And you did. You played for the University of Louisville and then suited up for both the Cleveland Browns and the Philadelphia Eagles, before you were sidelined with a neck injury you sustained on the field in college. Your first passion was always football. How did you get from the football field to the stage and screen?
MB: My career ended abruptly, because they found a broken bone in my neck. I didn't have a backup plan. As it turns out, back in Tallahassee, Uncle Burt Reynolds was talking to me about giving acting a shot.
Eventually, I attended the Acting School in Jupiter, Florida, which Burt was running at the time.
I was the only guy who didn't know how to act, sing or dance, which were the only three requirements. I came in as 245 pounds of solid muscle that just wanted to hurt people. It was a bit of a culture shock.
After a year of training, I fell in love with the craft. I stopped working out and got skinny. And 25 years later, I've done about 100 TV shows and received some nominations. I have no complaints.
EC: Do you remember your very first audition?
MB: Yes, it was for an Italian soldier in a film called Blue Sky starring Jessica Lange.
I knew they wanted an Italian solider, so I changed my name on my headshot to Mateo. I died my hair black, and I spoke in a broken English accent.
Thank God I only had to say five lines. I got the part, and they never asked when I came over from Italy."
EC: What do you love about acting?
MB: I love creating different characters. Trying to see if you can pull off being someone who isn't you.
EC: But acting isn't all you do.
MB: Right, I also enjoy producing. I can be creative, and I have a knack for the financial side. Both aspects work two different sides of my brain, and I like both.
EC: You also dabble in real estate, we understand.
He built his last house in the Hollywood Hills literally on the side of a cliff and sold his home in the down market of 2011 for a higher price per square foot than any other house in that zip code had sold for in the previous seven years. In 2015, he sold his five vacant lots on Granito Drive for more than $6 million.
MB: Yes, I am remodeling a 3,500-square-foot house in Los Angeles that I took down to the studs. I organize and pre-plan very well. Being a contractor requires negotiating, pricing and scheduling. Many owners don't know what needs to go next. With my acting and producing experience, I think I've learned a lot about business and scheduling.
EC: Sounds like you find it as exciting as landing a big role.
MB: I love it. Hearing what it's going to cost you and then bringing it in under budget and under time is very pleasing to me.
In some ways, I'm turning into a real estate developer. I'd say I'm spending half of my time developing and half in entertainment.
EC: You have made it in Hollywood, yet you still seem very grounded. How do you keep your head in the game of life so to speak?
MB: You can win Emmys and Golden Globes, but you realize all those trophies and awards are nothing but props for an ego and collect dust.
If you want to plan for your kids' future, those things are meaningless … they are not what is best for my kids' future.
That's why I navigated to real estate, which can be more financially rewarding than entertainment.
EC: You don't seem to be a typical Hollywood actor with stars in your eyes.
MB: You really have to keep your priorities straight. My spiritual faith keeps me more grounded than anything.
EC: You are a son of Tallahassee. Tell us about growing up there.
MB: We lived outside of town and raised chickens, cats and dogs. I was the youngest of four.
My mother, Nancy Van Cleve Battaglia was in the circus at FSU as a trapeze artist; my father, Carmelo Battaglia, was a football player.
EC: What is most memorable about your hometown?
MB: I love being from Tallahassee.
I love the people, plus we are college football addicts. I am a Florida State and Georgia Bulldog fanatic.
My wife, Tina, loves the Clemson Tigers, and I guess you could say I love everything about the SEC and ACC.
EC: You chose to come back and build a beach house in Carillon Beach. Of all places, why did you settle on the Emerald Coast?
MB: I love heat, the water, the beaches.
California is beautiful, but the beaches are cold and there is lots of seaweed.
Florida is like going to the Caribbean. We have visited the 30A area a lot and discovered Carillon Beach.
There's nothing like it here. We are thrilled to have finished our home and are enjoying becoming a part of the community.
EC: What is your favorite feature of your new home?
MB: Probably the kitchen and living area being so open and the fact that we have a 60-foot-wide view looking to the ocean and 140 feet of beach frontage, both of which are quite a bit more than most homes on the Gulf.
EC: What is your favorite room?
MB: The beach. But inside the house, I reallylike the "man cave," which is the living area down near the pool.
EC: What are you most enjoying about living on the Emerald Coast?
MB: The outdoors. We love paddleboarding, surfing, biking with our kids, Blaize and Paxton. We love it.
EC: Do you have a favorite hang out on 30A?
MB: We really like Rosemary Beach and Cafe 30A.
EC: What's next for you?
MB: I'm filming a TV show called Paradise Lost with Josh Hartnett, Nick Nolte and Barbara Hershey in Baton Rouge.

It will air this spring/summer. I have a recurring role on a TV series for Fox called The Resident, which films in Atlanta. I'm developing three subdivisions in Greenville, South Carolina, right now and looking for some property in Atlanta.
And spending quite a bit of time coaching/training my kids in their sports (football for my son and tennis/soccer for my daughter).