A Weekend Guide to Emerald Coast Memorial Day Events
Looking for things to do this holiday weekend? We've got you covered.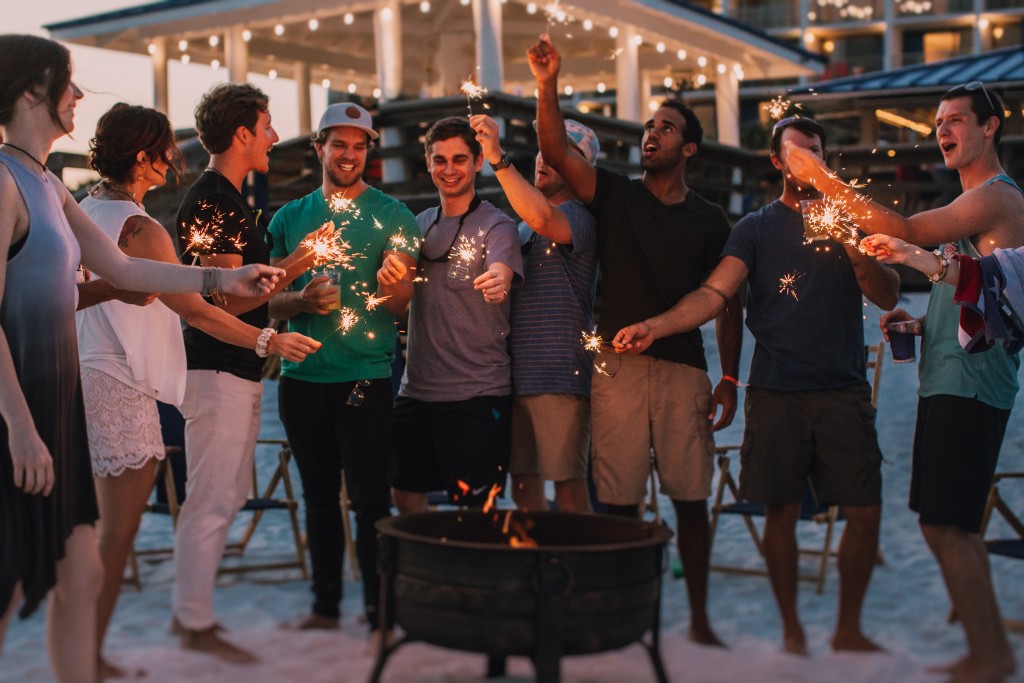 From Friday until Monday, start and end your long weekend with events that celebrate and honor our nation's heroes. These listed events span the Emerald Coast offering live music, family-friendly activities, firework shows, memorial services and more.
DESTIN
Hotel Effie Memorial Day Celebration
The luxurious and newly opened Hotel Effie has the start of summer celebration planned at the Village of Baytowne Wharf for Memorial Day weekend. This family-friendly event encourages patrons to shop the pier's boutiques, dine at the eateries, peruse the galleries, engage in the nightlife and listen to live music on Saturday the 29th and Sunday the 30th. The Saturday evening band will be Forrest Williams Band and on Sunday, Jarred and The High Aces will take the stage. Sunday during the day, enjoy children's activities and the evening will commence with a bang of showstopping fireworks at 9:00 p.m. Complete the weekend of fun and relaxation with a stay at Hotel Effie.
Memorial Day Concert Celebration 
A weekend of summer fun awaits at HarborWalk Village with three nights of events. Saturday will include live music beginning at 7 p.m. with the band Flash Flood. Sunday's live music is brought to you by Cadillac White at 7 p.m., followed by a fireworks display at 9. On Memorial Day Monday, DJ Chubby & DJ D Funk will pump up the tunes at the Silent Disco Party beginning at 7 p.m.
COVID-19 disclaimer: HarborWalk Village is an outdoor, open-air venue that allows guests to follow CDC guidelines in regards to mask-wearing and social distancing while still enjoying the ambiance of the Destin Harbor. Practicing social distance and wearing masks is encouraged while visiting HarborWalk Village.
FORT WALTON BEACH
Whether you lived it or always wanted to, take a trip back to 1966 at The Island by Hotel RL who is hosting a 100 Days of Summer Celebration beginning on May 29.
Hotel guests and locals will have the opportunity to participate in 100 days of parties including corn hole tournaments, themed happy hours, children's activities, live music, entertainment, and so much more. The main event will kick off the festivities on Memorial Day weekend with an all-day party. There will be inflatable bouncr houses on the green, a dive-in movie, and live entertainment at Tripp Tide beach bar, and a few extra surprises. Whether you want to enjoy the Gilligan's Island Grotto theme Happy Hour or the bonfire and smores with your family, there is something for everyone!
PENSACOLA
Fourth annual Pensacola Memorial Day concert
The primary purpose of the fourth Annual Pensacola Memorial Day concert is to honor what the day symbolizes — the bravery and sacrifice of American veterans and Armed Services members. The concert begins at 5 p.m. and ends at 8, taking place at the Hunter Amphitheatre at Community Maritime Park behind the Blue Wahoos' Stadium.
The Memorial Day program, directed by Pensacola Civic Band director Don Snowden, will entertain the audience with a number of patriotic musical selections. Celebrating his 101st birthday, Pearl Harbor survivor Frank Emond will conduct the band in Stars and Stripes Forever.
The concert is free, and food and beverages will be available for purchase. You will need to provide your own seating.
This concert is made possible by the partnerships of the Pensacola Civic Band, The City of Pensacola Parks and Recreation, Community Maritime Park, and Pensacola State College.
Memorial Day Celebration at NAS Pensacola
NAS Pensacola, alongside the Gulf Coast Veterans Advocacy Council and Barrancas National Cemetery, will host a Memorial Day Ceremony that begins at 9 a.m. inside the Naval Aviation Memorial Chapel. Dr. Honor Bell is the featured guest speaker, and commanding officer Capt. Christopher Martin will provide a welcoming address.
NICEVILLE
Memorial Day Weekend at Bluewater Bay Marina Complex 2021 
Bay Marina Complex and LJ Schooners Dockside Restaurant & Oyster Bar will host a weekend-long Memorial Day celebration. Live music will drift through the air Friday through Monday with the talents of Mechanical Lincoln, Hi Tide, Reciprocal Vibe and Ryan Frederick. There will be $3 Bud Light and Shock Top pints all weekend alongside the oyster bar and full lunch menu. On Sunday, the shrimp boil will be the spotlight from 4–7 p.m.
PANAMA CITY BEACH
Aaron Bessant Park will have live music, local vendors and food options on the 70 acres throughout the weekend.