A 'Special' Soldier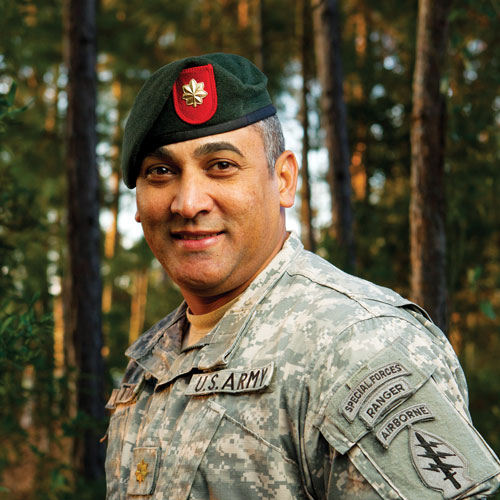 In an area full of heroes, Special Forces Maj. Angel Martinez is one of the newest and most dedicated. He is a member of the U.S. Army's 7th Special Forces Group (SFG), an elite and highly skilled tactical unit of combat veterans that recently relocated from Fayetteville, N.C., to the Emerald Coast.
When asked about his position with the Special Forces Group, 41-year-old Martinez says proudly, "My favorite part of the job is working alongside men of the highest caliber. They're elite, carefully selected and skilled specialists in their field."
A new resident of the Emerald Coast, Martinez has embraced the transition from North Carolina to the white sandy beaches of Miramar Beach by immersing himself in the coastal lifestyle. "This is a very warm and welcoming community. They've accepted the entire 7th SFG family — all 2,700 of us. I love it here," he says with a warm smile.
In his off time, Martinez enjoys sampling local cuisine, playing softball, teaching children's classes at a local church and entertaining his wife, Vernisse, with his musical talents on the guitar and piano.
Martinez is currently deployed to Afghanistan on an eight-month tour. We wish him a safe return.