A Reason to Run
The Seaside School Half Marathon & 5K benefits the Seaside Neighborhood School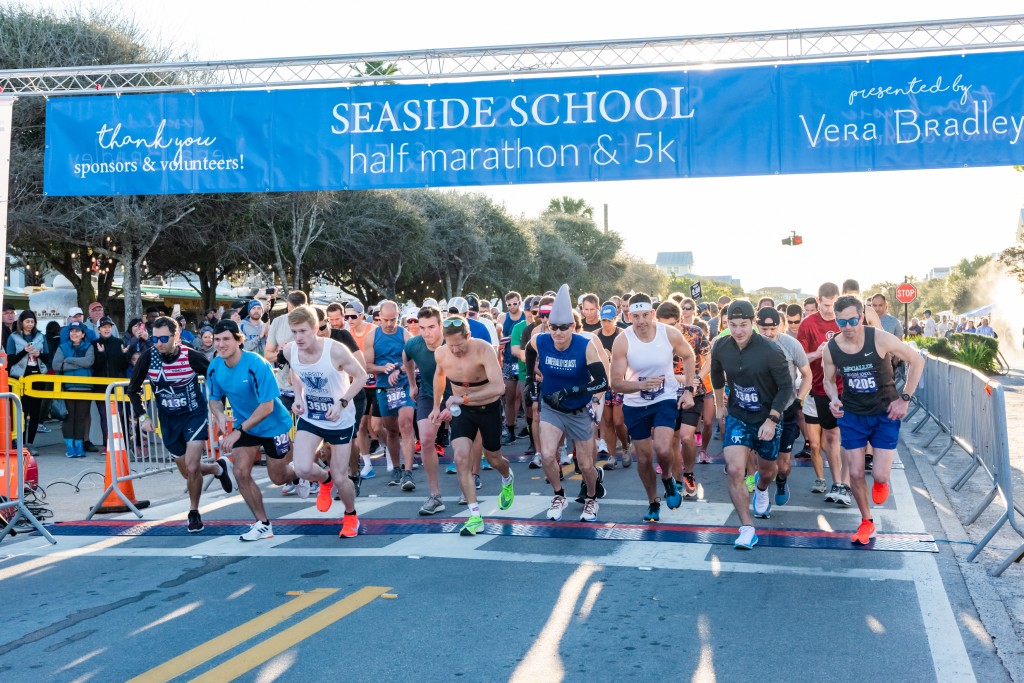 Running is a great way to get in shape, sharpen your mind and find a community. Too, it provides opportunities to help others. The annual Seaside School Race Weekend provides money for programs at the Seaside Neighborhood School; each year, it is the school's largest fundraiser.
Seaside School Race Weekend isn't just about running. It's a three-day event packed with food, music and dancing that culminates with the Seaside School Half Marathon & 5K. This year's 20th anniversary event will be held Feb. 18-20 and promises to be bigger and better than ever.
"Historically, this race has provided an exceptional runner experience — a scenic route along Highway 30A and a fun finish line experience including local food and libations, live music and a community get-together feel," said Teresa Horton, executive director of the Seaside School Foundation and race director. "We are so excited to get back to that — the community of runners and supporters that gather to celebrate success and contribute to our future."
The weekend kicks off on Friday with Taste of the Race, an evening of food and fanfare on the Seaside lyceum lawn. Participants enjoy food prepared by more than 30 area chefs and restaurants and cast their votes for "Best in Show." Meanwhile, culinary competitors cast ballots for the "Chef's Choice Award." Event presenters this year include the Corchis Family & Hospitality Group, the Galvine family and Barker Williams and Shoreline Title.
Both general admission and VIP tickets are available for Taste of the Race. All proceeds from Friday's festivities directly support the culinary program at the Seaside Neighborhood School, which provides instruction on cooking and nutrition.
Saturday's Race Expo is always steeped in anticipation as runners pick up their numbers, race T-shirts and Vera Bradley swag. The Seaside Neighborhood School's band and dance team will perform throughout the day, and sponsors will have booths lined up to peruse.
Come Sunday, it's time to run. The half marathon will begin at 7 a.m., with the 5K right on its heels at 7:25 a.m. Runners travel Highway 30A on an out-and-back course that ends in scenic Seaside with a celebration and awards to follow. Food and libations will be provided by Bud and Alley's, Great Southern Café and Grayton Beer Company.
Every penny earned during Seaside School Race Weekend goes to the Seaside School Foundation, which oversees the operating budget for the Seaside Neighborhood School and Seacoast Collegiate High School. In the past two years alone, the event has raised more than $1.1 million.
This year's proceeds will support foreign language, art, music, culinary and robotics programs and will further the relationship between Seacoast Collegiate High School and Northwest Florida State College.
"The race provides our schools with funds for programs and opportunities we wouldn't be able to provide otherwise," said Kim Mixson, principal of the Seaside Neighborhood School. "The school, the foundation and the students greatly appreciate the support of the runners, community members and business partners who come back year after year."
For more information visit: https://runseasidefl.com/.