A New Skinsation
Get That Glow with HALO™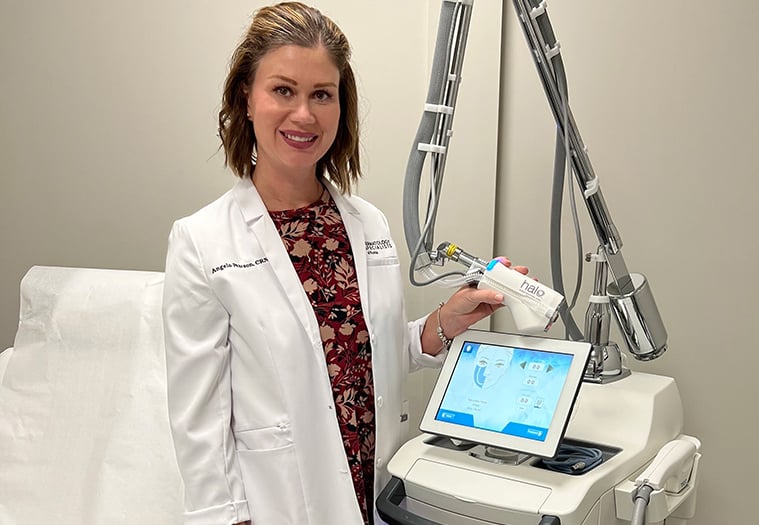 HALO™ is a complete skin revitalization laser treatment that provides noticeable, effective and risk-free results. It is the only hybrid fractional laser that delivers ablative and non-ablative wavelengths that work together to treat fine lines and wrinkles, discoloration, sun damage, scarring and pore size. HALO™ uses laser technology to eliminate years of damage by triggering your body's natural healing response to reveal a youthful glow!
"I love treating patients using the HALO™ laser because it gives consistent positive results," said Angela Pearson, a nurse practitioner at the Watersound office of Dermatology Specialists of FL/Aqua Medical Spa.
All treatments start with a consultation to evaluate whether the HALO™ laser is the best option for patients' specific concerns. While the face is the most common target for treatment, HALO™ can also be used on the neck, chest and arms and provide a solution for crepe-like skin. During your initial consultation, your provider will customize a treatment plan and give pre-treatment instructions such as avoiding sun exposure and stopping the use of retinoid or retinol products.
The HALO™ treatment begins with the application of a numbing agent to ensure optimal comfort for the patient. The actual procedure typically lasts 30 to 60 minutes. After the treatment, most patients will continue to feel warm for an additional 30 to 60 minutes, or a bit longer with deeper treatment levels. Some swelling, redness and tightness of the skin may also occur post-treatment.
"I typically tell my patients to relax and stay out of the sun for the first few days. After three to five days of slight downtime, patients can return to their normal daily routine with results being noticeable around one week after treatment," explained Pearson.
Provided patients take care of their skin by wearing sunscreen and using medical-grade skin care products, patients can expect remarkable results in just one to two treatments. In comparison, other older, non-hybrid lasers often require five to six treatments to demonstrate similar results.
When patients ask if the HALO™ is a good option for them, I reply, "The HALO™ laser offers amazing results with minimal discomfort, low downtime and fast healing. It stimulates collagen production, removes damaged skin and helps with signs of aging — anyone and everyone sees glowing results."
---
DERMATOLOGY SPECIALISTS OF FLORIDA & AQUA MEDICAL SPA  |  (850) 233-DERM (3376)
---