A Modern Sanctuary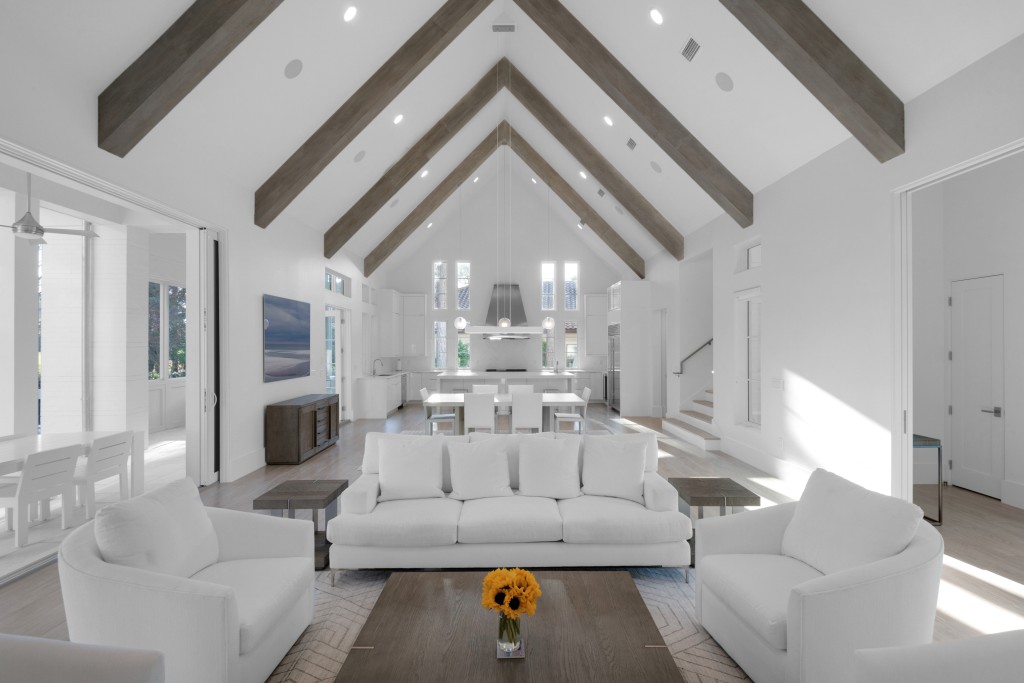 For this chic modern home located in the distinguished Burnt Pine community in Sandestin, Florida, the elite team of woodworking professionals at E. F. San Juan, a family-owned and operated firm based in Youngstown, Florida, enhanced the interiors with a sleek trim style throughout and custom wooden accents such as the focal-point white oak beams lining the great room. The shaker-style paneled interior doors came from Trustile and were also supplied by E. F. San Juan. The exterior doors and windows are Weather Shield Premium Coastal Impact Series, except for the large WinDoor pocketing door leading to the pool area. The team also installed frameless Eurobox-style cabinetry in a high-gloss acrylic finish in the kitchen, pantry, laundry room, bathrooms, great room, and office for a cohesive look.
E. F. San Juan worked closely with builder Chase Green Construction on this project, which was designed by Geoff Chick & Associates with interiors by Allyson Runnels. The impressive ceiling height in the home's living area made fulfilling the owner's request for solid beams quite challenging. Therefore, the installation process required some finesse to achieve the desired look. In addition, the pocket slab doors needed a custom design to allow a seamless open floor plan.
The team at E. F. San Juan came up with the solution to install mitered boxed beams in the living room to give a solid beam appearance. The result beautifully accentuates the vaulted ceilings while adding natural character to the room. Further custom work involved the E. F. San Juan full-lite pocket slab door, which elegantly separates the living room from the entrance hallway when required.
As for the trim, the simplicity of the home's style creates a pronounced emphasis on the structural details, warranting a minimalistic approach. "The interior trim package is very modern, clean, and simple," says company president Edward San Juan. The end product is an elegant coastal design that exudes calming and peaceful energy.
Visit EFSanJuan.com or follow on Instagram @e.f.sanjuan to see more projects.